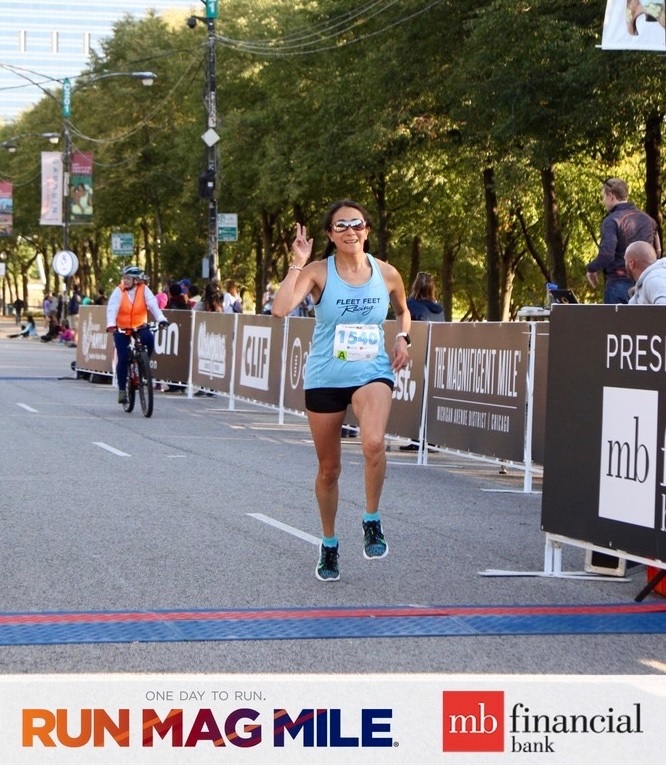 What is your racing focus?
Mid-distance
People, Places and Things
People: Who are some influential runners in your life?
I am inspired by all runners I have met since I started running. This includes the first group of women who welcomed me at the Fleet Feet Chicks Night at Lincoln Square. The elite runners in my Fleet Feet Racing team and all the runners I see along the running path everyday. If there was only one "professional" runner that I have to choose to say has been influential it would be Deena Kastor, especially since I got to meet and run with her at a Fleet Feet event.
Places: What is your favorite place to run and why?
The Chicago Lakefront path because I get to see lots of runners, many who I personally know!
Things: favorite running gear?
This winter I a favorite of mine is the Nike Shield Pegasus. During this year's long training runs, I enjoyed the smoothness of the Lunar Epic Flyknit.
Race rituals
What is your go-to pre-workout or race meal?
Greek yogurt with berries and nuts and a toast.
Do you have any specific pre-race rituals or superstitions? What are they?
Cannot wear the race shirt until I finish the race!
What is your favorite way to celebrate a good race?
I treat myself to gluten free pancakes! I love the ones my husband makes for me!
Past and future
What is your most memorable running moment?
One that always comes to mind is right after I recovered from my broken ankle. My first race, after a 6 month recovery period, was the Women's 10K in the Lakefront.
What are some of your goals for 2018?
I want to complete 10 races in the CARA circuit. I want to finish at the top of the CARA circuit age graded category.