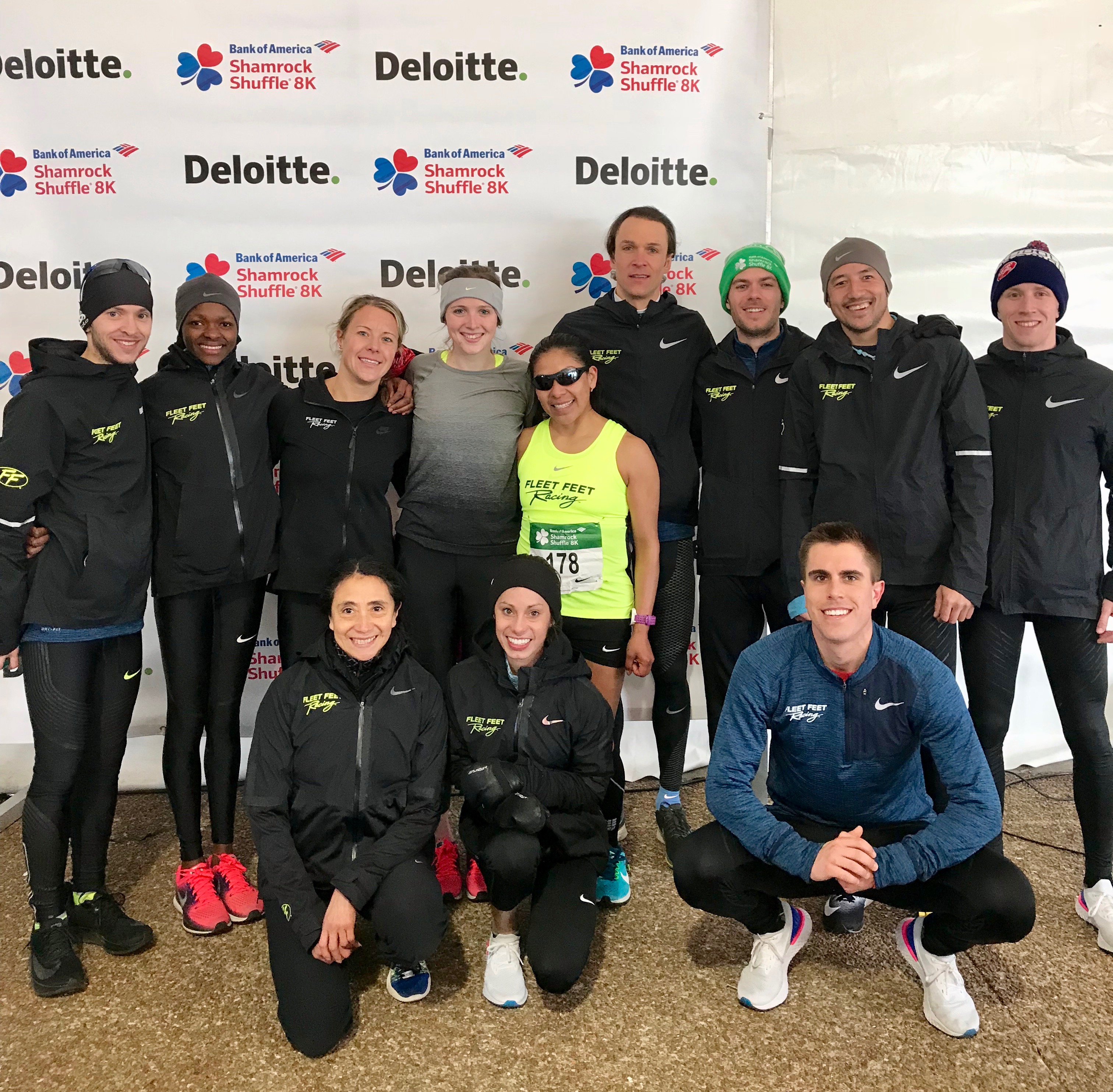 The Bank of America Shamrock Shuffle 8k is considered the start of the racing season here in Chicago, and after a successful Shamrock Shuffle for the Fleet Feet Racing Team, we've been busy throughout the month of April racing distances from 5k to the marathon, across Chicagoland and around the world!
Here is a quick rundown of some of our team's results:
Arturs Bareikis (24:33) and Kelsey Seiler (28:20) led our elite teams to 7th place (women) and 12th place (men) finishes in the Elite Team Competition. We also had teams finish 3rd (mens), 4th (womens), and 3rd (mixed) in the Competitive Club Team Competition, as well as 8th (mens), 7th (womens), and 6th (mixed) in the Recreational Club Team Competition.
Jane Bareikis (17:47) broke the tape, edging out the second place female by 3 seconds, while Joel Bendtsen (15:45) led 3 teammates under 16 minutes with his 4th place finish in the men's race.
Traveling overseas to race one of the world's largest marathons, team members Kyle Larson (2:27:53), Dan Derosa (3:03:17), Rachael Stack (3:25:42), Luis Padilla (3:26:43), Javier Galeno (3:27:33), Jordan Guzder (3:33:28), Lisa Keller (4:19:11), Berkley Cameron (4:19:11), Kristen Schlenz (4:41:27), Sheila Delaney (4:44:01), & Chrissy Wolfe (4:46:42) all raced through the streets of Paris.
In the most prestigious marathon in the world, our Boston365 training group and Fleet Feet Racing Team raced from Hopktinton to Boston in the cold, pouring rain, and driving wind.
Austin Hendrix (2:35:40) led the charge for the men as the 3rd finisher from Illinois, and Alana Kopelson (3:02:05) led our women's team as the 5th finisher from Illinois.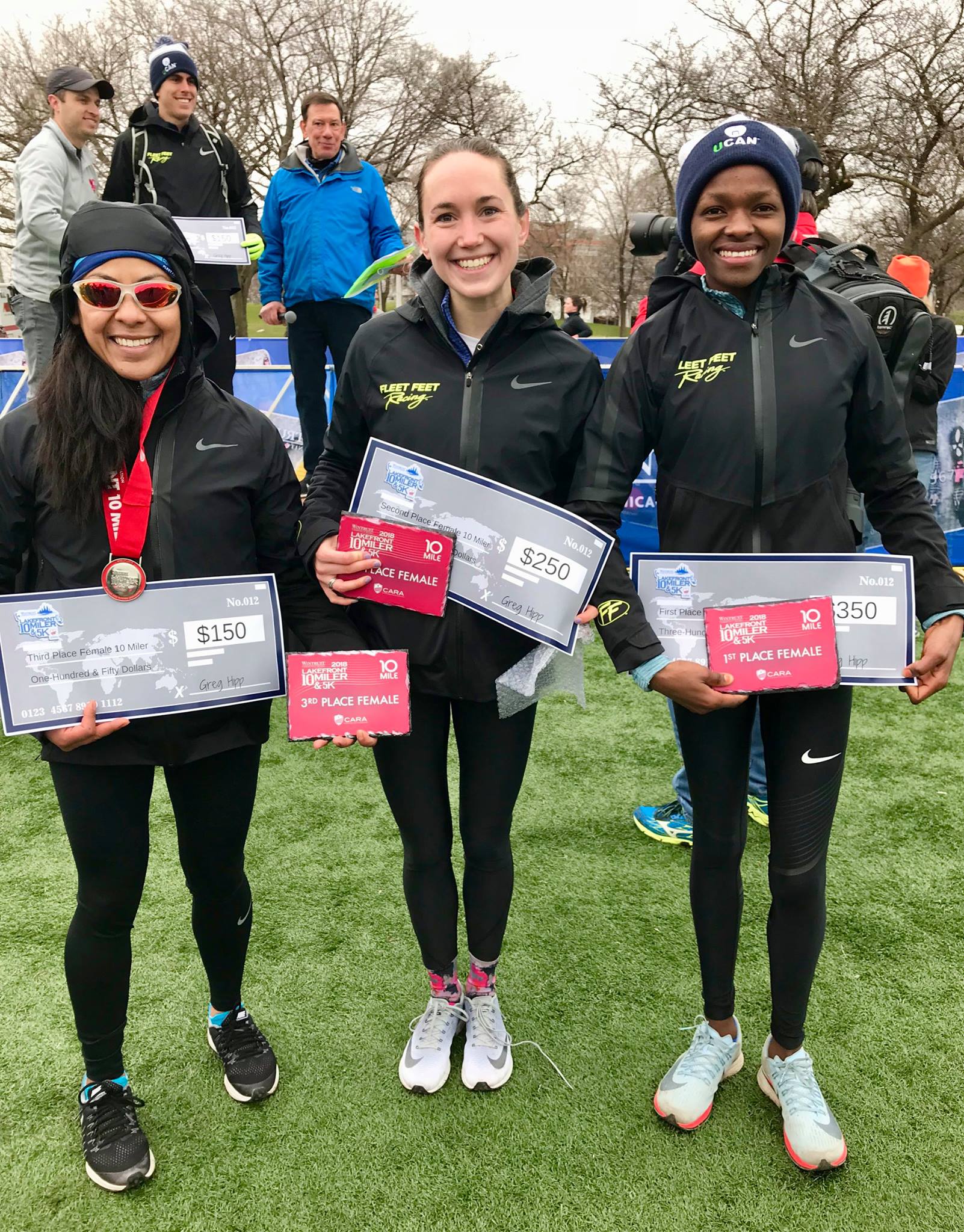 Jane & Arturs Bareikis (59:25 & 50:59 respectively) swept the top spots at this year's race, followed closely by teammates Julia Buford (59:49), Columba Montes (1:02:14), & Jacqueline Robertson (1:02:59) in the next 3 spots on the women's side, while Chris Robertson (51:51), & Cameron Rieger (52:16) finished 3rd and 4th overall.
Dan Glaz (2:28:07) was the 16th person across the finish line at the hottest London Marathon on record (75°F), which also earned him the spot as 3rd fastest American finisher in the race.
Illinois Marathon & Half Marathon
Once again, Arturs Bareikis (1:07:14) was the first Fleet Feet Racing Team finisher at the Christie Clinic Illinois Half Marathon, finsihing 2nd overall, with Damon King (1:08:17) taking the 3rd podium spot.
In the full marathon, David Bruno (2:46:27) ran a PR to finish in the top 25 overall, and Andrew Cho (2:54:08) bounced back less than 2 weeks after the Boston Marathon to finish with a new PR!
In his first race of the season, Matt Blume (15:15) finished 2nd overall in a very fast race, while Steffen Uhrich (15:27) edged out the 4th place finisher to snag the 3rd podium spot. On the women's side, Courtney Peterson (17:41), Vanessa Righeimer (18:06), and Columba Montes (18:13) finished 5th, 7th, & 8th respectively in a very competitive race!
Shout out to Christian Madridejos (17:19), who earned a shiny new PR nearly 90 seconds faster than his previous best time!