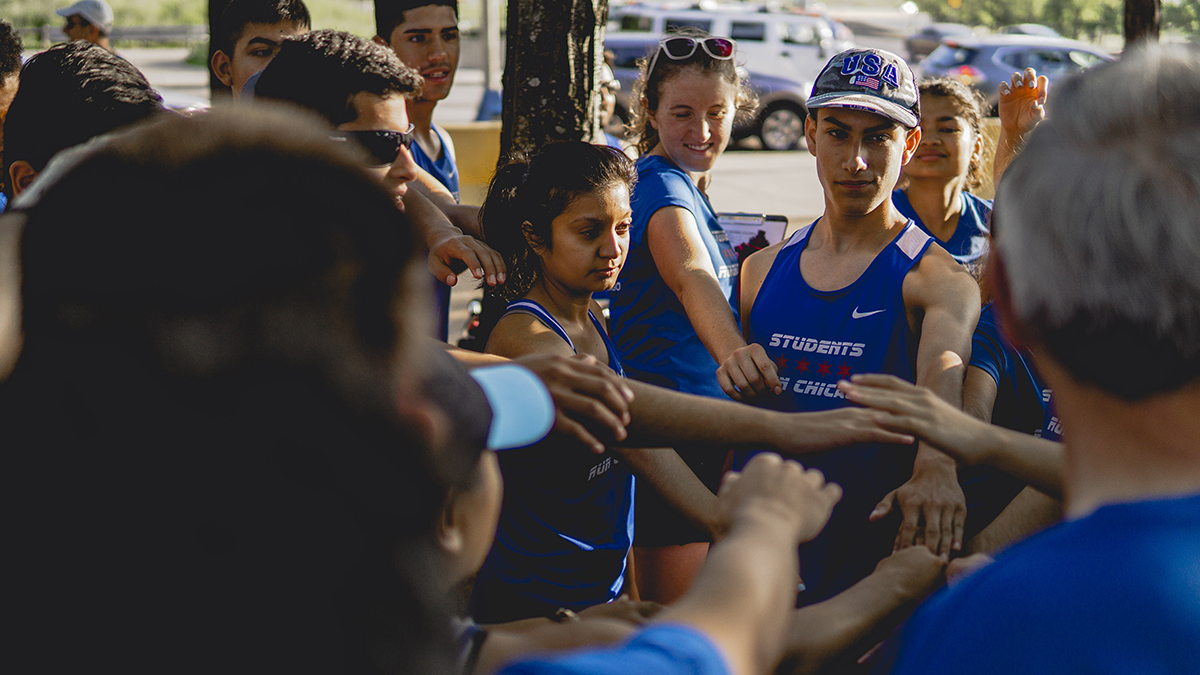 I got off the "L" Brown Line at the Adams and Wabash platform around six-thirty on a sun-drenched Saturday morning that had the promise of scorching hot temperatures soaring well into the nineties. I made my way east towards Grant Park, this week's designated meeting grounds for Students Run Chicago, a mentor-based running program that bridges together high school communities through the sport of running.
As I walked, I couldn't help but think about what I would be doing at this hour on a Saturday morning in July as a high school student. I'd probably sleeping off a night of shenanigans, fast food, and petty high school drama while my parents shout something along the lines of "get up, it's time for breakfast" around nine o'clock. Reluctantly, I'd get out of bed, join my family for breakfast and do no more physical activity than was needed, which was playing a few pick-up games of basketball at the local suburban park with friends.
Training for the Bank of America Chicago Marathon was not on my mind in the slightest.
But for over fifty high school students, there was a daunting task looming over their Saturday morning: run eleven miles, as outlined in the program's training schedule.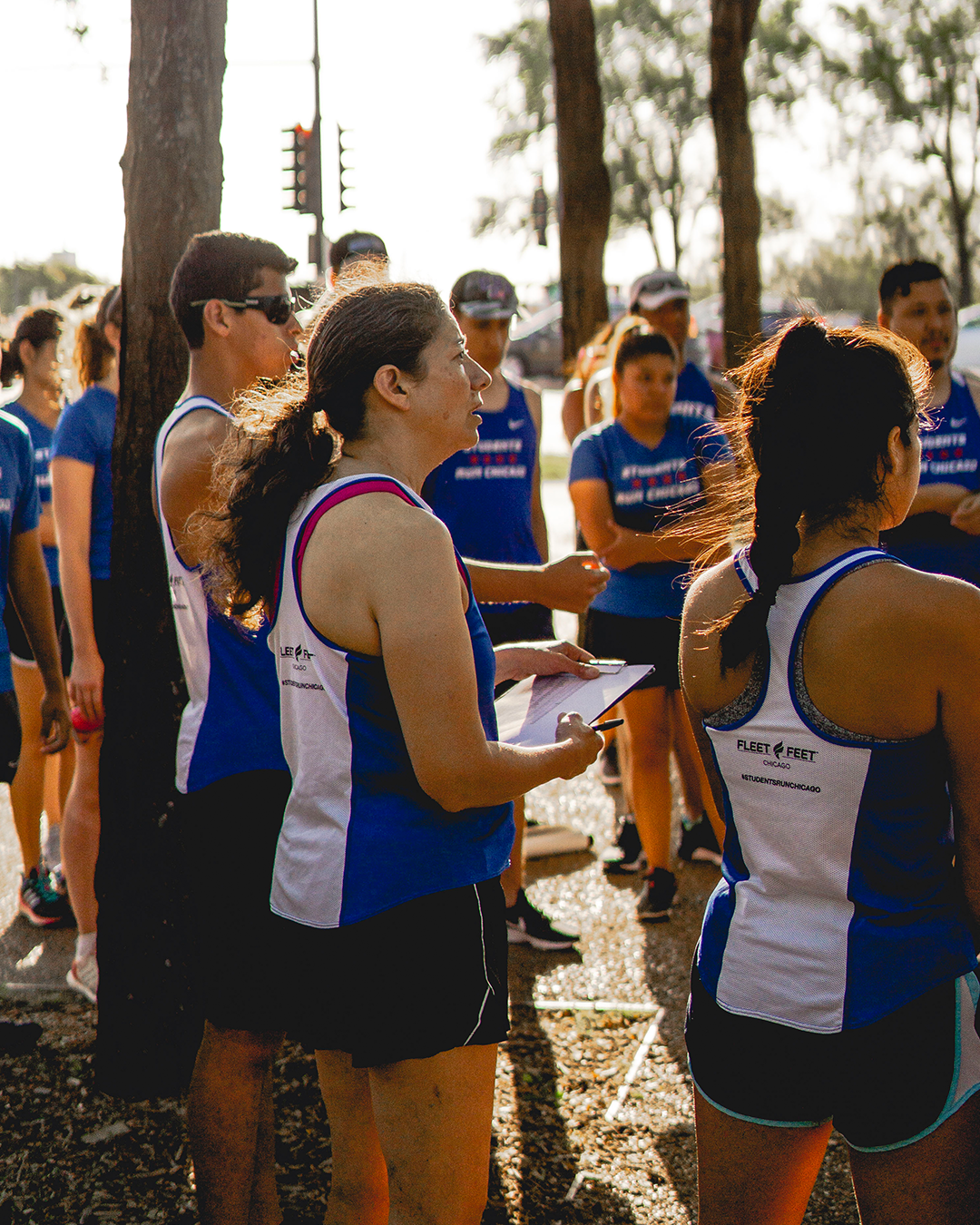 Montrose Harbor is the usual meet-up destination for Students Run Chicago, but this Saturday wasn't the group's typical meet-up. Today marked two weeks out from the Humana Rock 'n' Roll Half Marathon and today's training included a crash-course on what to expect including nutrition, hydration, and strategy.
When the program was founded in 2014, ten students crossed the finish line of the Bank of America Chicago Marathon. In two weeks, 50 students will run the Humana Rock 'n' Roll Half Marathon and another 25 are registered to run the Bank of America Chicago Marathon in October.
The organization is led entirely by volunteers. Currently, the board of directors consists of 13 members ranging from executive director to treasurer and everything in between.
I was met by William Morris and his wife Ellen. Will is a chemist originally from England. He started running 10 years ago while in grad school in Los Angeles, where he met Ellen. The running bug stuck after completing the LA Marathon and they both soon found Students Run Chicago in 2017 after looking for ways to get more involved in my local community through volunteering.
I asked him to share his mentality on training a high school student for a demanding goal-oriented sport such as running. "We try to make it as easy as possible for students to complete their distance running goals." said William.
The group meets as a team for weekly long runs but their other runs throughout the week are on their own. Running as a team allows for the mentors to share their experience with students and facilitate their running goals in a manageable manner.
"We provide students with clear running schedules throughout the week that break down their goals into small manageable steps. With the support of our sponsors, the program is completely free for the students that take part in the program and we provide them all the required gear, nutrition, and race entries.", William explained to me.
When Dave Zimmer, owner of Fleet Feet Chicago heard about the program in 2018, he was able to secure a $5,000 grant from the Fleet Feet franchise. Dave with the help of his wife and co-owner Lisa, used the money to secure running shoes and apparel for the entire group.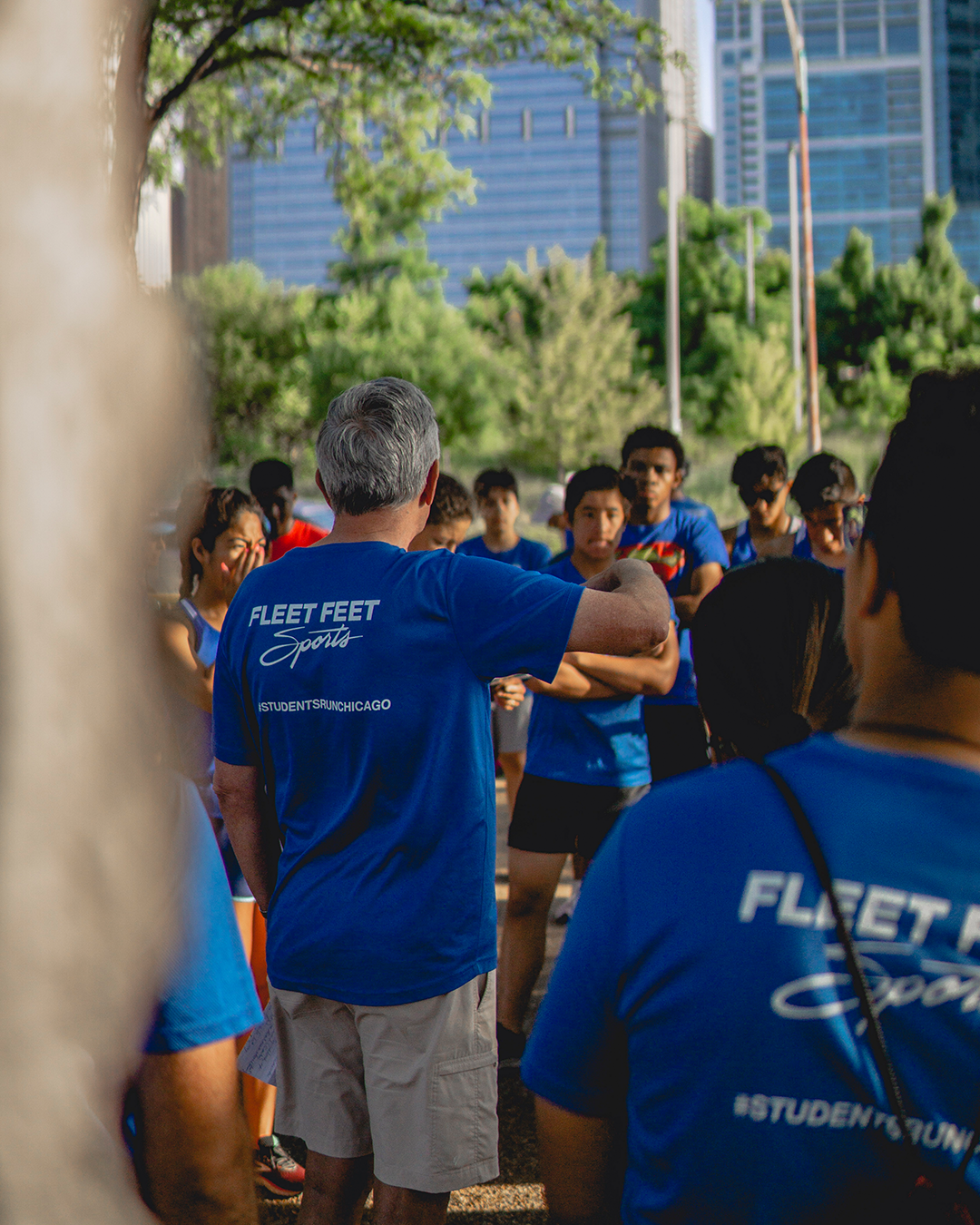 The group is coached primarily by sixty-something Barney Rupp with the help of several assistant coaches. Barney spent 40 years as a retail merchandising executive. Now retired, he has run over 20 marathons and served for eight years as a Chicago Area Runners Association marathon training Group Leader.
From afar, the age gap between most volunteers and the students can seem significant but the young-at-heart personalities create a strong bond between the students and their mentors.
These personalities shine through the actions of the mentors. They provide tangible support in ways that actually matter to someone running 11 miles in the blazing heat.
Steven Rak has been a volunteer since 2015. Steven helped set-up a support station full of running essentials: a post-run cooling station filled with sunscreen, water, fruit, cold towels, and a group favorite, chocolate milk. Each week, Steven rides his one-size-too-small bike alongside the group offering moral support and sunscreen. I rode alongside Steve and participated in a two-man support station during the run's halfway point at Navy Pier.
I notice the temperature is rising. "What if a student loses confidence and doesn't think they can go on?", I asked Steve. "It's really up to the individual. If they want to keep going and need the support, we'll do whatever we can to keep them in the program. If they want to quit, we respect their decision. At the end of the day it's their choice." Steve explained.
This mentorship is what helps Students Run Chicago succeed and it's what keeps those who already graduated coming back.
At the support station, I spot Andy Cruz. Andy is a Fleet Feet South Loop employee and he ran his first half marathon with Students Run Chicago when they were known as the Road Scholars in 2015.
On Saturday, he was sick with a cold at the time and couldn't run but he was there offering his support and wisdom wherever he could inject it.
Andy was introduced to the group as a senior at Phoenix Military Academy while the Road Scholars were going from school to school recruiting students.
I asked him what keeps him coming back. "I like the overall environment. It's relaxed but still organized and everyone gets stuff done on time. With a few of the kids, I've been running with them for a few years now. It feels natural to support them." said Cruz.
I keep tabs on Andy's running through the fitness tracking app Strava, and I've noticed he still regularly races despite graduating from high school several years ago. I asked him if Student's Run Chicago is the reason he still runs.
"One hundred percent. In high school I always hated running in football and I would hate it. It's a different perspective." said Cruz. "Literally if I never did it my last year of high school I would have never started running at all or thought of it."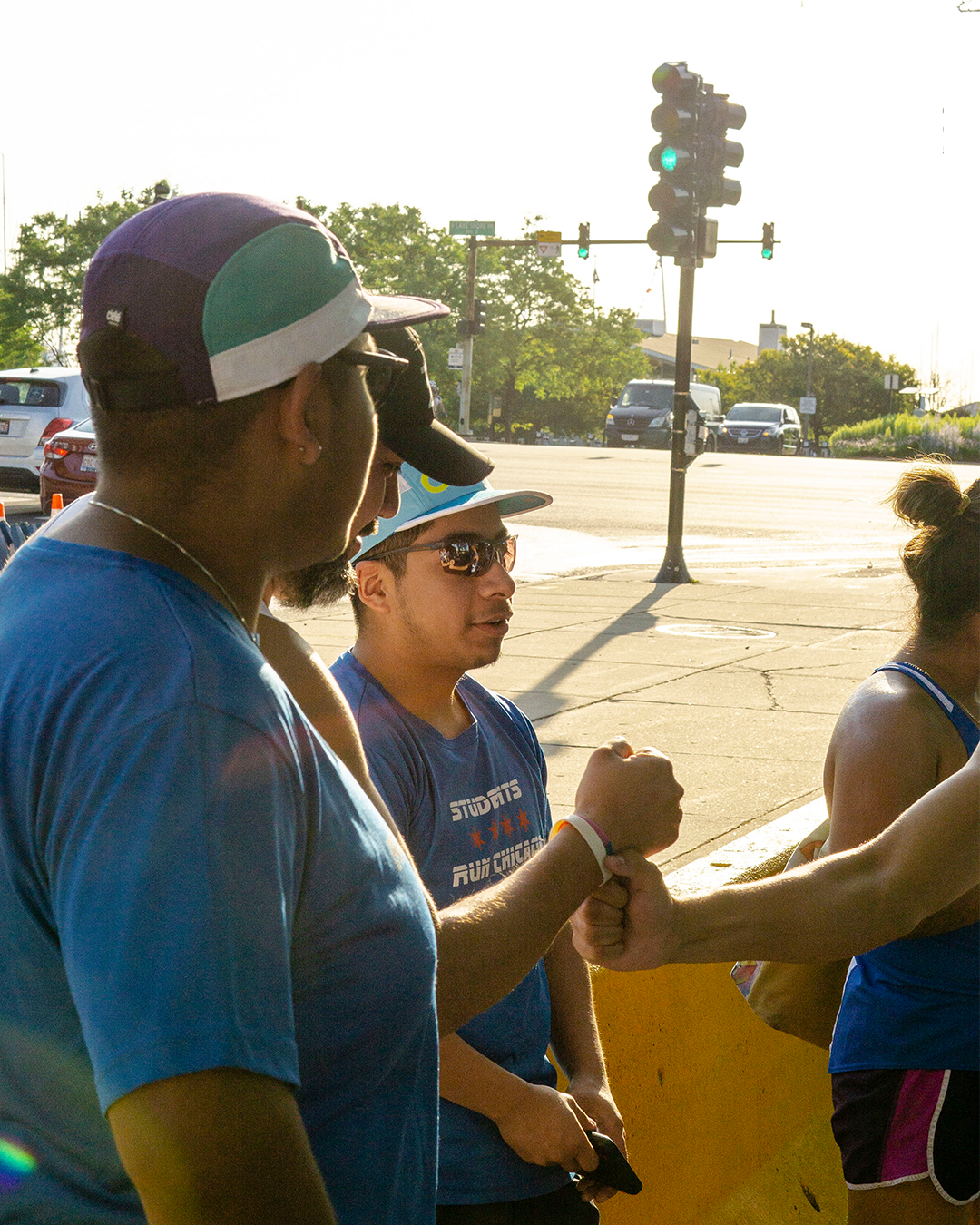 What got me interested in writing this story in the first place was the fact that I could not fathom adhering to a strict training program that is necessary for running while also being a full-time high school student.
Andy introduced me to Joaquin. Joaquin is a senior at Jones College Prep and has been running with the group since he was a freshman. I asked him how he manages to juggle his grades and his training schedule.
"It is tough, my school is an hour away using public transportation so I wake up at 5:45 a.m. and head to school. It's eight hours of school and two hours of practice and it's another hour to get back home. But having a tight schedule is better than getting home from school and being lazy and waiting to do your homework. Running after school helps you get into a routine and you feel accomplished and then you start to do other things that are beneficial to you. You don't slack off."
For many, running is a lifestyle. And with that lifestyle comes that can-do mentality Joaquin mentioned. Sometimes the runner has the can-do mentality but for Joaquin, the mentality is bolstered by a strict running routine.
"When I first started, every night there was always an excuse in the back of my head. It was probably because I was new to the sport or I didn't have that mental toughness, but when I started to love the sport I began to use that mentality in life and in school. I feel like at times, school gets tough but now that I've run a marathon I can go past what I think I can do. There's more miles ahead of me. There's nothing that can stop me now. It's that mentality now."
To his running friends, his lifestyle is normal. But for an outsider, they view his lifestyle as strict and difficult.
"I feel like the reason they see it as difficult is because they haven't taken the chance to try it out and that's why a lot of the students in the beginning leave because it's not their fit or they're a little scared."
Joaquin also recognizes the age difference between the group's mentors and its students.
"The reason they connect with students because us students probably lack the leadership or friendship and running and having someone that supports you along the way is the reason they show up."
Upon graduation he plans to bridge that age gap himself. "I love being with these people. They're so supportive. I hope to become a mentor this year or next. I've only run one marathon but I do plan on running after high school."
After talking to Joaquin and his enlightened view on things, I can confidently say that the future of the Chicago running community is in good hands.