It may be hard to think ahead to Memorial Day weekend and the Soldier Field 10 Mile with the cold wind and snow flying in the air, but the winter weather is a perfect reminder the home of the Chicago Bears once played host to…ski jumping competitions.
The sport of ski-jumping was introduced to the United States by Norwegian immigrants and was a popular sport – as skiing at this time was more identified with jumping rather than downhill racing. The sport enjoyed a rise in popularity after the 1932 Winter Olympics in Lake Placid, New York.

The first ski-jumping event held at Soldier Field took place in 1936, hosted by the Norge Ski Club, which exists to this day and runs a permanent ski jump in northwest suburban Fox River Grove. Crushed ice instead of snow was used for the jump and landing areas. A larger event took place in 1937, sponsored by the Chicago Daily Times newspaper, with over 140 jumpers competing before close to 60,000 spectators filling the Soldier Field seats.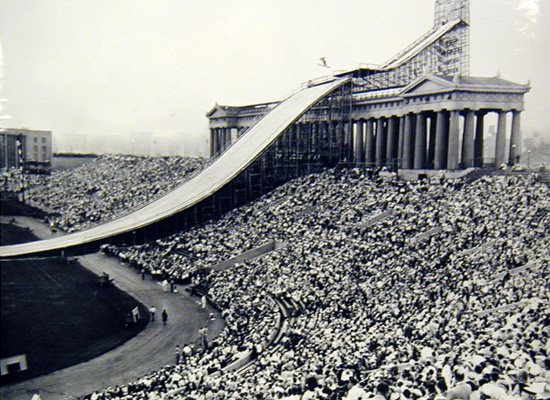 Another ski-jumping competition was held in 1938 and a final event took place in 1954.
The temporary ski-jumps were constructed by a company called Timber Engineering Company. The towering 180-foot wooden structures constructed either at the south end of the stadium or over the east colonnade were impressive structures.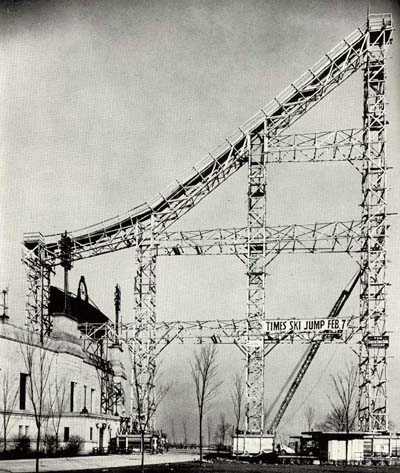 Soldier Field wasn't the only major American sports venue to play host to ski-jumping competitions. Wrigley Field, home of the Cubs, hosted a competition in 1944 and other competitions were held in the Hollywood Bowl and the L.A. Coliseum, which hosted sports of a summer variety for the 1932 Summer Olympics.
Register today for the Soldier Field 10 Mile to finish on the field where ski-jumpers once landed after soaring through the air in their daredevil efforts!