It was a grand 'ole time.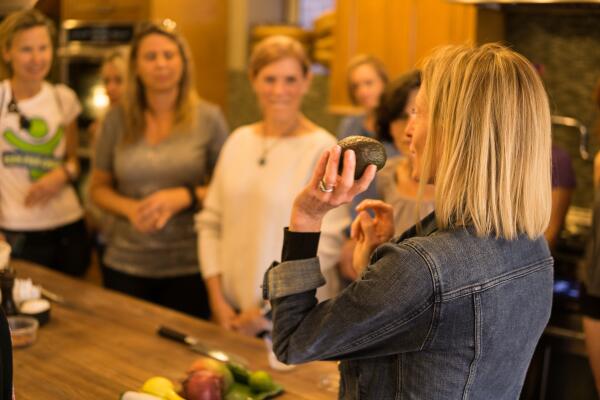 Last weekend we had the absolute pleasure of hosting American record-holder in the marathon and half-marathon, and Olympic bronze medalist Deena Kastor for an exclusive cooking event. The 40 lucky attendees-turned-chefs were able to help the long distance running legend in preparing three nutritious snacks at Chopping Block in Lincoln Square.
The afternoon started with one of Deena's personal recipes, Beach Nuts. 
"I came up with this recipe at our beach house so when we came in from playing in the water we had something nutritious to snack on. I love the mix of sweet, salty, and spicy. High in protein, this is a great snack to keep on the counter-top", said Kastor.
The recipe is a variation of candied nuts. Nuts are a great nutrient rich post-run snack but there are many different types. This recipe focuses on two shining stars of the nut family: Almonds and walnuts. Almonds are high in protein, which strengthens our muscles and brain function. They are also lower in fat than other nuts. Almonds are rich in vitamin E, and antioxidant protecting our organs from free radicals caused by pollutants, and calcium which regulates heart contraction and promotes strong bones. Although cashews are one of the lowest-fiber nuts, they are packed with vitamins, minerals and antioxidants. These include vitamins E, K, and B6, along with minerals like copper, phosphorus, zinc, magnesium, iron, and selenium, all of which are important for maintaining good bodily function.
Beach Nuts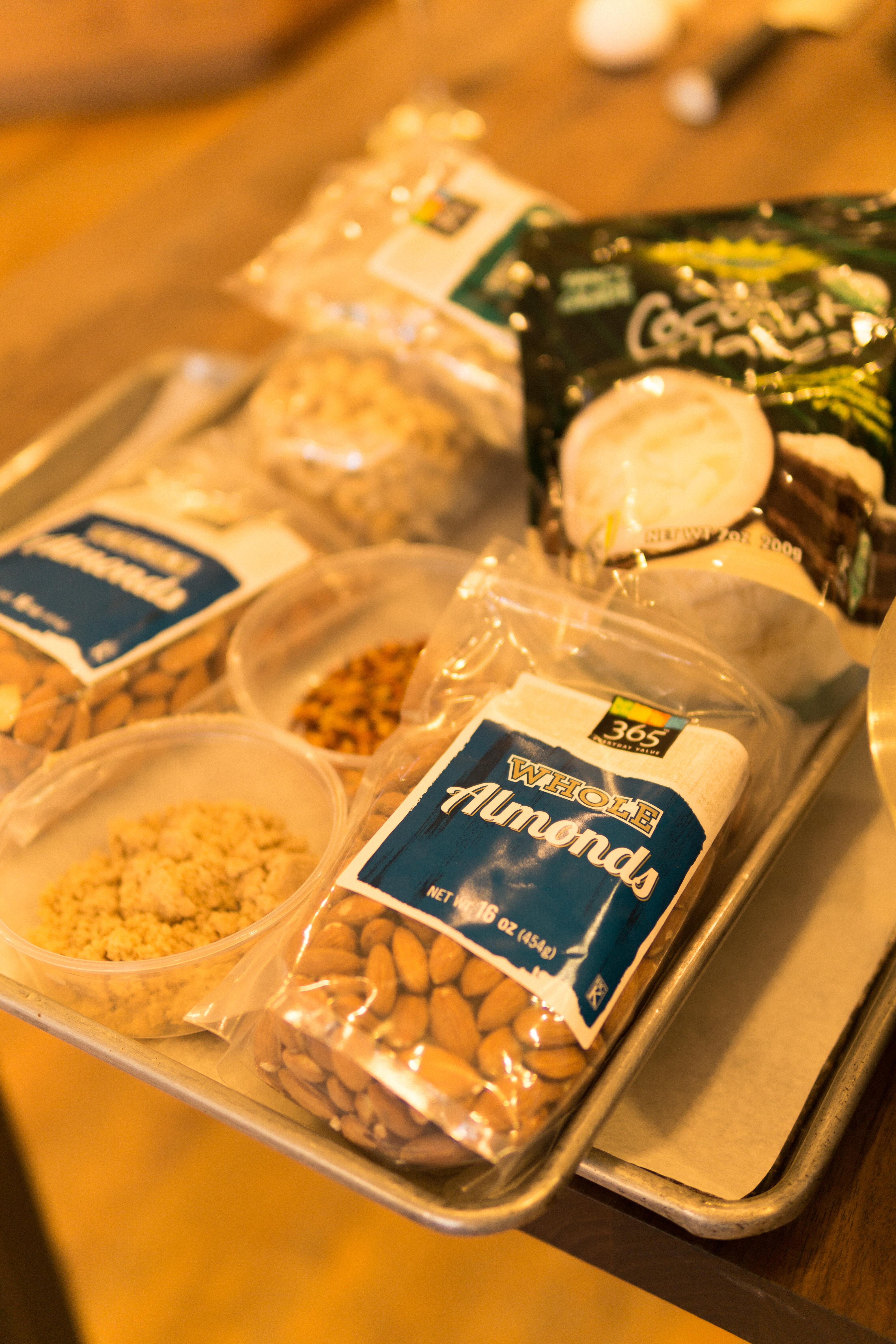 1 egg white
1 1/2 cups almonds
1 1/12 cups cashews
1/2 cup coconut
1/4 cup brown sugar
1/2 teaspoon salt (only if nuts are not salted)
1/2 teaspoon chili flakes
 Preheat oven to 300 degrees. In a large bowl, whisk egg white until foamy. Stir in nuts and mix to coat. Add coconut, sugar, salt, and chili flakes. Mix to evenly coat. Spread on a greased cookie sheet and bake for 20 minutes or until golden brown. Allow to cool completely before serving or storing.
Nuts can be stored for one month in airtight container.
Experiment with your favorite nuts as long as the total measures 3 cups for the this recipe.
Next, the group started the process of making Best-Ever Guacamole.
"Summer guacamole is perfect with the added sweetness of mango. This is a delicious appetizer with chips or compliment to any southwestern dish", said Kastor.
The recipe adds an unexpected twist to a classic guacamole recipe: mango. Mangoes have high levels of antioxidant compounds  and have been found to protect against colon, breast, leukemia and prostate cancers. Their high levels of vitamin C helps boost your immune system while it's high level of fiber help lower cholesterol. And as we all know, avocado is king. It is not only great for your skin, but regulates blood sugar, aids in cellular regeneration, is good for your cardiovascular system, and high in fiber. One avocado has more potassium than a banana.
Best-Ever Guacamole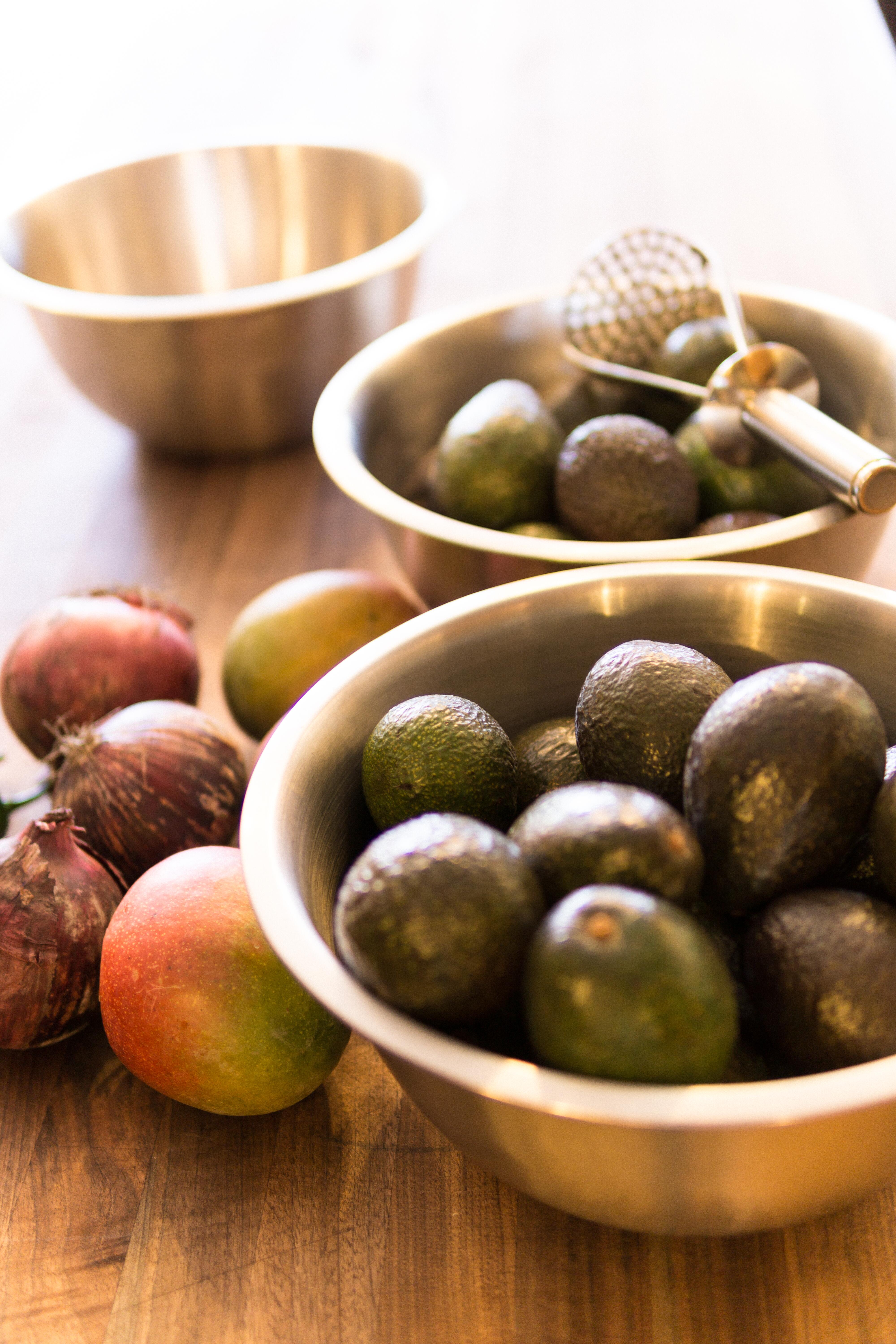 4 ripe avocado, peeled and cubed
1/2 red onion, finely diced
1 jalapeno, seeded and minced
1 mango, peeled and diced
Juice of 1 lime
1/2 cup cilantro leaves, minced
Salt to taste
Mix all ingredients well. Adjust chunkyness to personal preference. Serve with warm tortilla chips.
The last recipe the group concocted was Stuffed Dates. 
Dates are high in iron which helps bind oxygen to hemoglobin to transport oxygen throughout the body. They are also high in B vitamins which aid in fighting stress and supporting adrenal function. Calcium, potassium, and magnesium can also be found; these nutrients work together to fortify and strengthen bones.
Quick and easy to make, "this appetizer is easy to make for the amount of compliments you will get from serving them", said Kastor.
Stuffed Dates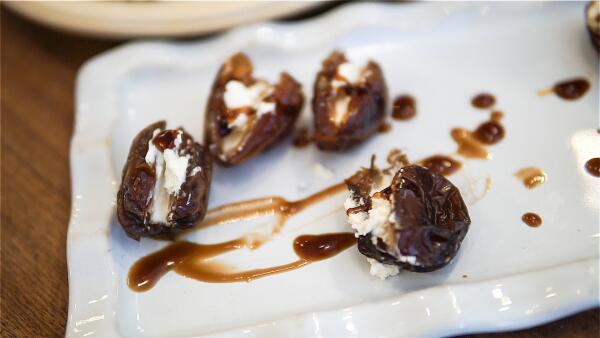 12 dates, pitted
4 ounces goat cheese
Balsamic reduction
Preheat oven to 300 degrees. Make a lengthwise incision to form a pocket where the pit used to rest. Generously stuff dates with cheese and place on lightly greased cookie sheet. Place in oven for 10 minutes or until cheese is melted. Place on serving dish and drizzle with balsamic glaze. Serve warm.
For those on the run: you can purchase balsamic reduction.
Attendees were able to indulge in the recipe's final forms while dining with the 2004 Athens bronze medalist. The snacking was followed by a brief Q&A in which attendees were able to get their questions, mostly revolving around marathon training nutrition, answered. Participants were then able to meet chef Kastor 1-on-1 for an autograph signing.
Deena Kastor will be running the Bank of America Chicago Marathon in October. For your healthy dose of inspiration, wit, and all around good vibes, follow Deena on Twitter here.