View this post on Instagram
As we always say, there's no such thing as bad weather in Chicago, just bad clothing.
Sure, Chicago's winter can range from about 45 degrees down to -20 but that shouldn't stop you from getting your miles in so we made a guide on how to dress comfortably for a run in any temperature during Chicago's winter.
Before we dive into dressing for a run during Chicago's winter, we must establish the three temperature ranges we'll be talking about:
Cold: 50-35

Colder: 35-20

Coldest: 20 and below
Next, we have to talk about the "do you run hot or cold" conversation?
We're talking about your inner thermostat here. This simply means that everyone has their own tolerance to cold weather. The amount of winter apparel you wear to feel comfortable may not be the same for your friend. You know yourself better than anyone, so keep that in mind.
Lastly, before we show you example outfits, we'll teach you the basics of layering real quick.
Layering regulates comfort by providing the ability to slip layers on and off as your activity level or the weather changes. Here's our take on the philosophy of layering:
Baselayer: wicks away sweat


Lightweight
Midweight
Heavyweight

Midlayer: insulates and retains body heat
Outerlayer: protects from wind, rain, and snow
What you should wear for the "cold" days in between 50-35.
A men's outfit is pictured but the same philosophy applies for women.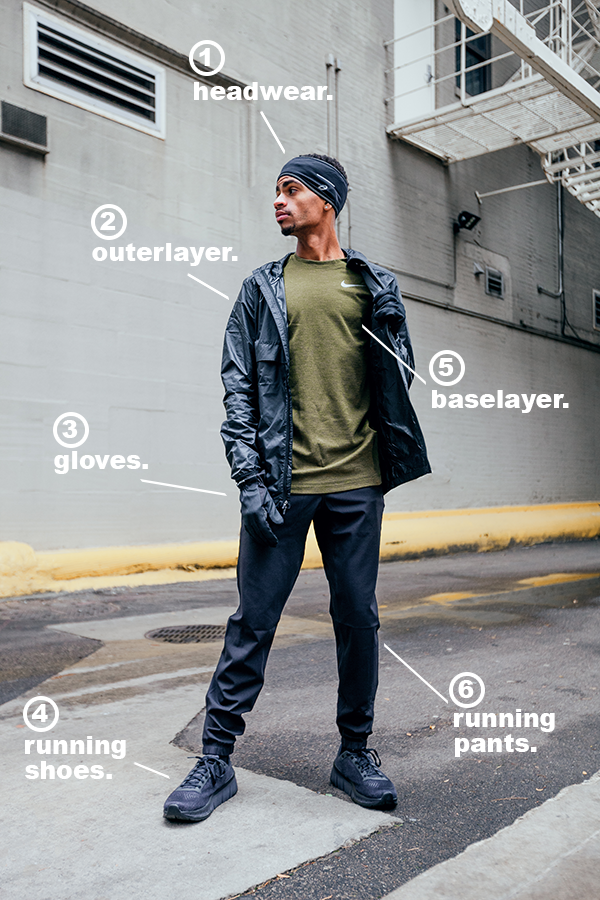 1. A headband is great for these temperatures as a full cap isn't a necessity. The ASICS Lite-Show™ Ear Warmer for men and women efficiently wicks moisture away from your head and face while reflective Lite-Show™ detail ensures you remain visible to others and to traffic even in low light conditions.
2. A thin, waterproof windbreaker with vents to keep you dry and comfortable if it's raining is ideal in these temperatures. This Nike Shield Hooded Jacket features all of that plus zippered pockets as well to hold any accessories when you warm up.
3. Gloves are still important in this range, since extremeties are the first to make a run uncomfortable quickly. These Manzella Silkweight Windstopper Ultra Touch Tip gloves are wind-resistant with a TouchTip index finger and thumb for touch screen compatability.
4. Any running shoes will do in these temperatures but if possible, opt for a pair with reflectivity since the days are shorter. The Hoka One One Cavu 'Fly At Night' features triple black coloring with reflective elements throughout.
5. Baselayers are key during winter running. A good baselayer wicks sweat off your skin. In these temperatures, merino wool isn't a necessity but one thing still applies. #CottonKills. Opt for a lightweight polyester blend as it's lightweight and dries fast. The Nike Sphere Element Crew Long Sleeve 2.0 offers a thermal layer, zipper venting, thumbholes, and a zippered hip pocket.
6. This is where your inner thermostat comes into play. Shorts can be worn in these temperatures but with wind and rain as a variable, we recommend a lightweight pant. These lululemon Surge Joggers are soft, water-repellent, and made with four-way stretch.
What you should wear for the "colder" days in between 35-20.
A men's outfit is pictured but the same philosophy applies for women.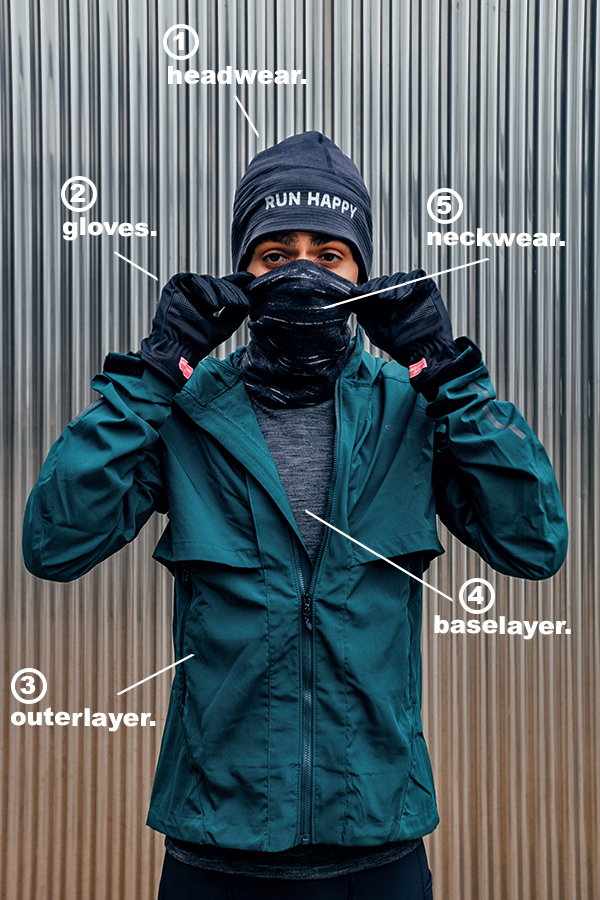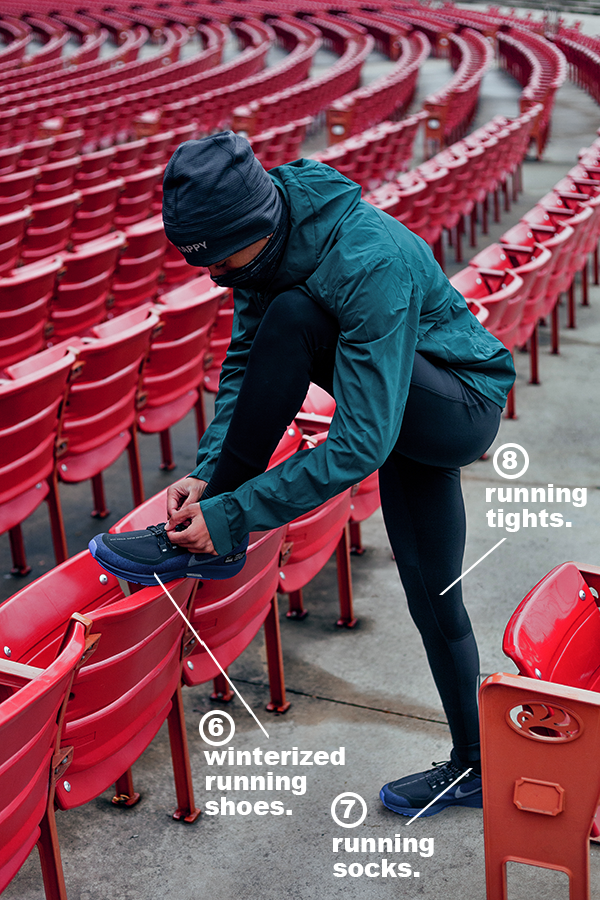 1. A hat is necessary in these temperatures to prevent potential frostbite and trap heat. The Brooks Notch Thermal Beanie uses bluesign®-approved materials, which conserves resources and minimized impact on people and the environment while wicking sweat away. This style is a Fleet Feet exclusive.
2. Gloves are a necessity. No if and's or but's. Same as above, the Manzella Silkweight Windstopper Ultra Touch Tip uses WL Gore 3-layer silkweight Windstopper for windproof protection wind-resistantance with a TouchTip index finger and thumb for touch screen compatability.
3. A lightweight to midweight jacket is what you'll need here depending on your inner thermostat. The main job of outerwear is to shield you from wind and rain. Our philosophy here is to go with a lightweight jacket with an excellent weatherproof material. The SUGOI Versa II Jacket uses a coated water repellent fabric with zippered rear pockets and hand pockets. The sleeves are removable via strategically placed magnets which makes this jacket versatile.
4. Upgrade from a lightweight or polyester baselayer to a merino wool baselayer to unlock the magic of Merino wool. This makes up for wearing a lightweight jacket.Merino wool is more breathable than polyester or synthetics, it wicks moisture so the fabric doesn't feel wet against the skin, it helps trap odor, and it doesn't itch. The Smartwool Merino 250 Base Layer Crew is one of the best selling base layers on the market.
5. Neckwear is luxury in this temperature range. Protect wind from going down your shirt with a neck gaiter or balaclava. The Smartwool Merino 250 Reversible Pattern Neck Gaiter is made from our NTS Midweight fabric, this 100% Merino wool gaiter features the same soft, comfy feel.
6. Many brands make "winterized" versions of their best selling shoes. The often feature reinforced weatherproof materials and more rugged outsoles with lugs. The Nike Air Zoom Shield Pegasus 35 uses a new toggle lacing system to adjust easily even when it's cold and wet, and sealed seams keep your dogs dry when the rain is coming down sideways, plus, a new outsole rubber will give you extra traction when the pavement turns slick.
7. Crew length or higher is the way to go. Just like the base layer, A Merino blend help keep your feet warm during long winter runs. The Smartwool Cold Weather Crew is made of 56% Merino and a "virtually seamless toe".
8. Shorts are no longer an option and pants or tights will keep you warm during these temperatures. The New Balance Heat Tight is made with tech-driven NB Heat fabric in a mix of woven brushed and knit fleece that moves with you and works to help you stay dry and comfortable amidst chilly conditions.
What you should wear for the "coldest" days 20 and below. Note: gloves are not pictures but most be worn in these temperatures.
A women's outfit is pictured but the same philosophy applies for men.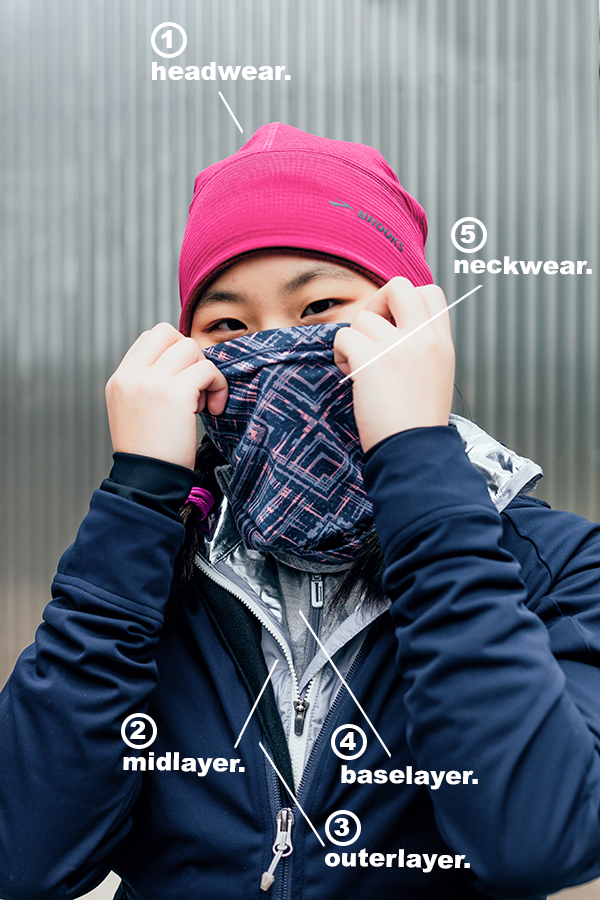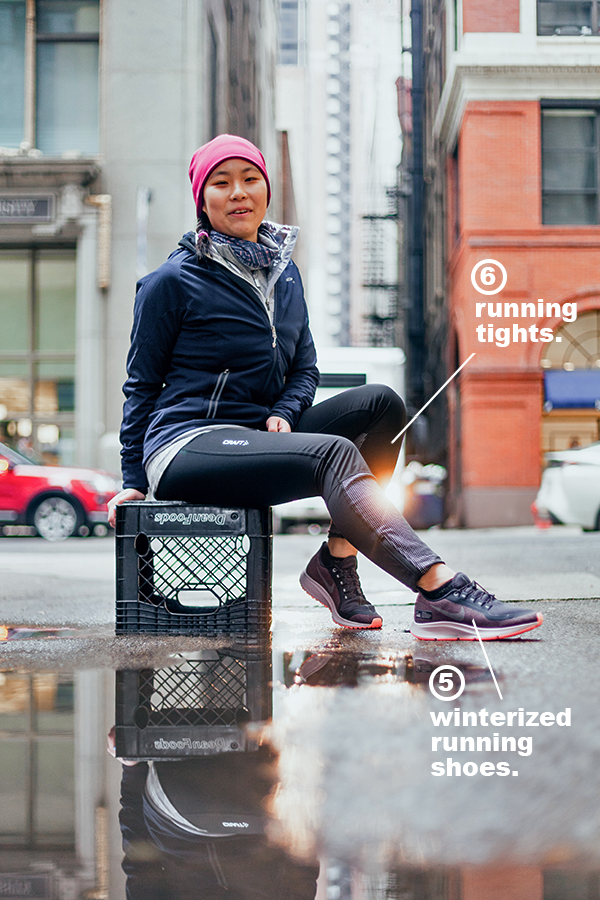 1. Don't leave the house without a hat that covers your ears and hear. Your body works hard to keep your head warm. Don't let the heat escape by using just a headband. The Brooks Nortch Thermal Beanie uses a soft, notched interior that wicks away sweat, channels away heat and keeps cold weather at arm's length.
2. A midlayer is used for insulation over a baselayer that wicks sweat and is worn under an outerlayer, which protects from the elements. The purpose of a midlayer is to retain body heat. This New Balance Radiant Heat Bonded Vest features metallic woven fabric inspired by marathon blankets.This fabric delivers superior warmth retention by reflecting your body's heat back to you. Meanwhile, PrimaLoft® Thermoplume insulates your core.
3. An outerlayer protects you from Mother Nature and its elements. It is layered over a baselayer and midlayer. The SUGOI Firewall 180 Jacket uses a lightweight thermal knit laminate that offers wind and rain protection, a detachable hood for added protection, and a knit cuff to keep wind and snow out for added warmth.
4. A baselayer is your first wall of protection. Made to insulate and wick sweat so your midlayer and outerlayer don't have to work as hard, opt for Merino wool for the same benefits as above. The Smartwool Merino 250 Half Zip adds more protection to your neck than a typical crew long sleeve.
5. Wind going down your shirt from your neck can get you feeling uncomfortable quick. The Smartwool Merino 150 Reversible Pattern Neck Gaiter is buttery-soft and can be pulled up to the nose for added protection. If you're feeling too warm it can easily be stashed in a pocket.
6. Many brands offer wind protection in their winter running tights. Opt for a heavy duty tight such as the Craft Urban Run Thermal Tight in these temperatures. They offer wind protection, moisture management, reflective detailing, and comfort to keep you going strong.
7. As mentioned in the above outfit. Ask to see our list of "winterized" running shoes. The Nike Air Zoom Shield Pegasus 35 uses a water-repellent upper combined with an outsole that gives optimal grip on wet surfaces – letting you run in confidence despite the weather.
8. Not pictured: Gloves. Gloves are a necessity. No if and's or but's. We had to take the gloves off to adjust some of clothing during the photo shoot.
Every product featured in the above photographs were shot by Christian Rasmussen. All products can be found at Fleet Feet Chicago stores. For more information about a product, email info@fleetfeetchicago.com.