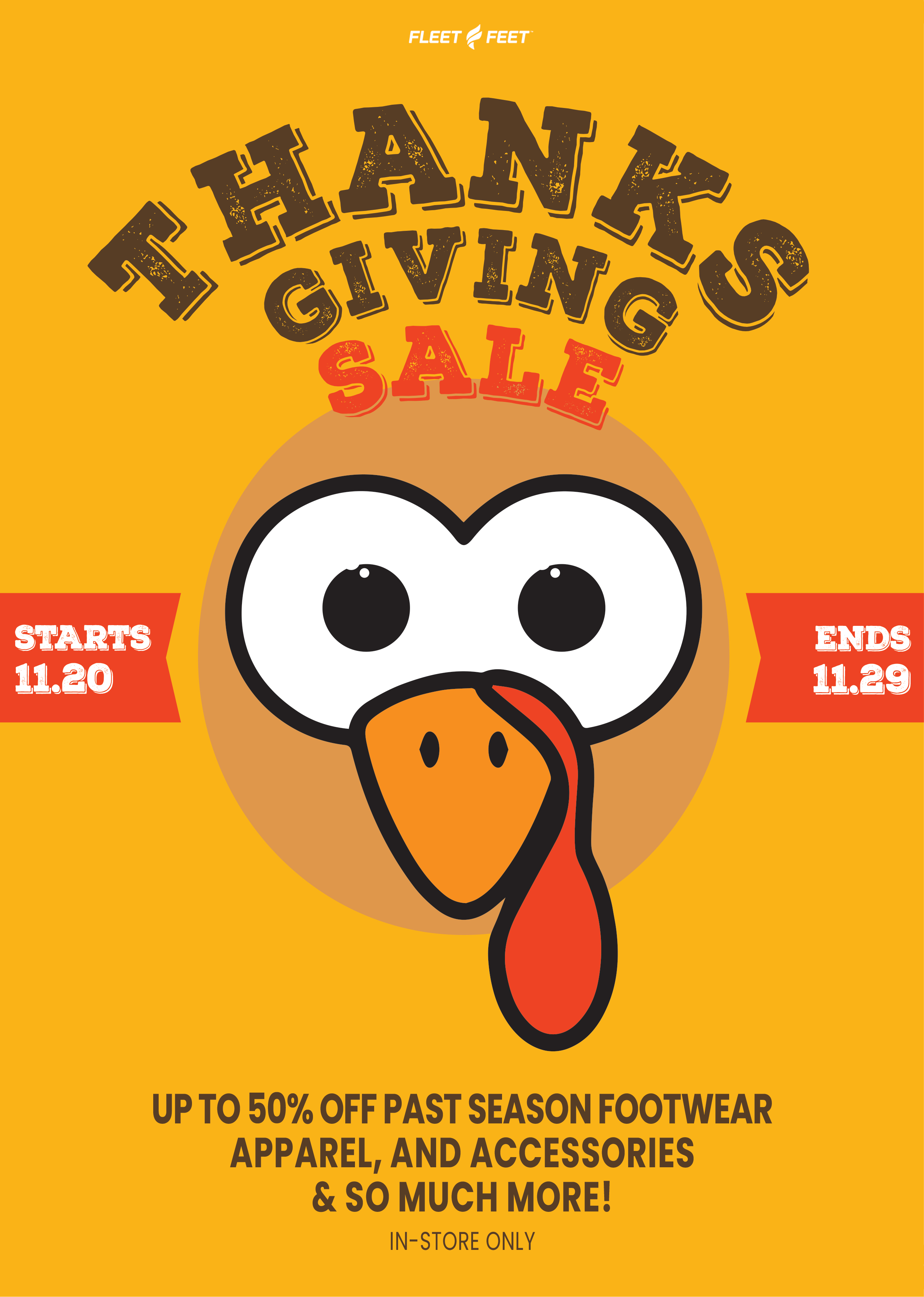 The Fleet Feet Thanksgiving Sale is back. Hurry in and gobble up the savings early and make sure to come back for seconds. The sale will last from November 20th through November 29th at all Fleet Feet Chicago stores.
Save up to 50% off past season apparel, footwear, and accessories while supplies last.
Below is a brief overview of what you'll find during the sale.
Other product promotions in conjunction with the sale:
25% off NATHAN hydration and visibility accessories from 11/13 through 12/1. Full priced product only.
Up to $150 off on Theragun massage devices from 11/20 through 12/1. In-stock product only. Excludes (red) products.

Theragun Pro: $150 off
Theragun Elite: $100 off
Theragun Prime: $75 off
Theragun Mini: $25 off
Theragun Roller: $50 off

$70 off Hypervolt massage devices from 11/22 through 11/30. In-stock product only.

Hypervolt Bluetooth:
Hypervolt Plus with Bluetooth

25% off TriggerPoint recovery products from 11/25 through 11/30. In-stock product only.
Buy 3, get 1 free Balega socks from 11/25 through 12/23. In-stock product only.
Buy 3, get 1 free Feetures socks from 11/26 through 12/31. In-stock product only.
$50 off Garmin Forerunner models from 11/26 through 12/26. In-stock product only.

Garmin Forerunner 245 and 245M
Garmin Forerunner 45 and 45S

$50 off Hypervolt massage devices from 12/1 through 1/9. In-stock product only.

Hypervolt Bluetooth
Hypervolt Plus with Bluetooth

20% off NATHAN hydration and visibility accessories from 12/7 through 12/13. Full priced product only.
Up to $100 off Theragun massage devices from 12/13 through 12/16. In-stock product only.

Theragun Pro: $100 off
Theragun Elite: $50 off
Theragun Prime: $50 off