Author: Liam Gayter
For many people, running provides a sense of community, a breath of exercise, a way to experience and see the world, and for some, love. Since 1996, when Fleet Feet Chicago first opened its doors, more than 20 couples have met through Fleet Feet run clubs, races, or even working on the sales floor.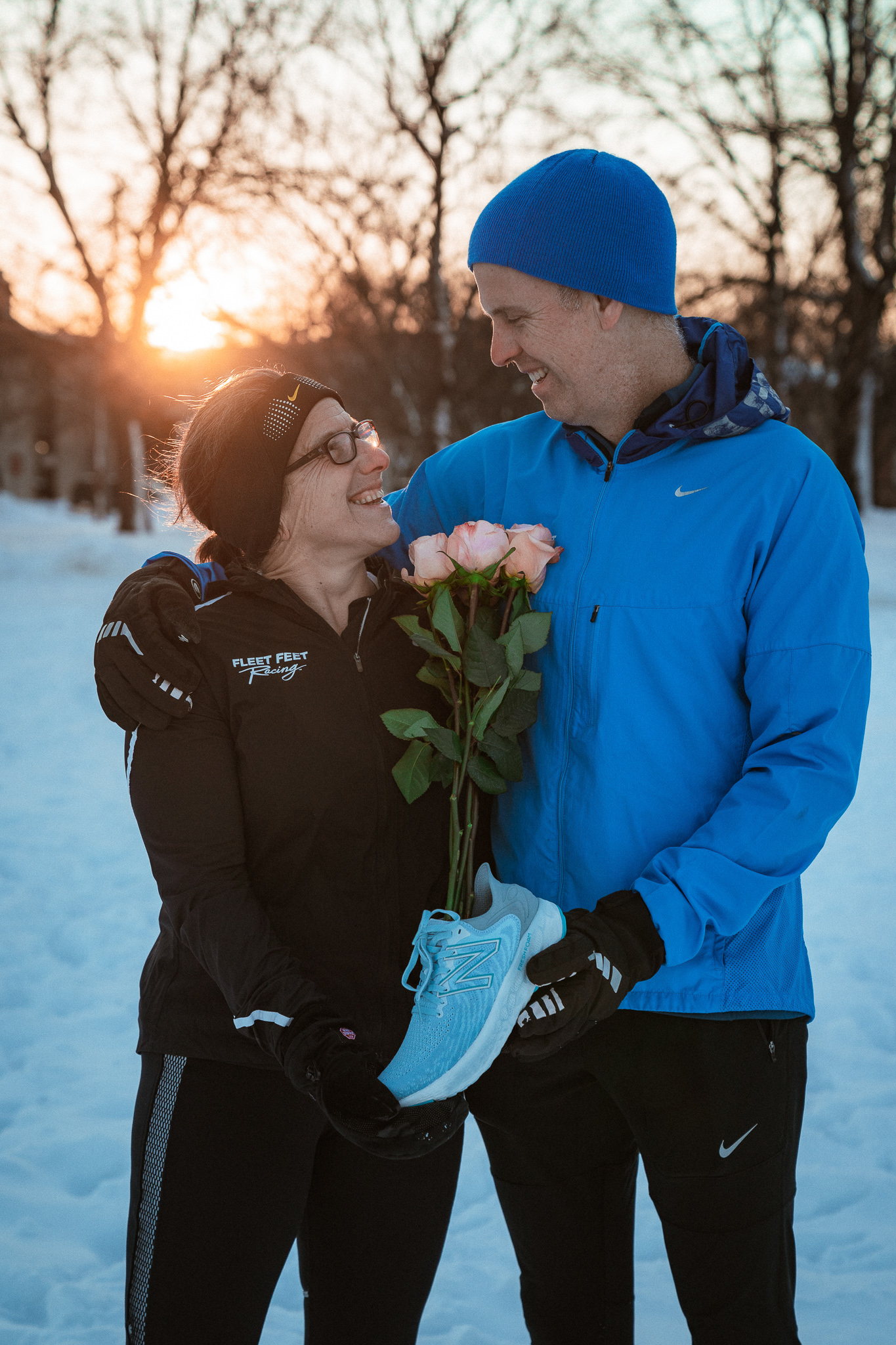 For Robin Karlov and Jeff Hansen it all started while volunteering at a defunct race that Fleet Feet hosted in 1998. Some Chicagoans may still remember it.
"We met volunteering at the Elvis race many, many years ago. I think it was the first Elvis Is Alive 5K, a weeknight race where it was more focused on the party and social aspect rather than the race itself," said Jeff as he smiled glancing at Robin. "This mutual friend knew that we both were French majors in college and she was like, 'Well, clearly you guys have to meet!' We started more of a friendship at that point."
The weekly Fleet Feet group runs provided the space for the two french majors' relationship to blossom. The casual atmosphere of the group runs where fancy clothes were replaced by synthetic athletic wear and cologne was substituted for sweat and body odor, fostered genuine conversation and a shared passion.
"A few weeks later, we both did a half marathon. Jeff's faster right? So he was already done. I had some race liquids at mile 11 or 12, I thought it was water so I gulped it down, but it was some knockoff Gatorade," Robin said, holding back a laugh. "I crossed the finish line and he was like, 'Hey! How'd it go?' I threw up right at his feet."
Running isn't always the prettiest sport but it shows our true colors, our grit, our determination, our ability to succeed and to bounce back from failure. It gives you an idea of who that person is. All of these characteristics correlate to a relationship.
"I mean, you certainly see each other at their best and their worst. I think the nature of running in general, a lot of people will use it to set goals and see if they can achieve those goals, getting a marathon or whatever it might be. In a relationship you can get to know this person in terms of how they view the future," said Jeff. "In a serious relationship, you should be looking towards the future. What are the next steps? Getting married, having kids, and so on. That future outlook and framework used for running is a good parallel for relationships. You have to be prepared if you want to improve."
For Robin and Jeff, their friendship turned romantic after nine months of seeing each other at group runs and races. It wasn't until a fateful destination race that sealed the deal.
"There was a group from the Fleet Feet run club that went to San Diego to run the San Diego Rock and Roll marathon. And it was after that trip that we went on a date," Robin said.
"But you left out the part after the race when there was a Hootie and the Blowfish concert, and then we actually kissed," Jeff added enthusiastically. "But it was from August all the way until the following May for that kiss. It was really fun and obviously a fun connection, but yeah, there were so many events like that, that the team traveled to."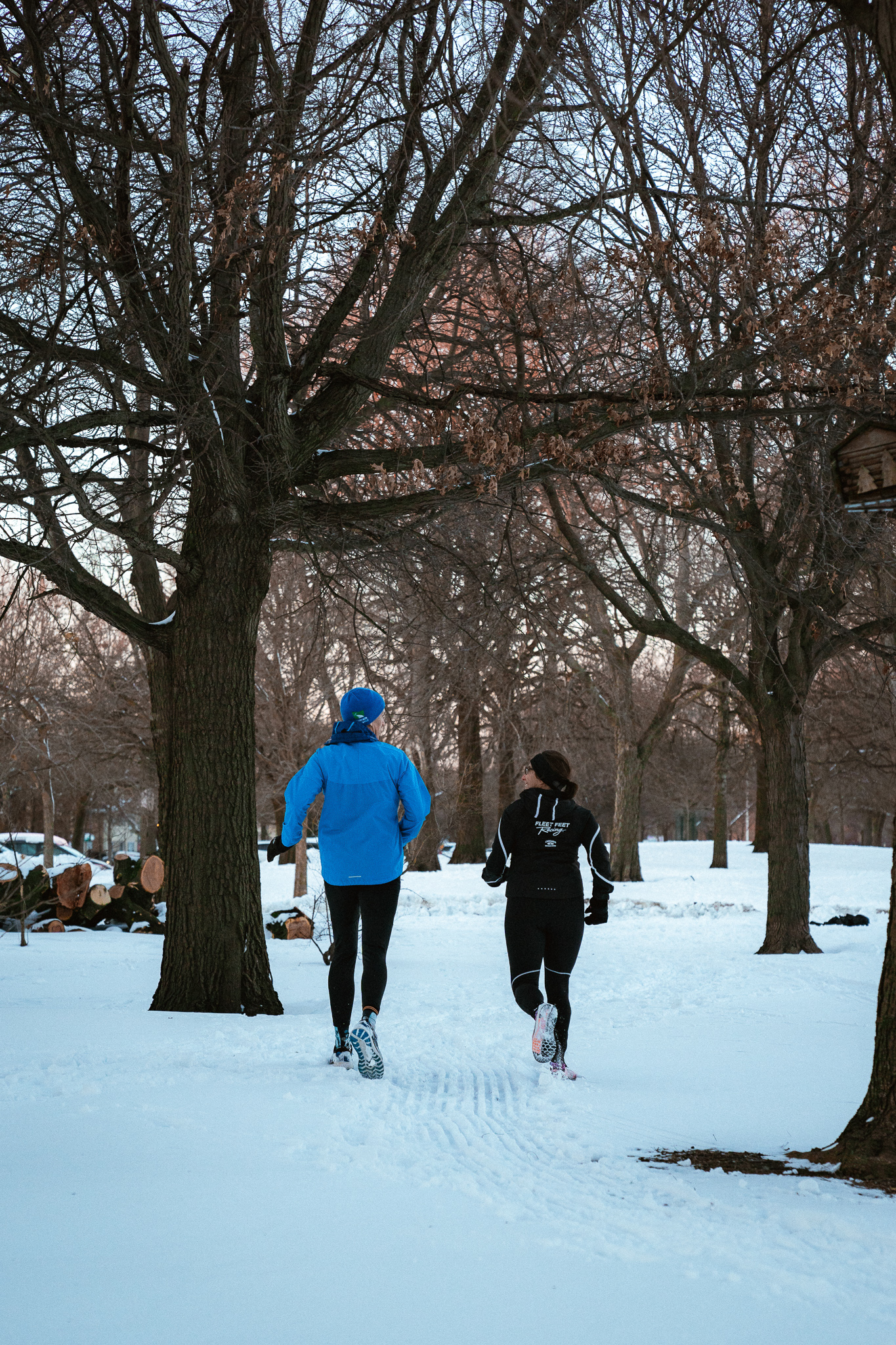 Despite not running side by side, Robin and Jeff support each other's running and fitness goals.
"Jeff's just a little bit faster. We go together and then we hang out afterward and stuff, but we don't actually run together," said Robin. "Although we don't share paces, we share the same mindset."
After that special moment on the dance floor, the couple's relationship steadily progressed like a runner masterfully pacing a race. Two years later, Jeff and Robin tied the knot and got married in June 2001, by 2003 their daughter was born followed by their son a few years later. Despite the life changes, running remained a constant for the couple.
"We were really lucky because when the kids were little, our parents were both in Chicago and all very willing and happy to babysit. Unlike other parents, we would sign up for races and then decide who got the privilege of babysitting," said Robin. "Other people, we'd ask them, 'Hey, do you want to do such and such race or such and such event? And they'd be like, 'Well, let me see if I can get a sitter.' Whereas with us, it was just no problem. We always could say yes."
Today, the couple's love of running has relayed to their two high school kids who now run cross country.
"I remember taking the kids out to Turkey trots before they could run, and then they'd do the one miler as they got older. Now we actually do usually run together at those, but I'm still holding off the kids, but barely," said Jeff joyfully.
"I'm already the slowest," Robin added proudly.
With over 40 marathons and between the couple they will be celebrating their 20th wedding anniversary this June, another trophy to add to the wall. Conclusive proof that love wins in the long run.