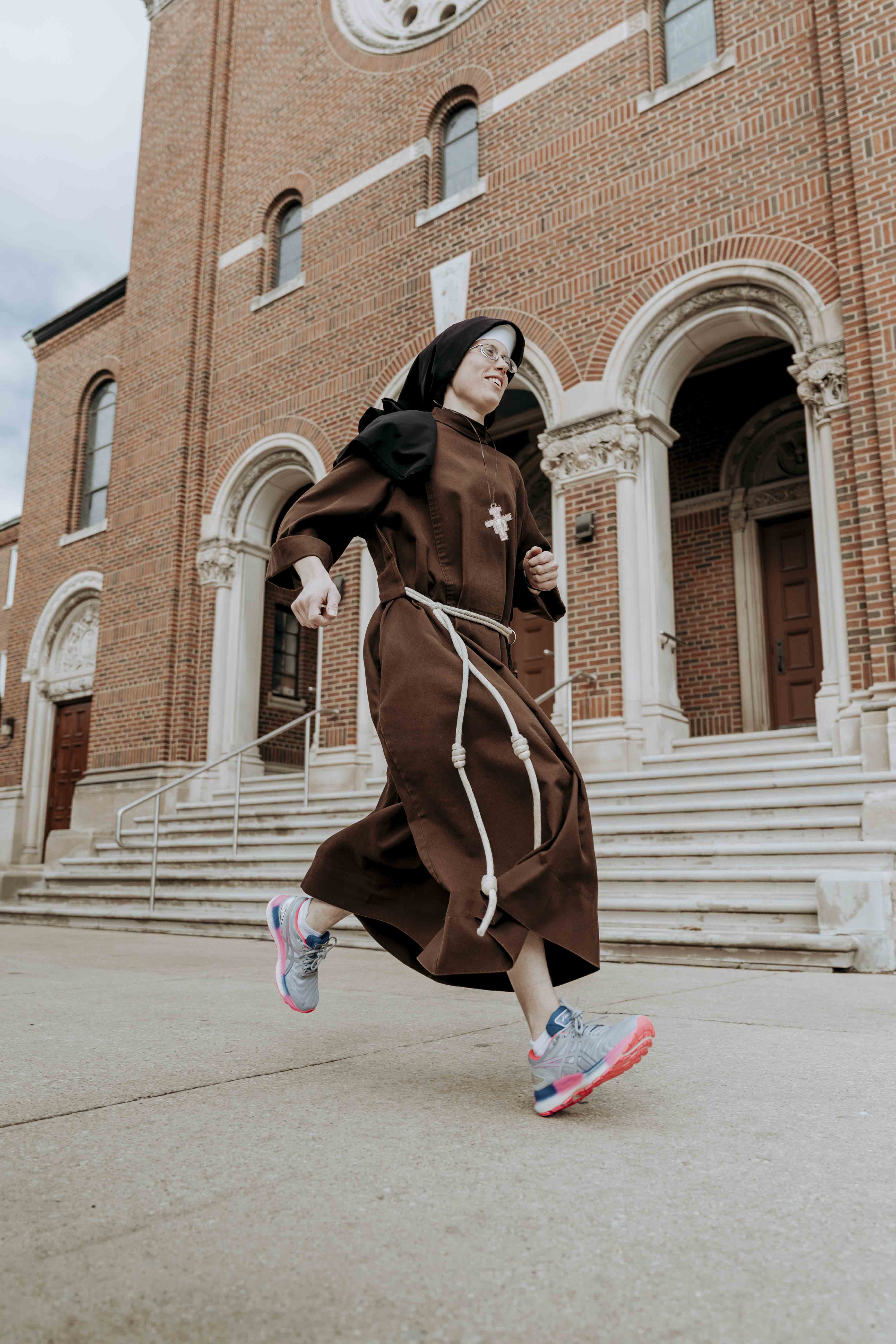 In 2014, she ran 2:53:49 at the Bank of America Chicago Marathon. In 2011, Sister Stephanie Baliga started Mission of Our Lady of the Angels' marathon fundraising team. In 2020, Sister Stephanie is focused on recruiting over 100 runners to raise over $200,000 to run the marathon in October. In 2021, she's toying with the idea of making it to the marathon Olympic Trials.
Mission of Our Lady of the Angels is Fleet Feet Chicago's selected charity of the month for the month of February and serves Chicago's west side. There, she's involved in feeding those in need, helping with social services, teaching, and fundraising. Not to mention marathon training while taking a vow of poverty.
We visited Sr. Stephanie at her church in Humboldt Park at their weekly food pantry which feeds 1,000 families each week to talk about how she balances her calling as a nun with her infinite responsibilities within the organizaiton.
Learn more and register for their marathon team at https://www.missionola.com/. Learn more about our charity of the month program here.
What was the progression from getting involved in the Catholic church at the University of Illinois to becoming a sister?
Several things. I was pretty convinced very quickly that I was called by God to this. I make decisions pretty quickly. I was pretty positive that this is what I was supposed to do. So why wait if this is what I'm supposed to do? And I was graduating from college, so, like, let's not pretend this wasn't what I was supposed to do and get a job for a while, like, no let's do this now.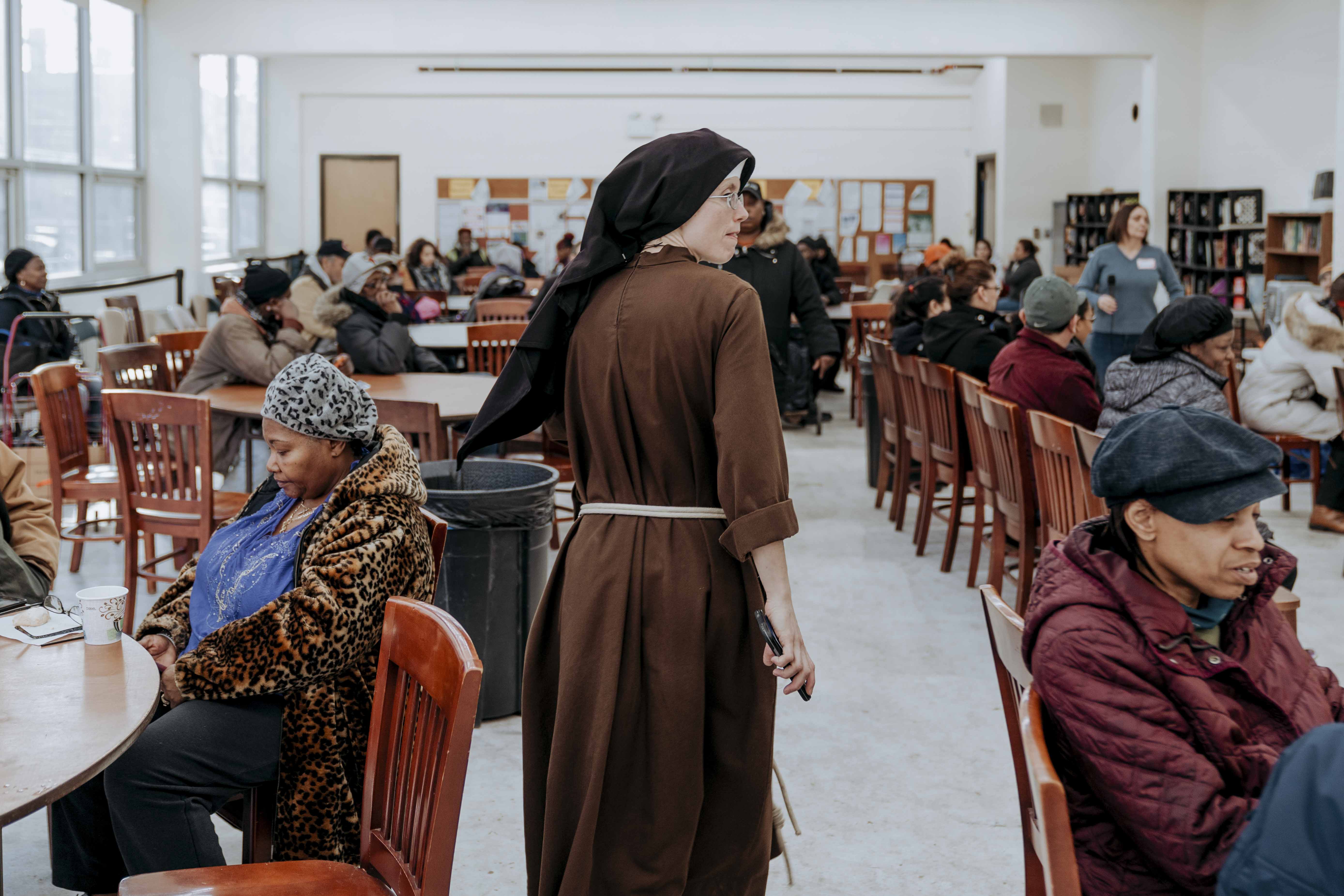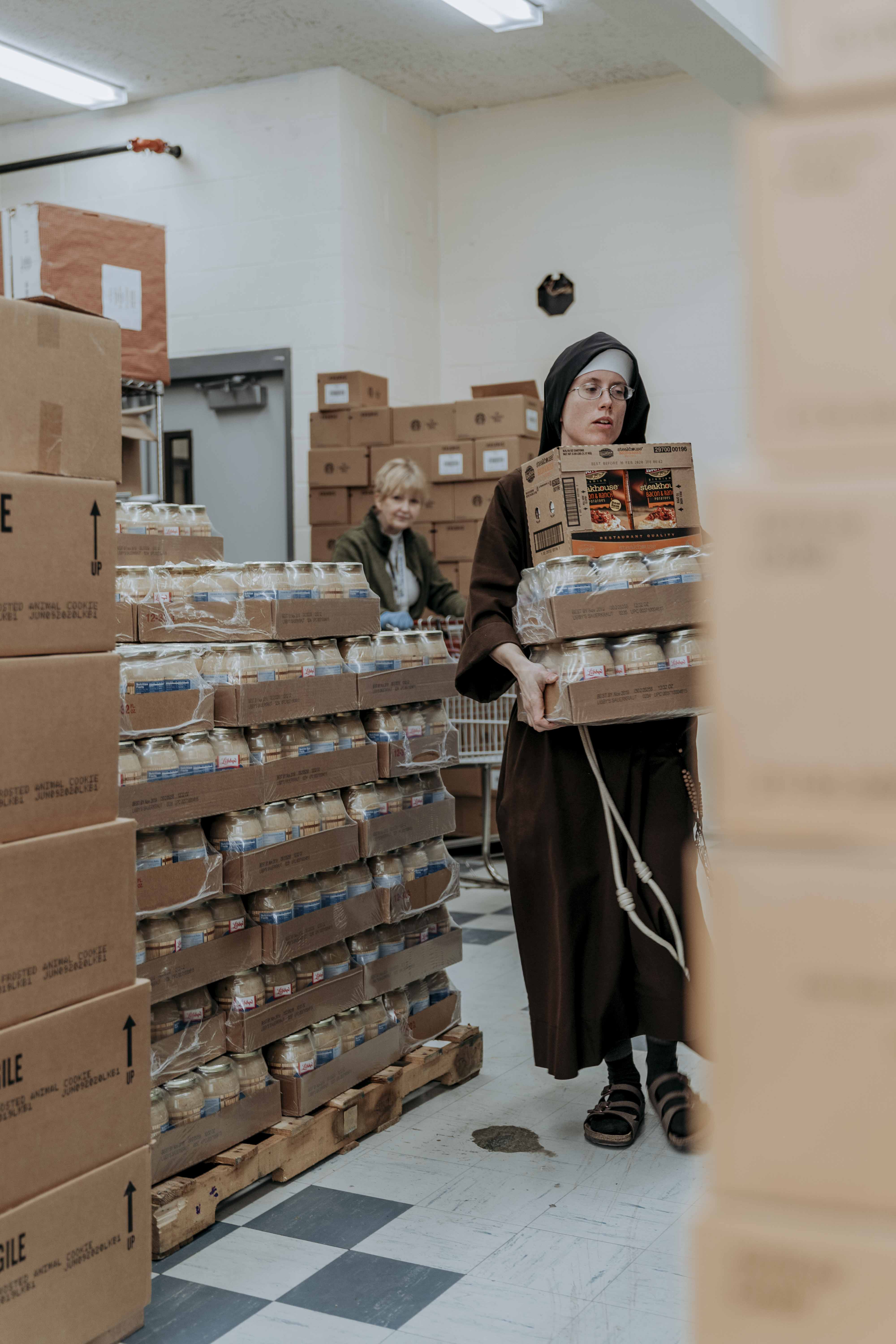 Was there any specific moment that really convinced you that this was your calling?
Yes, after I broke my foot my sophomore year in college, I was running the best I had ever run. I was about to actually have a good track season, which I've never had in my entire life. I was very good at having a good cross country season and a terrible track season. It's like the story of my life. And, then, my foot shattered. My second metatarsal shattered in half. For those out there who have had stress fractures before, usually you know you have a stress fracture for like two weeks before you actually admit that you do. This one went from no pain to totally broken in approximately five minutes. So it was this very bizzare injury that pretty much took me down from like being totally and completely in shape and in control of my own life to totally out of control. That made me reflect on what my life was really about, which was clearly not running in the end. So then I started looking at a lot of other things.
What made you choose the Mission of Our Lady of Angels over other groups upon graduation?
I went around in different communities in the areas. Actually all over. I went to New York. I went all over the place. This was a brand new place. A brand new community. We were founded in 2010 and I joined in 2010. I knew when I came here and visited, I knew this was exactly where I was supposed to be. I felt at home. I felt Jesus' presence here. I felt very at peace when I thought about being here.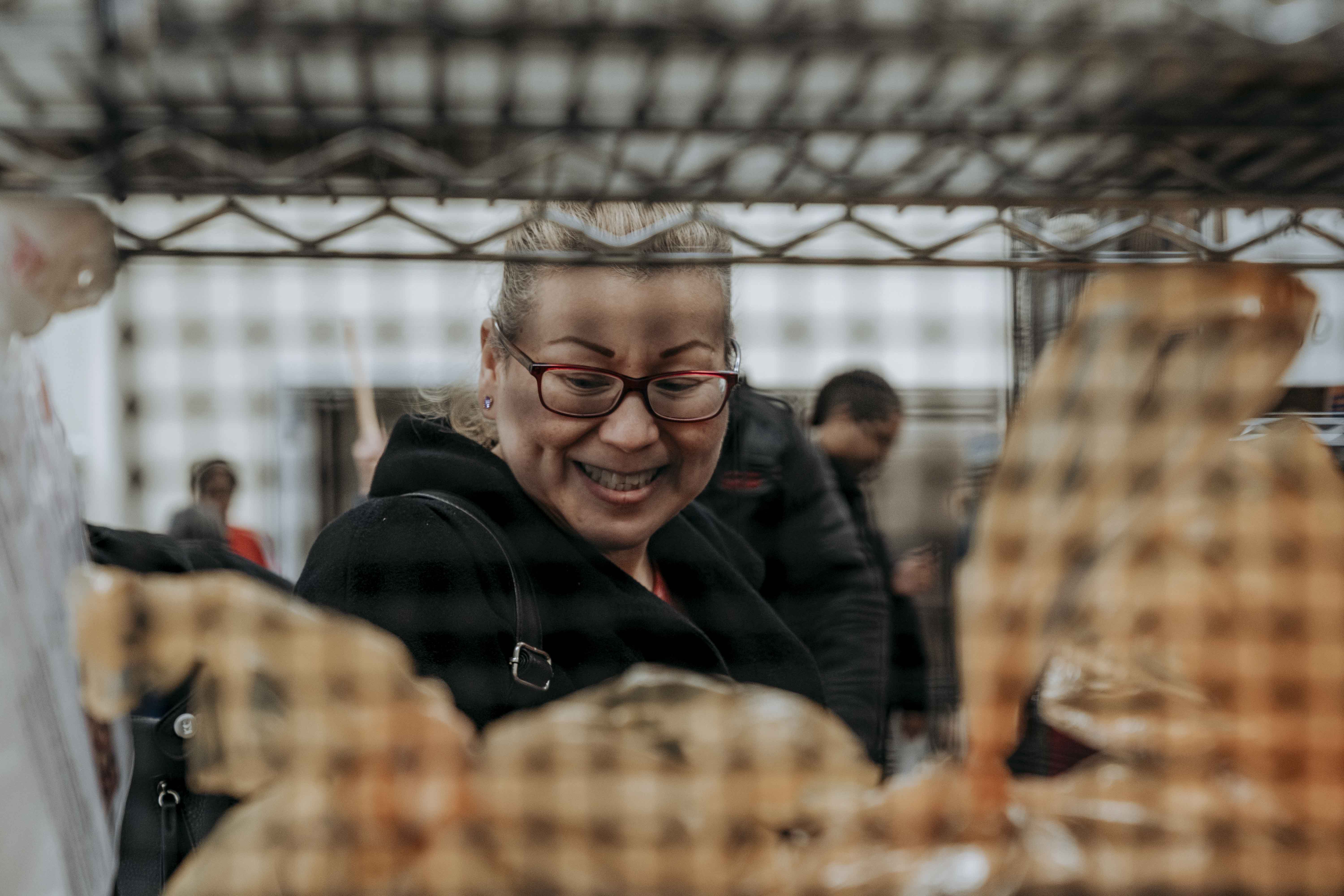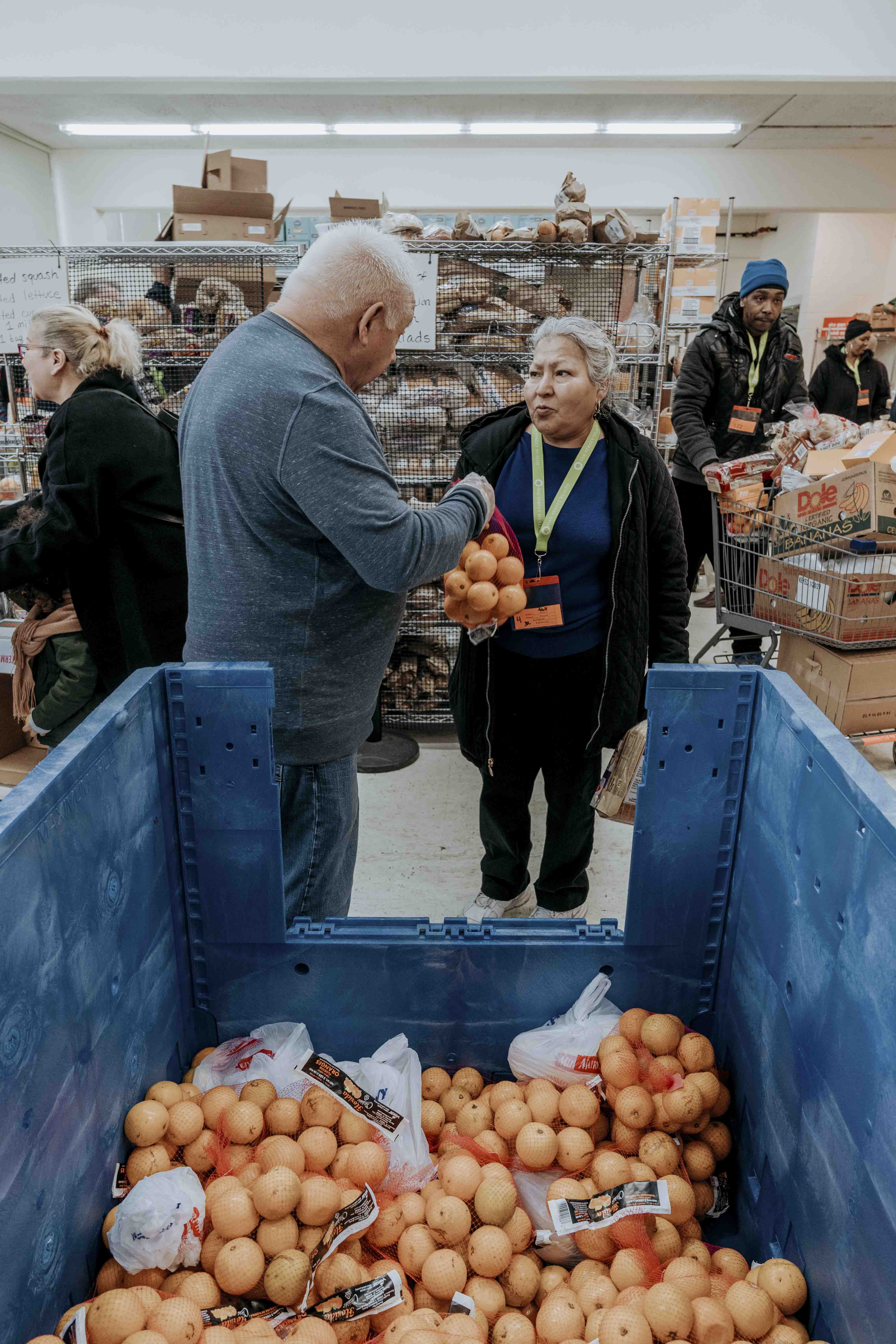 Was there a marathon team before you joined the Mission of Our Lady of Angels?
No. I helped found the marathon team. One of the crazy reasons how I found out about this community was that there was this Sister who decided to start running marathons to pay off her college debt. She paid off 95,000 dollars of college debt by running marathons. She was not a runner before she started this. But that's one of the initial reasons why I found out about this community because obviously that story drew my attention. Some of the press she had gotten was an easy in to starting this marathon team. Then it took off. Both her publicity and my network of runners helped it take off. For the size of our charity, our marathon team is massively proportionally large. And that's because of the beautiful connections we have made and we got into that charity program at the right time.
So, kind of like this perfect storm?
Exactly. Right when they build up this huge entry base and switched to guaranteed entries. All of the sudden we had 60 guaranteed entries. It was awesome. I was like "wow, I don't know how that happened, but it just did".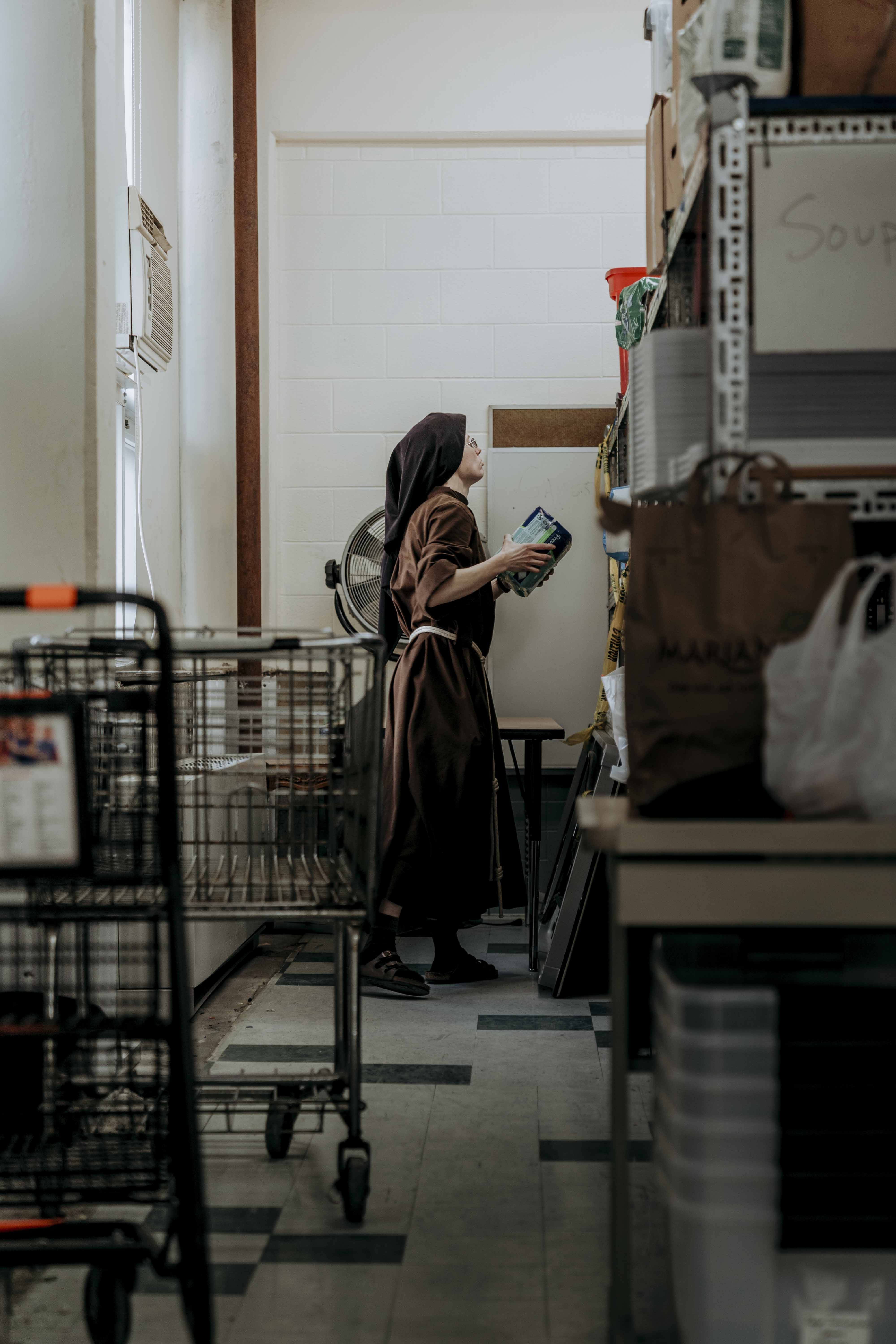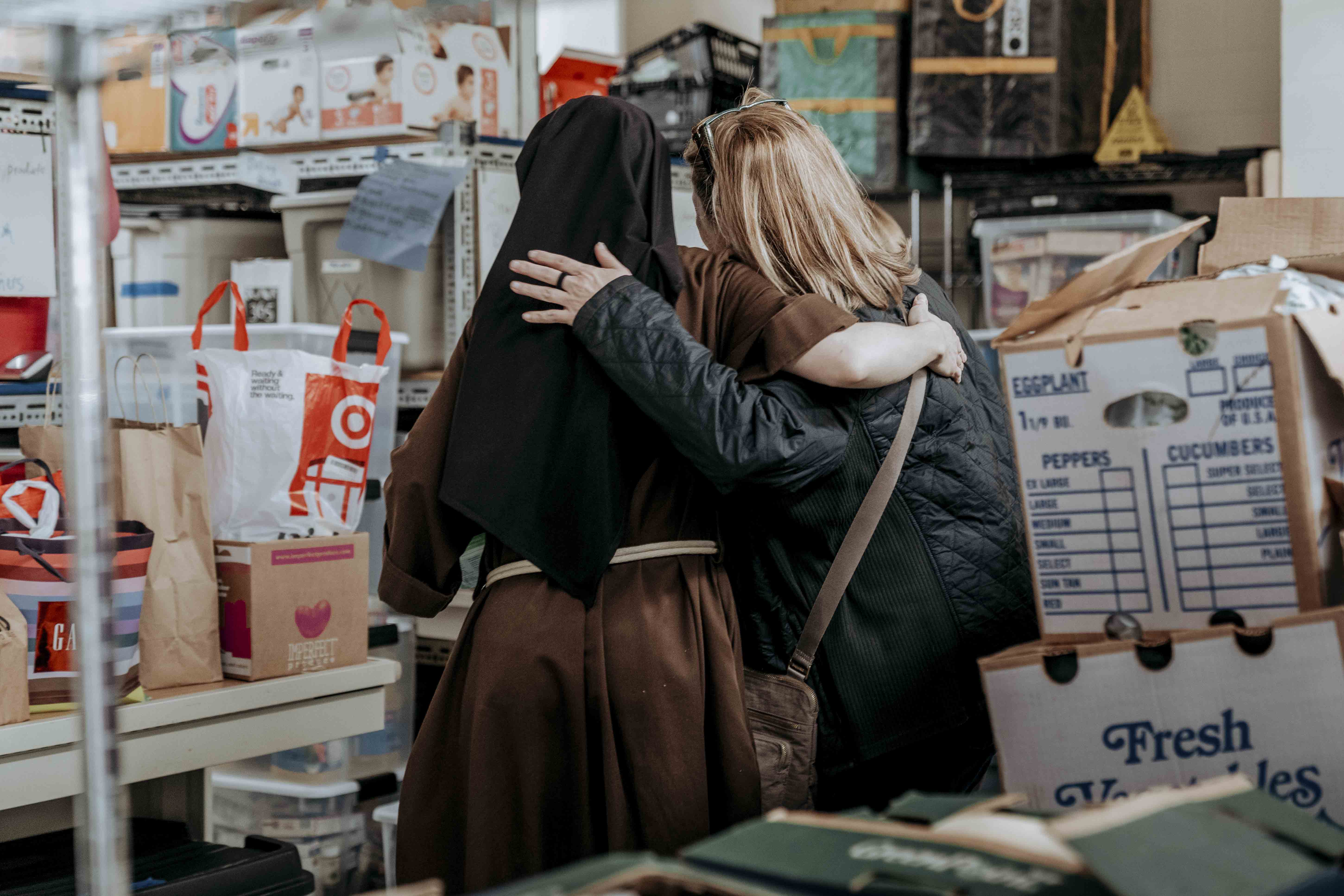 I'm aware you took a vow of poverty? What does that mean?
Sisters take vows of poverty, chastity, and obedience. The more intense one is the obedience because you're obviously under a superior but the poverty vow is also pretty intense too. But that means we give up everything. I don't own anything myself. We hold everything in community. So that means I also don't have any money. I don't buy anything on my own. We live off what we call divine providence. So we live off the food that comes in donations. We live off things that come in donations. We can ask for things if we need things. But in general we don't buy things.
Does it affect your training?
It definitely does not affect my training because people are very generous and give me shoes. And that's pretty much all I need for training. And I have to figure out how to get in the marathon every year with some money.
Does anything affect your training?
Time. Yes, so, right now I don't really have much time because I have so many things going on. I'm in charge of the construction project. I'm in charge of the pantry. I teach children. I'm the maintenance lady. I'm our business administrator. I run the marathon team. I do all of this stuff so I don't have as much time to train as I'd like right now. It is what it is. It's what God wants right now. I'm at peace with that.