The marathon returned to Kalamazoo on April 23rd after a three year hiatus. More than 2,300 runners took off, but at the end, a man decked out in the navy and turquiose colors of the Fleet Feet Racing Team broke the tape first. That man is Jonathan Coleman. Read on to find out about his journey to the finish line and how he got there.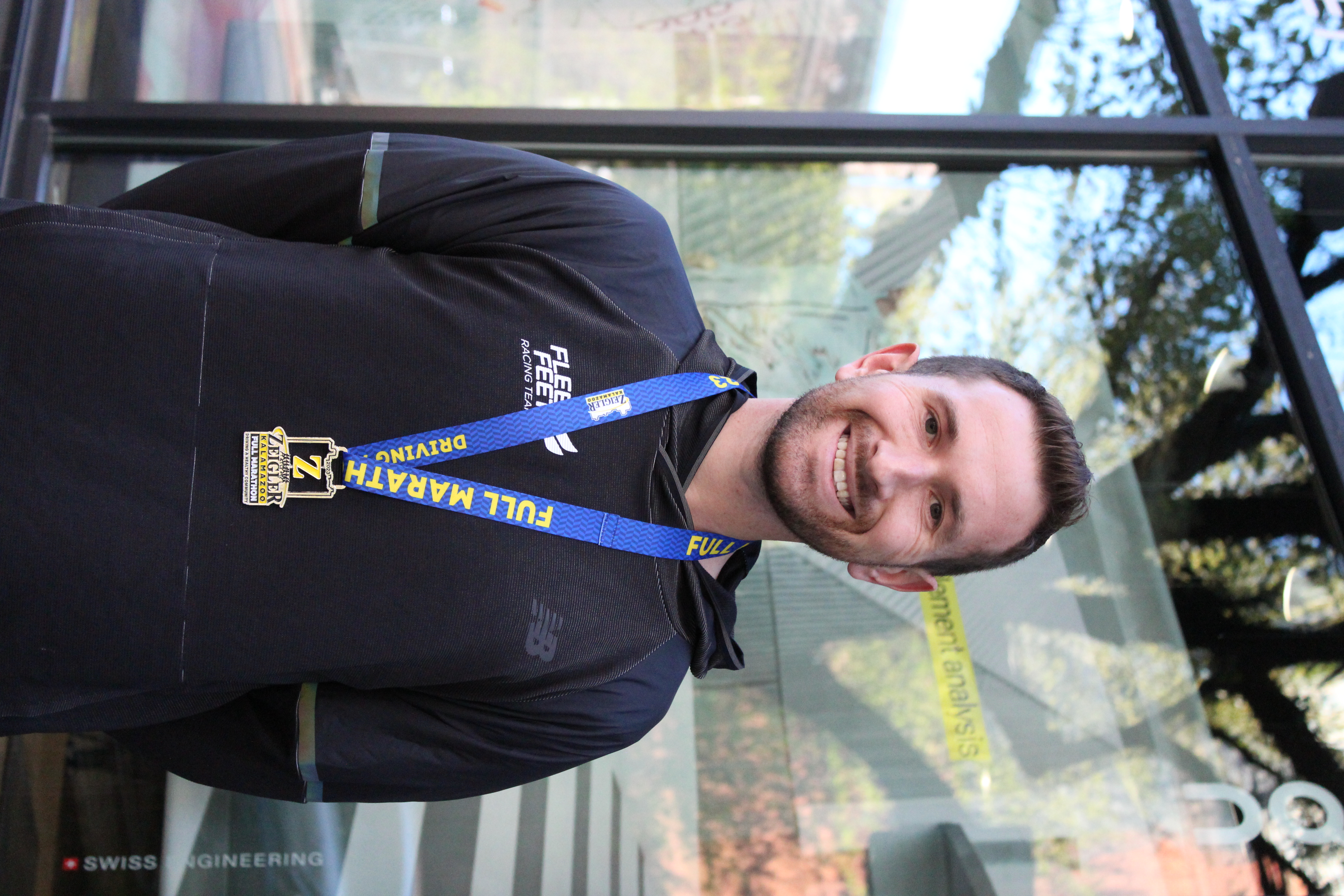 Q: What are your pronouns?
Jonathan: He/Him/His

Q: How long have you been running with the Fleet Feet Racing Team?
Jonathan: This is my first year with the Racing Team. After moving to Chicago last summer for law school, I was glad to find an inclusive running community that supports me in pursuing the strongest version of myself as a runner.
Q: How many marathons have you run?
Jonathan: Kalamazoo was my tenth marathon.

Q: Why did you choose Kalamazoo?
Jonathan: I have had a lot of bad luck with unseasonably warm marathons. I decided to train for several months with the goal of a late April race, but I waited until a couple of weeks out to make a final decision once I could get a sense of the weather. Fortunately, the weather was perfect—it stayed in the high 30s! Kalamazoo was also just under two and a half hours from Chicago.
Q: What was your goal going into Kalamazoo?
Jonathan: My only goal was to run a new PR. In April 2021, I went under 2:40:00 for the first time and by just a few seconds. Since then, I had failed three times to PR. I was pleasantly surprised to PR by two minutes.
Q: What was the best thing from race day - one race-related and one non - race related
Jonathan: The best race-related thing from race day was seeing years of hard work pay off. I started running competitively late in high school and trained on my own for the marathon throughout college. I have cut almost an hour off my time in the eight years since then, and my high school cross-country pace is now my marathon pace.

I might be cheating with my answer about the best non-race-related thing from the day. The best thing apart from my own race was being there with my spouse, Lexi, who also ran. While we don't run together, we persevere through the drama of the marathon process together. She also ran a PR, and I was so glad I was at the finish line to see it!