To celebrate the release of a shoe inspired by street graffiti, we went directly to the source. Working in public art installation and fine art exhibition, Miguel Del Real [@delrealink] got his start through street graffiti while growing up in Pilsen. Using intricate line work contrasted with colorful accents Miguel created his recognizable style by incorporating original designs influenced by calligraphy and indigenous patterns.
The ASICS GEL-NOOSA Tri 13 aims to inspire its wearer through design. We caught up with Miguel to touch up one of his "p-walls" (permission walls) and talked to him about what he aims to convey through this artwork, what art has done for him. and teaching art and its potential to Chicago's youth.
Read our interview, shop the ASICS GEL-Noosa Tri 13 in-store at Fleet Feet Chicago locations and online at fleetfeet.com. Stay tuned for a giveaway on our Instagram tomorrow.
Your style is very recognizable. How would you describe your style?
It's a combination of what you were saying right now. Graffiti with calligraphy aesthetics with geometric shapes. It's a buffet of everything that I like and have been exposed to visually that I would see around my community. It just started shaping up into a mesh of all these things with added color.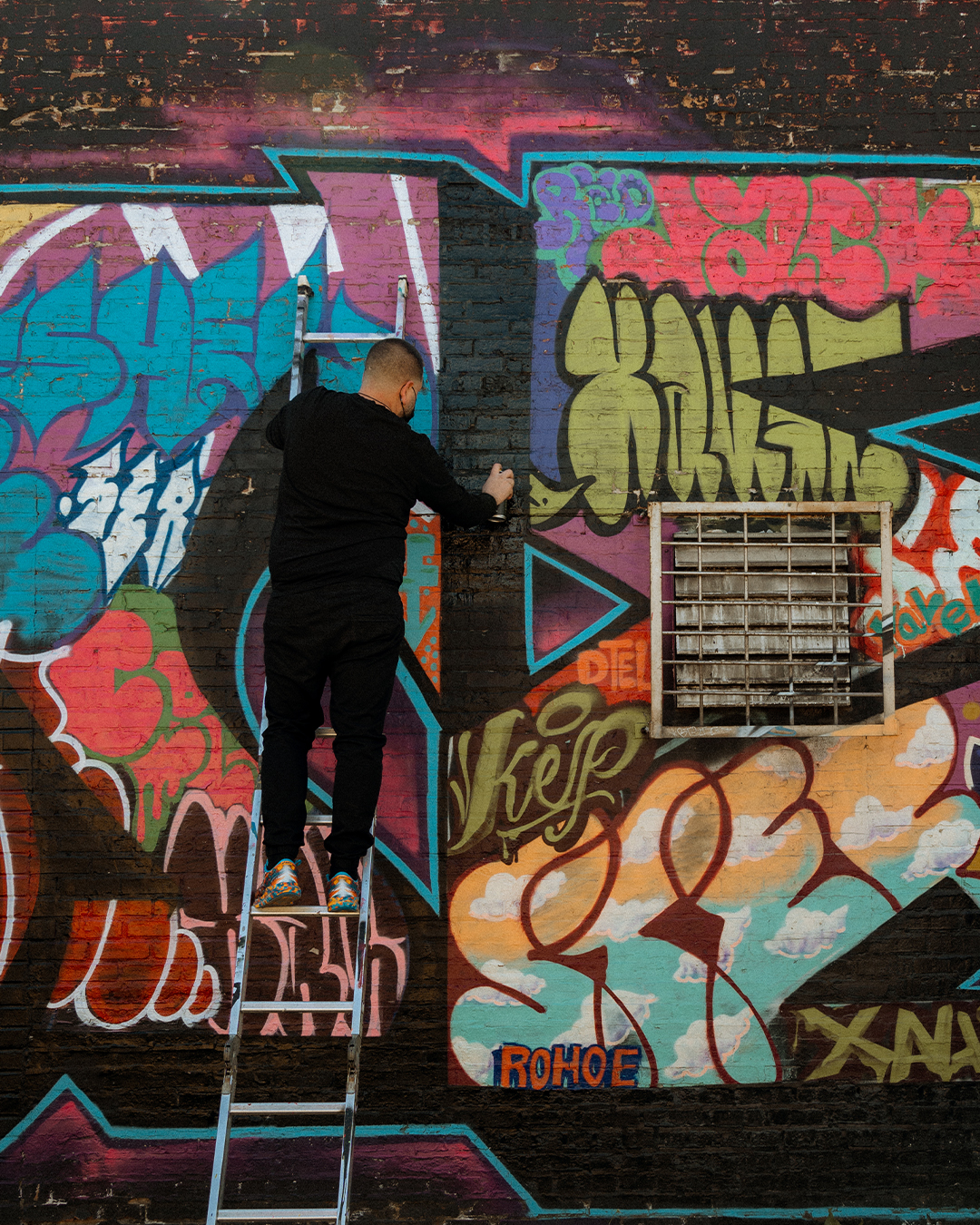 What are your inspirations in terms of color and style?
In terms of things that influence my style or even color schemes, it all depends on where the piece is. You know, like, if a piece is going to live somewhere where the aesthetics are a little bit more of earth tones, then I like to get inspired by the area that the piece is in and just kind of like either contrast it or, or go with it. The environment in which the piece lives pretty much determines how it's going to look visually or in terms of color aesthetics.
This is a quote from Hiroki Miyake the designer of the ASICS GEL-Noosa Tri 13 shoe. "The inspiration for the graphical element of this year's upper design is street graffiti... I was struck by the power and energy that was created through the artwork. I wanted to bring this type of energy to the graphic element of the NOOSA shoe. I want people to look down when they are running, or see their shoes in the closet and be inspired - hopefully gaining a little energy from the design."
What do you want people to feel from seeing or experiencing your art?
I think the keyword there is "energy". Energy is what I was talking about in terms of what influences my artwork. If the place or the setting has a certain energy to it where it's calmer or more vibrant it can resonate with the artwork that's being created. If anything it's just a reflection. When I create my own artwork or what I hope people are inspired by is the first feeling that they get once they interact with the art piece whether it makes them feel calm or excited, but, the energy is one of the key elements.
How did you get started in art and how did that transfer to graffiti?
I've always been interested in art and drawing as a young kid. Growing up in this community in Pilsen and Little Village, there are a lot of murals around, and just by seeing the murals and the artwork, it's just something that kind of gave me a little goal because I was like, "Well, what does it take to get to that level? What do I need to do to paint murals like that?" That's what helped inspire me as I grew older and started learning more about art and kept diving into it. Graffiti was just a stepping stool for me to venture off into larger canvasses. From there, I started appreciating the culture or the themes, or even the communities that the artwork was living in and that continues to inspire and shape what I create.
What has art done for you?
At first, I saw art as an escape from the typical narratives that we see in our communities and the violence and people venturing off into more of the negative elements. I saw art as a gateway for me to connect with other people from other neighborhoods. If anything, it was like therapy for me and escapism, which, later on, turned into, you diving deeper into it and figuring myself out as the person that I am. It evolved into people, giving me opportunities to express myself or express ideas of other people, like groups, or what's important to the community, which has been opening doors for me and to which I'm very grateful. Art has kind of been liberating.
What do you teach and what do you try to instill in the kids you teach?
I've taught at many different institutions from After School Matters to Marwen, to a Rudy Lasano Alternative High School. In terms of teaching, it's been mostly about art. Teaching art fundamentals, but ultimately, it's getting to the core, you know, we all want to express something. We all want to dive in deeper to express what we're feeling, what we're thinking about. That's the more important message for me to relay out of the kids. Artwork is just one medium for them to express what's going on internally - maybe even externally.