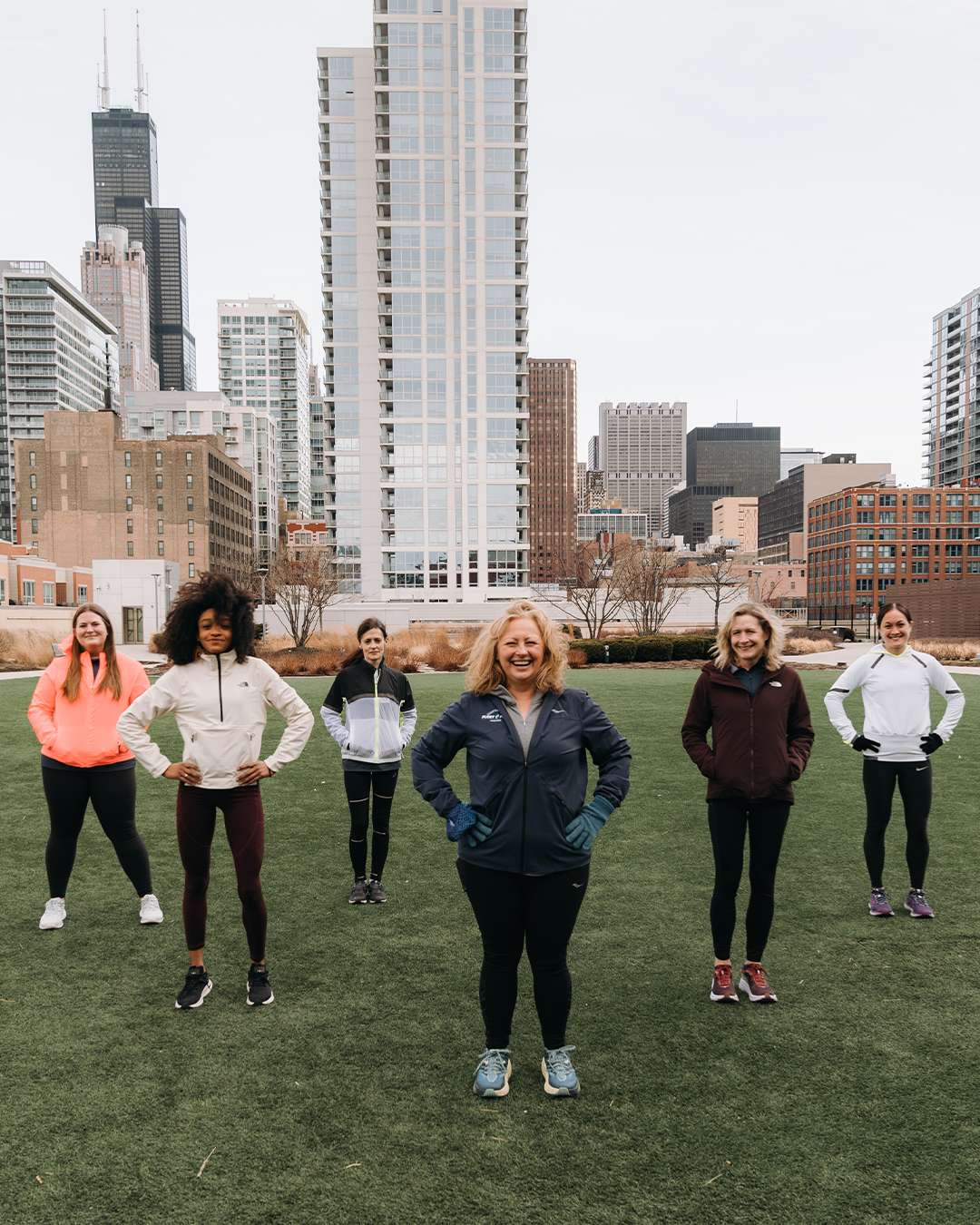 (Pictured from left to right: Kristin Phillips of Fleet Feet Elmhurst, Angela Swain of Fleet Feet South Loop, Ana Arias of Fleet Feet Deerfield, Lisa Zimmer co-owner of Fleet Feet Chicago and Chicago Endurance Sports, Kim Heather of Fleet Feet Old Town, Jamie Hershfang of Fleet Feet Lakeview)
Five of our seven stores are managed by women and brought together through a common thread: running, yet, none of their relationships with running are the same. From beginning at a young age to beginning as an adult. From high school cross country athlete to D1 collegiate level to a 10 plus minute miler. These powerful women have completed a plethora of 5K's, marathons, triathlons, 100-mile ultramarathons, and every distance in between.
In 1996, Lisa Zimmer lit the fuse and founded Fleet Feet Chicago alongside her husband, Dave. In 1998, Lisa set out to make running more inclusive for women of all fitness levels by starting a women's run group from each store followed by purchasing the rights to a women's race now known as the Run Mag Mile. She is now raising a fierce teenage girl who has a passion for running while leading marketing efforts for the company.
Reflecting on where the company is today, Lisa interviewed the women-led crew about how each woman was introduced to running, their relationship with it now, the obstacles they've faced as a woman in athletics and business, and what this year's #ChooseToChallenge theme means to them.
Foreword
I'm excited and proud that we have such strong, powerful managers at Fleet Feet Chicago. It's super unique in this industry. Two years ago, I went to an empowerun session out in California to connect, learn, and inspire other women in the running industry. One of the things that I learned during that is how lacking our industry in women - women as store owners, women at executive-level positions with vendors, and women coaches. To have this many women represented as store managers is really incredible. I'm really proud to have these women as part of the Fleet Feet Chicago family. We're all part of the running community but it means something different to each of us.
On a Sunday morning, we headed to Fleet Feet South Loop for a photoshoot and discussion. I would like to share that conversation with you.
- Lisa Zimmer, co-owner of Fleet Feet Chicago and Chicago Endurance Sports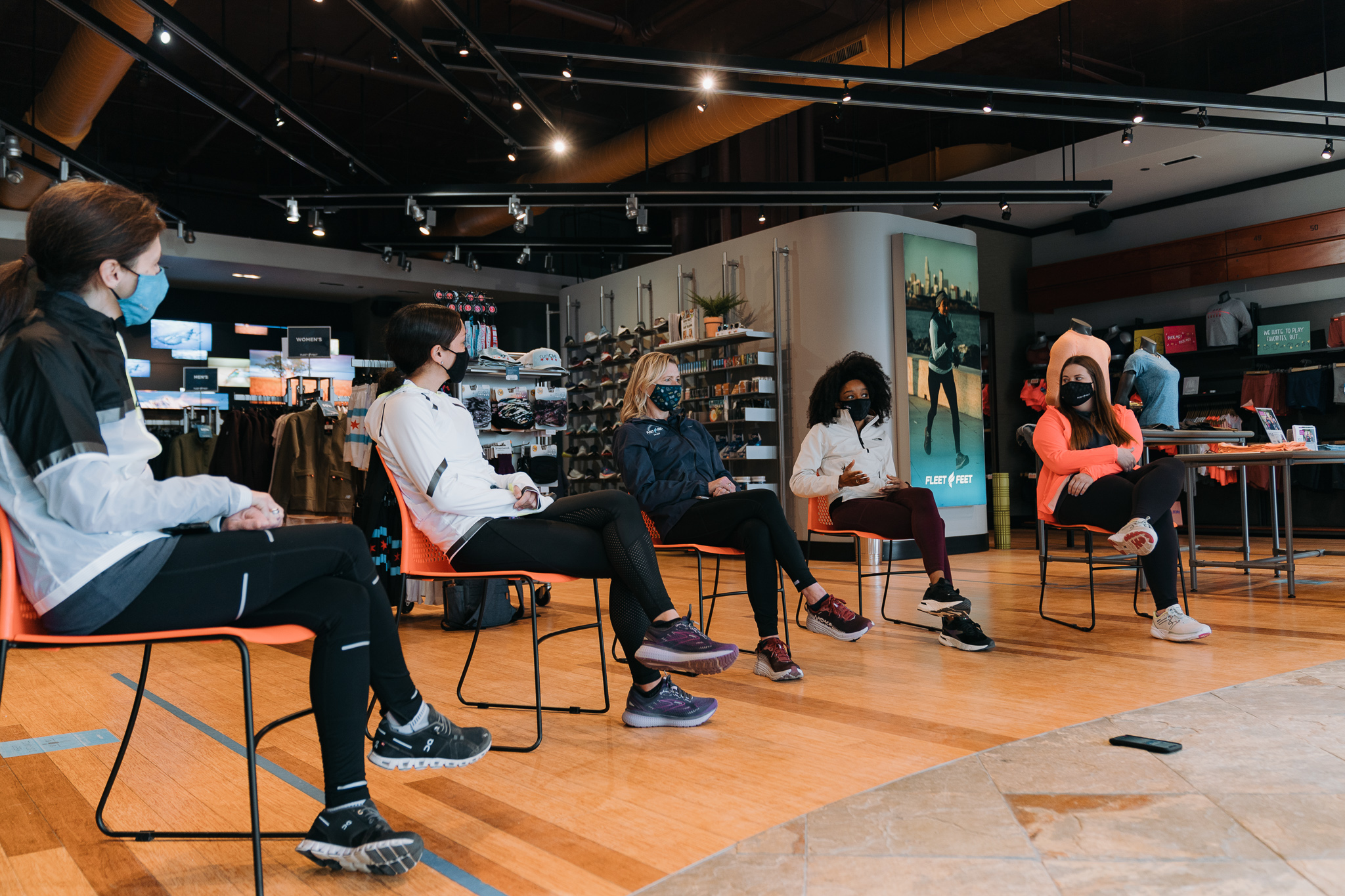 The Conversation
Q: How and when were you introduced to running?
Lisa: I'll just give you kind of my history on that. I did my first 5K senior year of high school. I did not run in high school, or college, or, competitively at all. Ever since senior year of high school I've been on and off running either to do a 5K or a 10K or a marathon, or, just to run for my sanity. That's kind of my history with running.
Kim: This is horrible, but, in college, I just was desperately wanting to get rid of my freshmen 15. I had exercise-induced asthma, so the first day I decided to run, I forced myself to run half a block. And then an asthma attack. And the next day a block. Then an asthma attack. I just kept building on it and building on it and as I got older, I grew out of the asthma, so, then I could go longer distances.
Ana: It was my husband. He started running and I would follow along and tag along with him for the races. And, you know, you get the bug. If you see someone enjoy it, there has to be something about it. So, I tried it out and I kept going.
Jamie: I grew up watching the Chicago Marathon runners go by my house every year and went outside to cheer them on and thought it was so cool and crazy at the same time. I grew up as a swimmer. I always swam. Leading into my sophomore year in high school, I just started running to switch it up and keep in shape and once I started, I just got hooked and never looked back.
Angela: Two of my older sisters ran track and I went to a couple of their track meets, but I wasn't super familiar with the sport or anything, I mean, we watched the Olympics every four years but that's about it. Then, I started running in middle school just because the sports available to me at the time were basketball, volleyball, and running, and I was really short. So, other sports didn't make sense. So, I told myself "well, if you're running, even if you're slow, you can still run. You still get to play." So, I started running when I was 11 in the sixth grade and just kept running right through high school. I was a walk-on (in college)and then I graduated and just kept running. It's just been a part of what I love to do and how I make friends and build community wherever I go.
Kristin: I absolutely hated running, growing up. We used to run the mile for gym and I would find any excuse to get out of it. In 2012, I think it was, a friend of mine had a classmate that passed away in college. The girl that passed away was a huge runner so the family and school had a memorial 5K for her. I and two other friends went down and ran our very first 5K together. It was like, the best time I've ever had, and then it just kind of went from there.
Q: What's your relationship with running like today? There are some of us who have been doing this for a really long time so our relationships with the sport have changed many times over the years.
Lisa: it's a love-hate relationship right now. A lot of it has to do with age, for me, carefully balancing weight control, diet, core strength and stress is huge. My little bit of insight to each of you: stretch, please. But, running is still my favorite way, to commune with nature, take time for myself, and to be by myself. It gives me solace. It gives me an escape and I know how important it is to run as a community and run together and run as a group. But for me, I have always found my peace in getting out on the lakefront or out in the forest preserve or just in the neighborhood and not having any noise. I don't run with headphones. I just like to hear the sounds around me and take time to breathe and see. I'm so excited about the buds getting ready to pop. It's going to be a beautiful spring. That's where I am at in my relationship with running right now.
Angela: Right now? It feels like I'm mourning something that I've lost. It's very sad just because I've been injured for so long and the kind of running that I like to do, I just can't do. There's a lot of people that get joy out of, you know, every other day running three miles. But that's not what I like to do. I like to challenge myself, push myself. I like to do speed workouts. I like to race, you know, and I can't do any of that right now and haven't been able to for a while. So, right now at this moment, it just feels like I'm grieving.
Jamie: For me, running is just super rewarding. I really enjoy pursuing my best and the process of becoming my best and challenging myself but I also just really enjoy the social aspect like running with friends in the morning, or, meeting people at races from across the country and building those relationships. The local running community is super supportive and I've been lucky to have a lot of support along the way. Getting to know other people and their stories and just connecting with them through running has been pretty incredible.
Ana: It's kind of very personal. I'm a stroke survivor. Running also saved me because I was in such good shape before the stroke that it really helped me get through it. During my recovery, the people are what got me through it, to be able to set my goal, to be able to run again. So, for two years, I set a goal for myself to get back to running. So right now, just to be out and be able to run is a gift. It's a blessing. To me, it's not so much the racing. I do my races, but it's not what it used to be. It's not what I was before, but running is my outlet.
Kristin: I like to say I'm in retirement (laughs). I'm still recovering from back surgery I had two years ago. It's been a really long process of just being able to be pain-free through the day of just normal activities. So really just focusing on strengthening and things like that. I'm hoping later this year to get back to running, but I'm just anxiously awaiting, but being very patient.
Kim: My running in the past was always very solitary but it's changed. It's changed in a couple of ways. It's changed because of Fleet Feet and running with other people. Having running be such a big part of my life with other people and helping other people with running all day, it's no longer a solitary thing for me. It's just become such a huge part of my life. At the same time, with my own running, I think I've finally matured about it. I do want to run for the rest of my life, so I can't do stupid things anymore. I can't run five days in a row or I can't run more than 35 miles a week and so I've accepted that. I've slowed down. I hope that I can run for the rest of my life.
Q: Based on your own experience, what advice would you give to women considering pursuing a career in our field?
Lisa: The industry needs more women. So I encourage young women, our daughters, and anybody that we might be coaching, to think about this industry as a career. We need more coaches. We need more executives. The running industry has always been a male-dominated business but we're seeing that change. In the last 25 years, I have seen it change, but I still think we have a long way to go. When I started in this industry 25 years ago, nobody was making a women's last for shoes. All the lasts were built on men's shoes. Bras, they were okay, but Brooks and Moving Comfort were just starting to get into the bra industry. I think the more women we see in this industry, the more we see our needs being met. My advice to anybody wanting to pursue a career in this industry is to have a passion for the sport. Have a passion for change and most importantly, be yourself, be fun, be happy. It's a happy, fun industry and I think that's where we kind of need to stem from and just be powerful and strong and get in any way you can if it's the sport of running that you're passionate about.
Jamie: Going back to when I was in college, I got my undergrad degree in exercise science. At the time, the program wasn't even available at my school. I talked to my professor when a lot of the people in my classes were men and I said "I really think this degree would be worthwhile. Do you think we can make it happen?" I spent two of my four years of school trying to get this program started and I was the first one to graduate from my college with that degree. So, I kind of helped develop the program with my male professors and a bunch of males in my class, and you just kind of have to ask yourself "Why not me?" because I'm interested in this and I'm invested in it then why can't I be in that position as well? After I graduated, looking at coaches and just talking to them, you're surrounding yourself with like-minded people and I don't think it matters whether you're a man or a woman, if you have the interest and the dream to do it, go for it.
Kim: I think you really have to be passionate about it. I would say, having many years of career experience, loving your job is rare. Not many people love their job. So, this could be an opportunity, if you're passionate about running, to love going to work every day.
Angela: I guess my advice is similar to Jamie's. My undergrad degree, the program I was in, was nicknamed the "white boys club". I've always been in spaces where I'm just not like whatever is mostly there, and it was never something that stopped me from doing anything because I knew that it was something I wanted to do. If you know yourself and if you know what you love, then it shouldn't deter you from doing it. And if you know what you know, people can't deny if you're knowledgeable and if you're capable, right? So, if you are able to throw yourself into what you're doing and show that you're good at it and that you deserve to be there, then nobody can really stop you from getting there. So, I would say really just be true to yourself and know what you want and be your best at it, and you'll be able to do it.
Kristen: There's actually a book from one of my favorite actresses called 'Why Not Me?' and her main thing about how she got started was asking "why not me? Why? Why shouldn't I deserve this?" So, that's always the thing that I keep in the back of my mind when I'm trying to do new things or be brave about stuff and nobody can really challenge what you know. Believe in it, speak up, speak out, do your job, but always challenge yourself and try new things and believe what you believe.
Ana: When I first came to the States, I was lucky enough to get into a company that was full of women and the CEO was a woman, and most of the managers were women and you could truly tell what all those women's had in common - powerful women personality-wise. They just truly believed in themselves. It was unbelievable. You just have to believe in yourself and show your personality and your true self and be a role model. I had a lot of role models.
Q: This year's theme for National Women's Day is #ChooseToChallenge. What does this mean to each of you?
Kristin: I think you should just always be challenging yourself both personally and professionally, but more-so just keep setting goals, keep working towards something new. Don't stay stagnant. Always keep trying new things and challenge yourself
Jamie: Hopping off of that, I think it means not only challenging yourself but also challenging others. Never stop asking questions. Never stop asking why or how, or, "what can I do to make a positive impact?" Always keep dreaming and never stop challenging yourself, whether it's believing in yourself or pushing yourself out of your comfort zone. Ask the hard questions and do things that you know would make others proud.
Ana: Simply put - Don't settle.
Angela: To me, it means to be a little more introspective and just seeing how you can improve yourself. If you're working on that constantly then that'll show in your actions and how you treat people and in what you do. And don't accept things. If something doesn't feel right, if something can be done better, or if you don't understand what everyone else has said, ask the question, challenge your circumstance, challenge where you are and what you're doing because everything can look different and can be better if people are willing to take those steps. Don't be afraid of the work that it might take or if it won't be received well. Plenty of times I haven't been received well by other people, but if you believe in something, if you want something to move forward, it's what you have to do.
Kim: I'm going to answer it a little differently just because of our current circumstances with the change in our business with COVID, especially when it comes to running, I've been so impressed about people challenging themselves, even though there's no upcoming race. I've seen so many people just challenge themselves. It's all internal. It's all like, "I want to better myself. I'm going to train for a marathon, even though there's not a marathon." I've just been super impressed with the people in the running community really stepping up and challenging themselves in a hard time.
Lisa: For me choose to challenge is the way I would like to move our business forward. Challenge our norms, challenge where we are now and how we can continue to grow and adapt to each curveball that comes our way. On a personal note I will choose to challenge myself in setting new health goals and keeping them! But more than that I will choose to challenge each day and take each day as it comes and try to make the best of every situation and shoot for that photo finish and that home run.