Throughout the month of August, Gatorade Endurance hosted a four week event at our Old Town location where they worked with our marathon training program and Racing Team on Wednesday evenings to provide helpful information to runners about fueling for the Chicago Marathon. Each week had a different focus ranging from real food, to sports fuel, and making a fuel strategy for race day.
For those running the Chicago Marathon in October, we're sure you know that Gatorade Endurance will be on course at the marathon with four of their products: Their carb energy drink, carb energy chews, gels, and endurance formula. Familiarize yourself with the various consistencies and ingredient list below, and for more information on the difference between them, visit our nutrition guide here.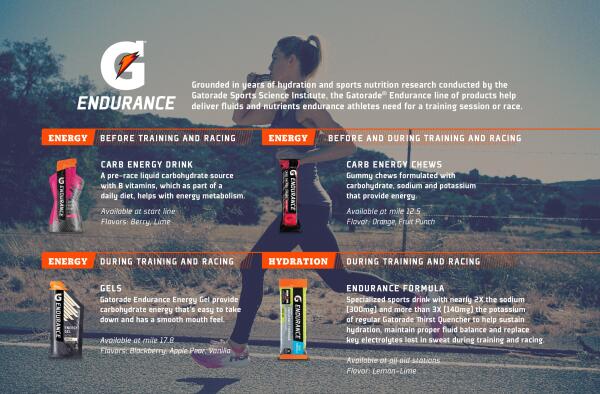 We also got our hands on the course map from Gatorade Endurance. This map outlines where exactly each product will be on the course and at which mile marker. We encourage you to get familiar with the aid station locations, and more importantly, get familiar with the product itself to see how your body handles the product so it doesn't come as a surprise on race day.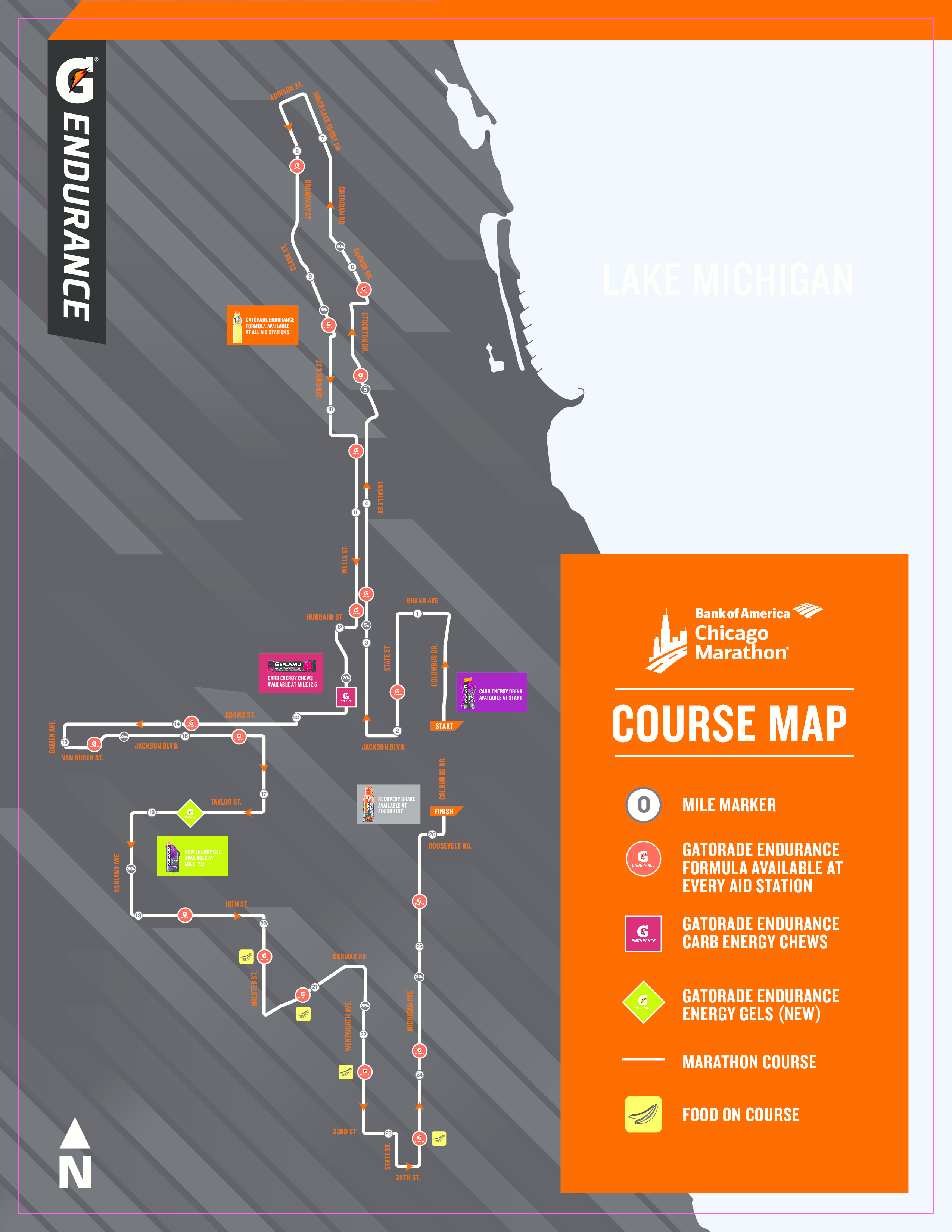 To help with your planning, take a look at the recommended usage below. The nutrition plans are divided by hours spent exercising. 
1-2 Hours
Unless you're a Nike athlete gunning for the marathon world record of a sub 2-hour marathon, it's unlikely this nutrition plan is relevant to you for the marathon. But, keep this nutrition plan handy for half marathons, 10K's, or anything in between. 

2-3 Hours
A 2-3 hour marathon is still very fast but applies to some of you. Take a look at the three nutrition plans below that incorporate approximately 60 grams of carbohydrates throughout the duration of activity.
A.
For those who prefer a thinner more liquid consistency, this plan encourages you to take two energy gels and one, 12oz endurance formula drink.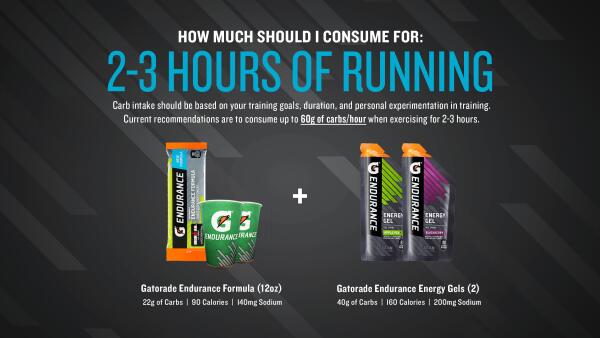 B.
For those who can stomach chews, this package replaces one gel, with one chew, while reducing the endurance formula from 12oz to 6oz.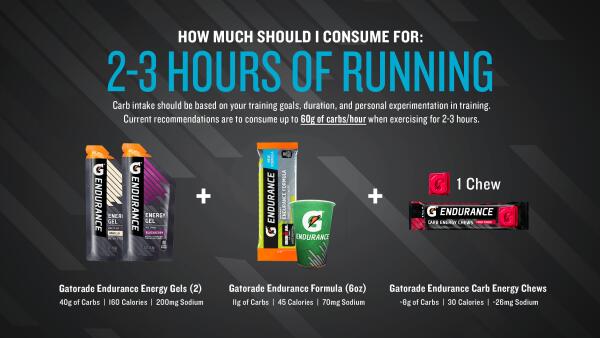 C.
For those who burn through calories and carbohydrates quicker than others, this plan uses one energy gel, 12oz of endurance formula and two chews.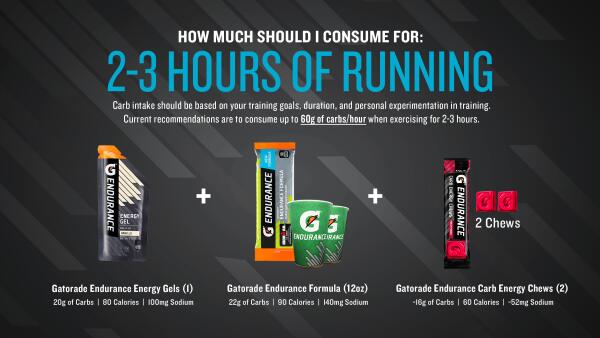 3+ Hours
This is where the majority of marathoners will fall and these plans incorporate up to 90 grams of carbohydrates throughout activity. As noted, please try out these methods beforehand.
A.
Package A recommends 24oz of endurance formula, two energy gels, and one chew.
 
B.
Package B is heavy on chews. This plan recommends four energy chews, two energy gels, and 12oz of endurance formula.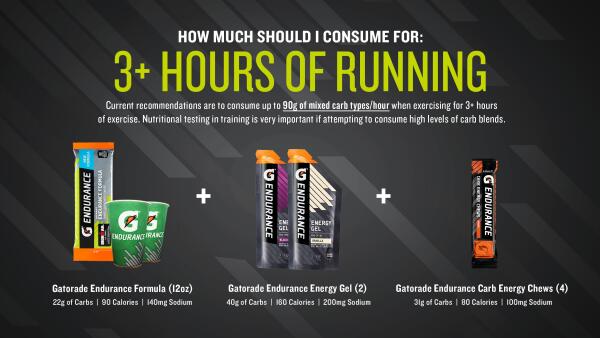 C.
The last plan is light on the gels and recommends 24oz of endurance formula, one energy gel, and four chews.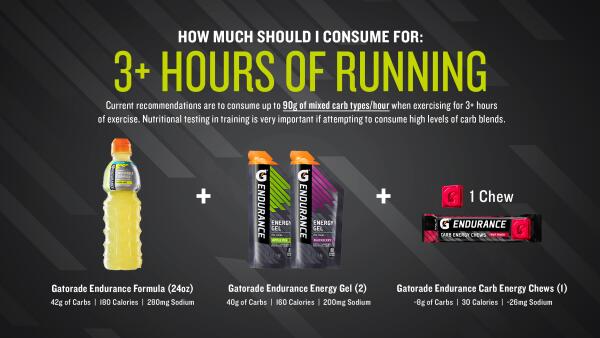 Try out any of the above Gatorade Endurance products at a Fleet Feet Sports Chicago location near you.