CELEBRATE THE RUN - DAY 7 - MILE 24 tells a story in Bronzeville, a neighborhood steeped in African-American history and culture. It is often referred to as the "Birthplace of the Blues." Bronzeville's Children's Museum is the first and only African-American children's museum in the country.
Our story focuses on an important and socially relevant running movement picking up steam in Chicago's Southside: the rise of the urban run crews.
We joined Aaron Ingram, Craig Taylor, and Ian Gonzalez, the three founders of Chicago's 7 on Sundays running crew for a run at their typical meet-up spot: 35th & King Drive in Bronzeville.
By way of proximity, 7 on Sundays is helping change what the typical runner looks like. They're changing the flavor - and the temperature - of running on the Southside. Through representation. Through inclusivity. Through the clothes they wear. Through the way they talk about running.
Read the interview with the three founders as we talk about what 7 on Sundays represents, their long-term goals, and what they need from you to get there.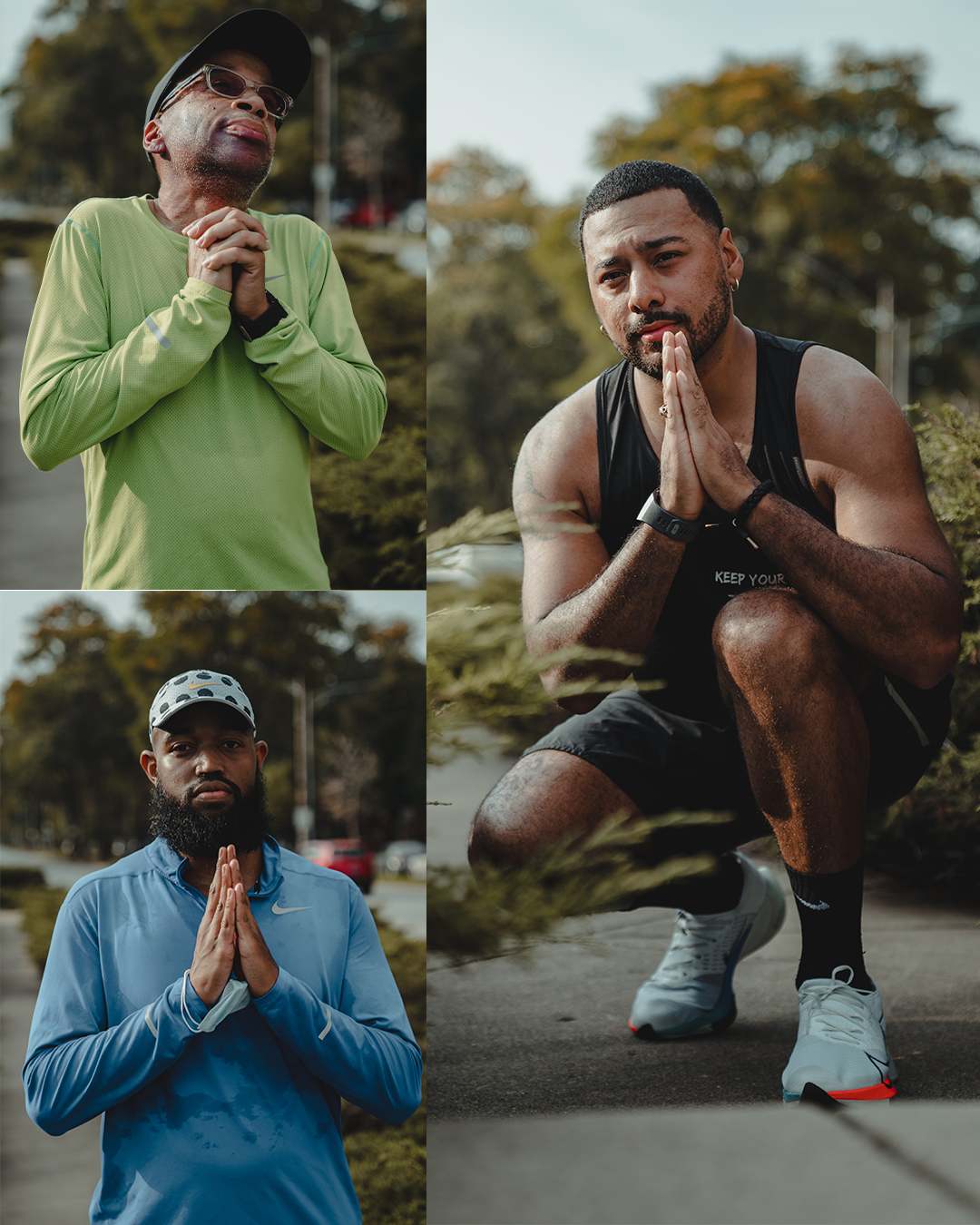 What is 7 on Sundays?
Aaron: It's a run group that meets every Sunday at 7:00 a.m. on the Southside of Chicago.
What does 7 on Sundays represent?
Ian: It's about representation. We started running on 56th and Stony Island to show a group of Black men out here getting these miles every Sunday morning. It's grown into a bigger club with more Black men and more Black women and into this all-inclusive running club to just really give that representation in the running community on the Southside
Craig: I think the joke Erin and I had when we were working together at Nike, was that on the Southside of Chicago, you don't see any bikes in the bike lane. You just see cars driving through the bike lane. So we were like, what if we start running on the Southside of Chicago? What if we ran in those bike lanes to show people that there are Black runners out here and we are on the Southside of Chicago.
Aaron: Seven also is the number of completion. Seventh day of the week. A lot of ties into the Black church community. It's not a Christian run club necessarily, but we're inspired by one of the tightest knit communities for African Americans, for black people in the Southside, the church represents so much. We want to bring that same kind of feel out every Sunday.
Why did you choose seven o'clock on Sundays?
Aaron: A funny thing about just choosing seven o'clock is that we all worked together on Sunday and we started no earlier than 10:30. So, seven o'clock was just a time that we could run and get back to work on time. It trickled down from there. The name came from that.
Why did you choose seven miles?
Aaron: We didn't want to run an amount that scared new runners. A casual runner will run three and a half or something like that but we have some serious owners in the group. We decided that medium's going to be seven total miles. Some people are going to have to push a little bit for those seven. And some people are just going to be comfortable with seven miles. Seven miles is that happy medium for a new runner and for a runner that wants to get a good burn.
Craig: That's what this is about. It's about pushing people to be better runners. Whatever it is to you, is what it needs to be.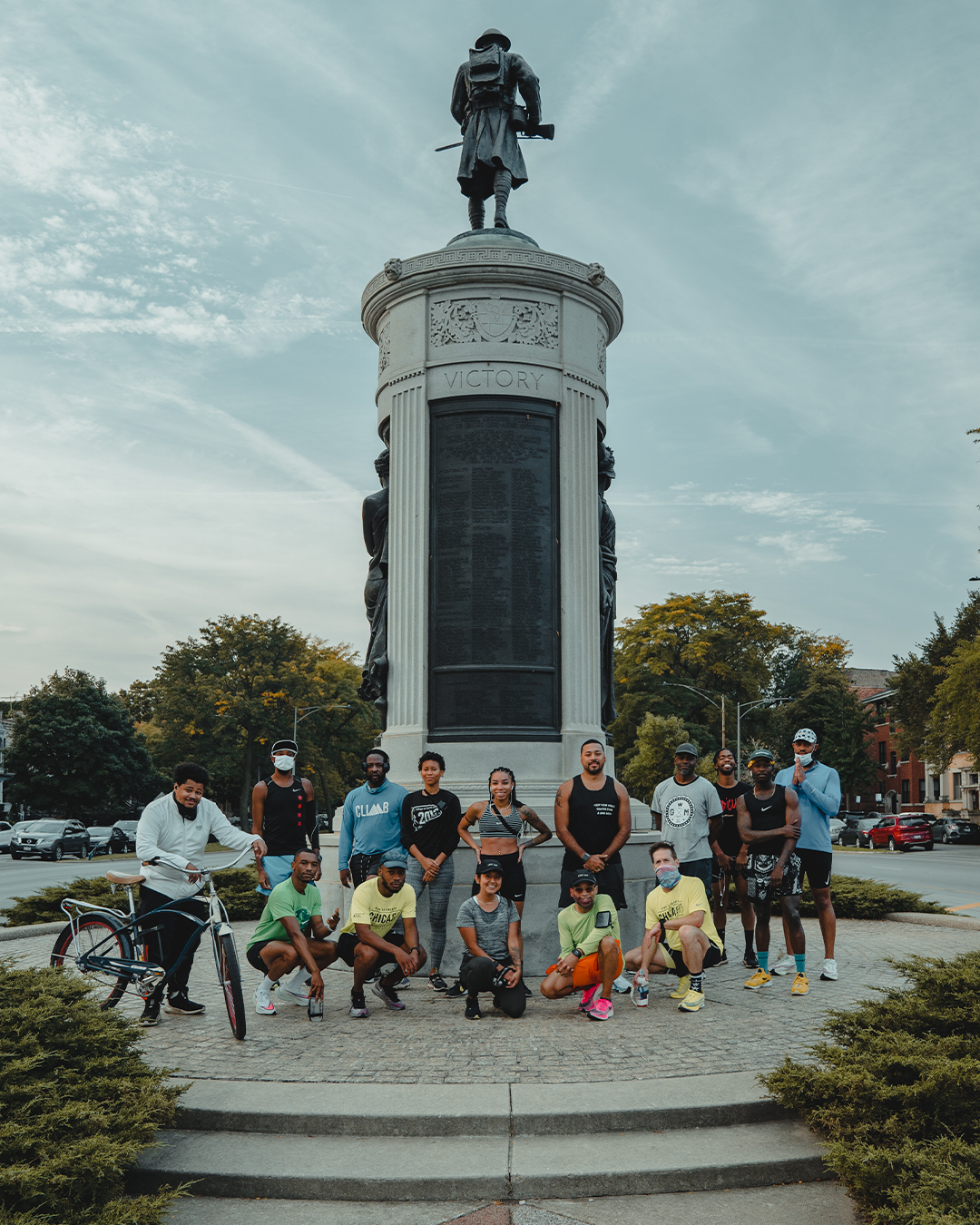 How did you grow the group and how do you plan to continue to grow the group?
Aaron: Word of mouth. Just coming out every Sunday. Consistency.
Craig: Consistency
Aaron: Knowing the rest of Chicago. Coming out to their groups. Having a day where nobody else is doing anything. Representation. Being a part of the larger community.
Ian: It's definitely important that you show up every day when you say you're going to be there. It's the three of us, the three founders, but then we have Mark and we have another runner, which, the five of us make up the strong core of the group. Having that strong of a core allows us to pick up the slack when the other ones can't make it. Sometimes you get sick. Some of us have kids. Some of us have families. But it's always somebody out there representing the 7 on Sundays and getting these miles.
Aaron: It's consistency. If anybody anywhere is looking for a run on Sunday, they know they're going to find us right here. Nick came by earlier. He does 20 every Sunday. He just kept noticing us. So, he fell in with the group too.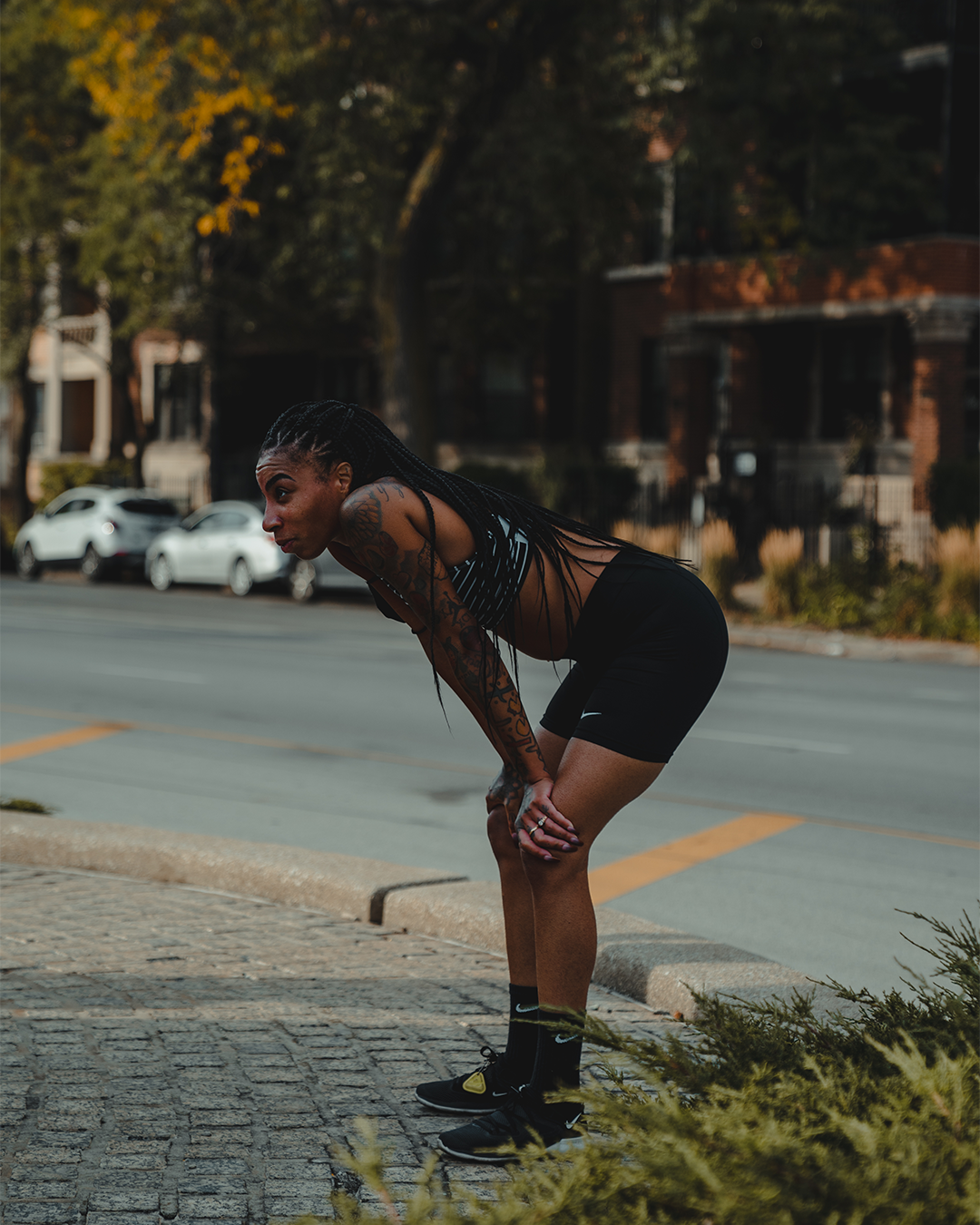 What is the mission of 7 on Sundays?
Aaron: To expand the running community. To provide representation for the running community. To fill the gap and change people's minds about the Southside, change some Southsiders' mind about running. Providing a health and wellness community where everybody feels safe and be themselves and take it, honestly, as far as we want to take it. If we get a kid out here that's training for high school cross country and he becomes an Olympian, that's great, but, if somebody is just wanting to come out here and de-stress, that's good as well.
Ian: That's a beautiful, really strong, and very politically correct answer - but there's also just being out here and just being fly as hell. Do you know what I'm saying? You know, we can have a smooth Sunday. We're getting these smooth, sexy miles. But PR'ing is amazing. Just being fly and getting these medals, you know, that's an important part. It's about building a community, but then also just looking amazing while doing it.
Craig: I think it's also about understanding this community and understanding where we come from. To Ian's point, you know, we like to be fly. We like to look good but we also like to achieve goals. When we talk about the church being accepting of everybody, we're accepting of everybody. If you talk to anybody here and they got a church background, whether they went every Sunday or didn't go every Sunday, someone dragged them, the church is still a welcoming place, and we're a welcoming place.
What is the goal of 7 on Sundays?
Craig: Long-term goal, we always want to be welcoming. We always want to be able to bring people in and have people be comfortable with running with us no matter what your level is, no matter what you're wearing, how you're looking, if you want to come and put some miles in with us, you can come and put some miles in with us. We're not about being elite runners. We're about being runners. Come run with us.
Ian: I love it.
Aaron: We want to give everybody a tour. We don't hit the lake on purpose. We're not just on the lakefront running. We hit the streets. We get you through these neighborhoods. We want you to see this neighborhood. We want you to see it's people, it's architecture, and just kind of vibe out.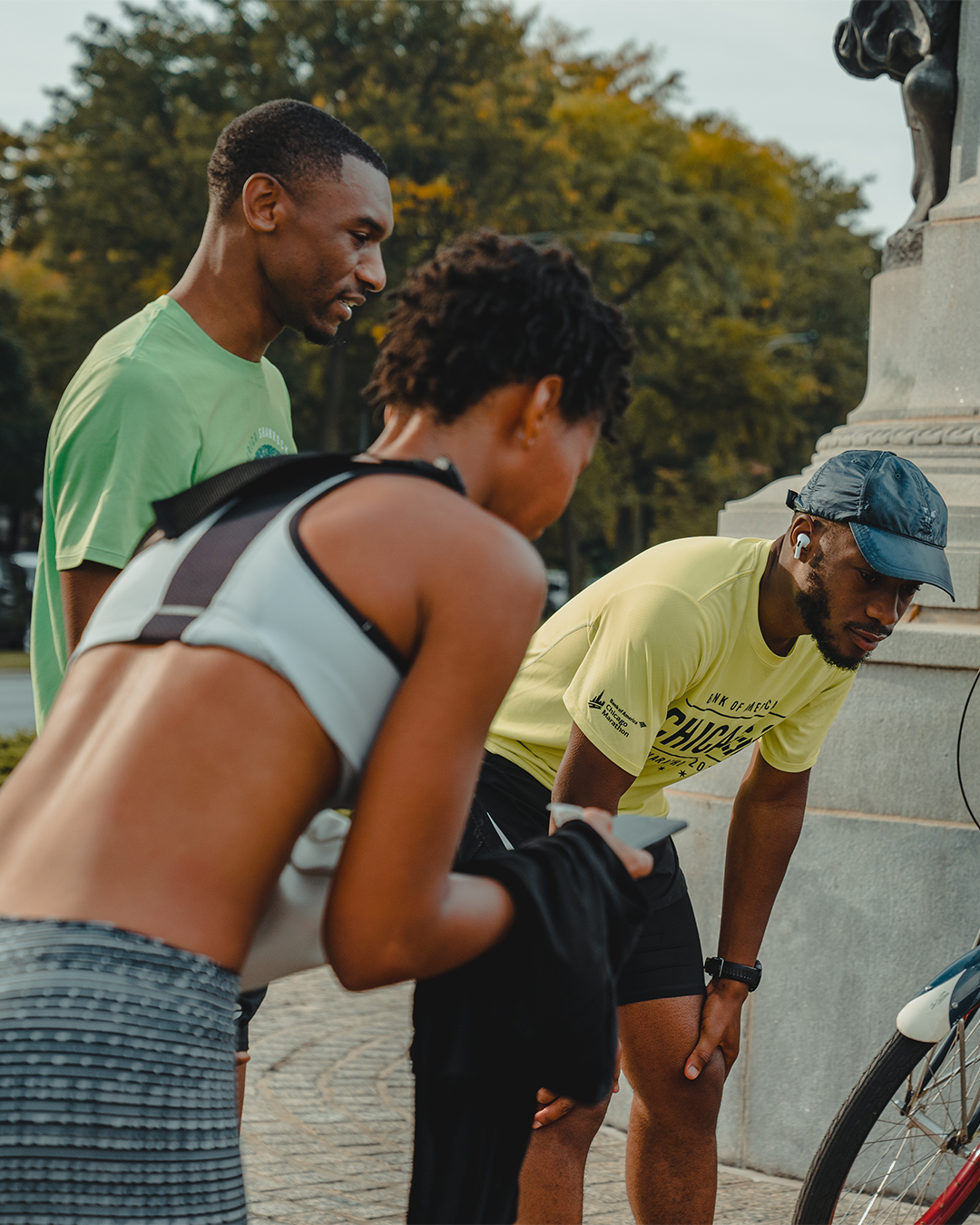 What resources do you guys need to reach that goal?
Aaron: We need proximity. We need something tangible, close, and education and information. A lot of people on the Southside just don't know about running. It's a hassle to have to go all the way to the Northside to get a pair of good running shoes or to get nutrition to get started. Like a lot of the other groups meet on the Northside. We want to make it where you can tie your shoes, step out the door, and get kicking.
Craig: Proximity is a really good point. Ian's store is a key thing. To have a satellite situation there maybe once a month where shoes could be brought in and we could demo shoes. What we're saying is that it's simple to put on a pair of shoes and run out the door, but we have to go so much further to get that pair of shoes to run out that door - a real pair of running shoes, not a pair of running shoes from some store if their feet are going to hurt afterward. We want to educate.
What about the word accessibility?
Craig: Accessibility is key. There are runners out here. They just don't know they're runners. That's the scary part of it. Give these people a fairly decent pair of running shoes - take them out and show them that they can run out the door.
Aaron: And just information about the safety behind it. These groups, especially for women, where they don't feel safe running down the street in these communities. That group structure makes people feel safe.
I like what you said about, people not knowing that they're runners. During the run, we talked about how these run crews are changing the image of what a runner looks like. When someone sees you guys and you're wearing cool stuff, it's changing the perception of what it means.
Craig: Whatever gets them to that point. I mean, if running looks cool, then I want to do it, you know, hooping (basketball) looks cool, so I want to do it. It's the same thing.
Ian: That's truly what Seven on Sundays does. It changes the flavor. It changes the temperature of running. We're out here being our authentic selves here and it's a fun place to be. I can be unapologetically Black when I'm running. I can be unapologetically streetwear when I'm running. I can be whatever it is that I am while I'm out here getting these miles. An opportunity like this with Fleet Feet gives us that – the ability to showcase who we are personally, for a brand that's a household name, and that exposure helps to show the rest of the Southside, and even the Northside, that this is a vibrant running community.
Describe 7 on Sundays in one word.
Craig: Tribe.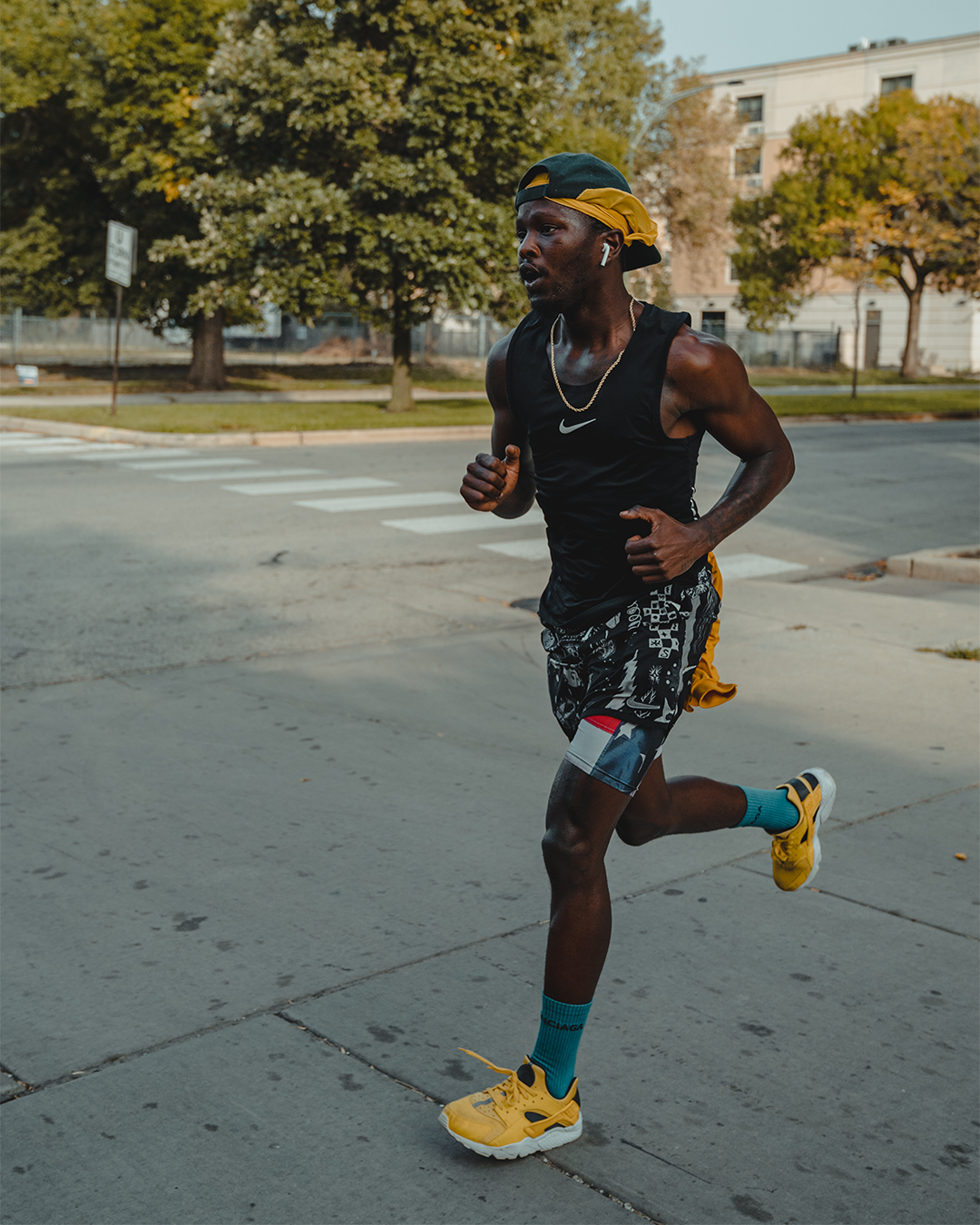 Why do you run?
Aaron: To inspire others. I'm extremely competitive coming from a track and field background. I run to compete with myself and to keep up with everybody.
Craig: I just got to run. I can't put it any other way. That's how I process. That's how I think. That's how I meditate. That's how I create, I just got to run. It's just part of that process.
Ian: These last three years of running have been the longest I've ever gone without a bout of serious depression. Being around this environment, this community, the celebration, the hard days, it's medicinal. It's spiritual. When I was training for my first marathon and I first started hitting double digit runs, I would come back from the house from running 14, 15 miles, and you know when have your face tune up like you're about to cry? My face would do that and no tears would come out. I wasn't sad, but it was just so emotional. My brothers told me I was just running off bad vibes.
Aaron: Nothing else matters after a run. You can have a rough week. Yeah. Once you hit your seven, nothing else matters. You get your high.
How can someone join?
Ian: Show up. Seven-ish. This is where we are every single day. If you pull up, at 6:55, just wait five minutes, you're going to see 20 people just popping out of the car. You can follow us at @7onsundays on Instagram.
We are literally here, 35th and King Drive every Sunday, rain, hail, sleet, or snow. We are children of empowerment, you know, there's no such thing as bad weather, just soft people, and we are not soft at all.