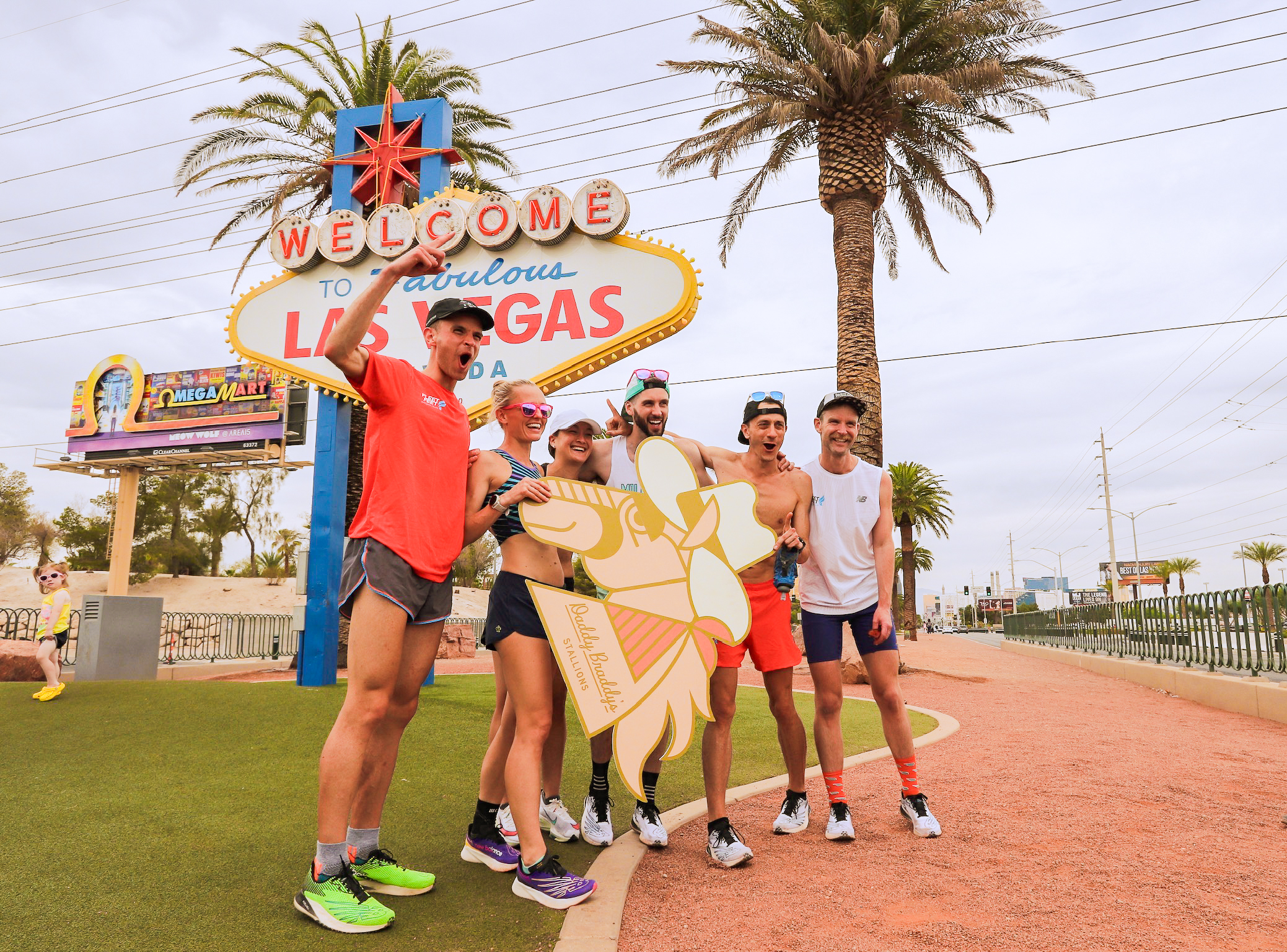 In a typical race, there is a designated course, markers along the route making it near impossible to get lost, and aid stations with overzealous volunteers handing out water, Gatorade, and a post-run beer. But The Speed Project is not that. Boasting #NORULES and #NOSPECTATORS on their Instagram account, The Speed Project is a six-person cannonball-style relay race from the Santa Monica Pier to Las Vegas. It doesn't matter how you get there, the only thing that matters is getting there first.
This is the story of how Daddy Braddy's Stallions, a team consisting of Fleet Feet Racing Team member Andrew Rylaarsdam, Fleet Feet Lakeview manager Jamie Hershfang, and Matt Wiersum, Lancy Cundy, Brad Ryland, and Candice Schneider of the Minneapolis based Mill City Running not only won the race but set the record in an event straight out of a Hunter S. Thompson novel.
"It's just a total free-for-all. You get to choose when you handoff from one person to the other and your own route," said Andrew Rylaarsdam, still riding the high of the win.
Unlike similar long-distance relay races where all teams follow the same route and there are specific premeasured segments, in The Speed Project, teams are able to plan and devise a route between the two cities and rotate runners as often as they'd like. Typically, about 50 teams are invited to compete, this year there were only 30 due to Covid restrictions.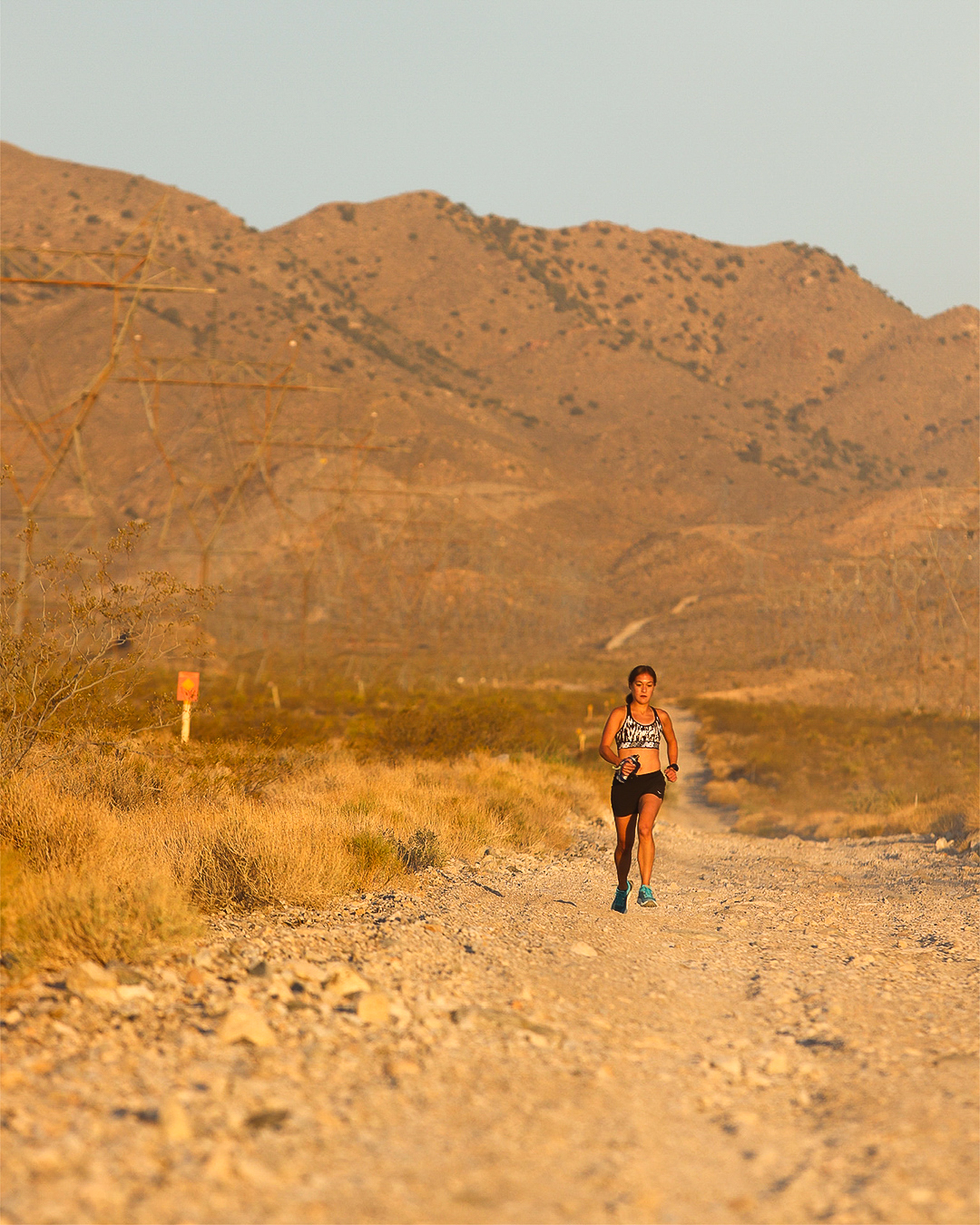 "Our team captain, Matt, spent a lot of time making our route. The number of logistics and planning that went into it was above me," said Jamie Hershfang, one of two women on the team. "So kudos to him for that. They have a suggested route that's 340 miles and we cut it down, probably close to 280 miles"
The team decided to split their six-person team into two teams of three. They would then share "shifts" where one team would run while the other would rest for a total of six shifts each. One group of three was more road running dominant while the other focused on the trail sections.
"While we were resting, we could ride along in the RV. While we were on our shift, we would trade-off between the three of us, usually a pretty quick turnaround; three to five minutes apiece," explained Andrew.
"Getting out of downtown Los Angeles was a little crazy, just the traffic," added Jamie. "That consisted of most of the longer segments of about three miles. After that, we cut it down pretty quickly."
The alluring mystique of this race is that it is unsanctioned. There are no road closures. Runners and their accompanying vehicles must navigate the bustling city streets. When there is infamous L.A. traffic, the runners and crew must adapt and work their way through it. For Daddy Braddy's Stallions, the meandering traffic was simply a warm-up.
"The support vehicles kept getting stuck in traffic and couldn't get ahead of the runner to change out runners. However, we had a solution," said Lance Cundy. "We had a bike with us, so two runners went back and forth, one on the bike and one running until we cleared out of the traffic jam and could resume our normal runner exchanges. I never expected to be cycling during the race, but it ended up being a necessary thing."
The team's prior proper planning and ability to adjust as the punches were thrown proved to be a winning combination.
"Our team approached the event with a plan to execute. We went in with a tight game plan including an incredible route, running schedule, and a crew that was prepared to solve the curveballs that came our way," said Brad Ryland, also known as Daddy Braddy.
Daddy Braddy's Stallions success can't just be bestowed upon the incredibly gritty runners but to the unstoppable crew. The six crew members circumnavigated through the San Gabriel mountains and Death Valley, well through the night all while providing the runners with food, water and physical, and emotional support. Without a functioning crew, the team would be incomplete, or worse, stranded and exhausted.
"Every crew member, every teammate did something at some point that was critical for us to break the record," said Andrew proudly. "There's very little margin for error. If problems come up and whoever's there at the moment has to solve it."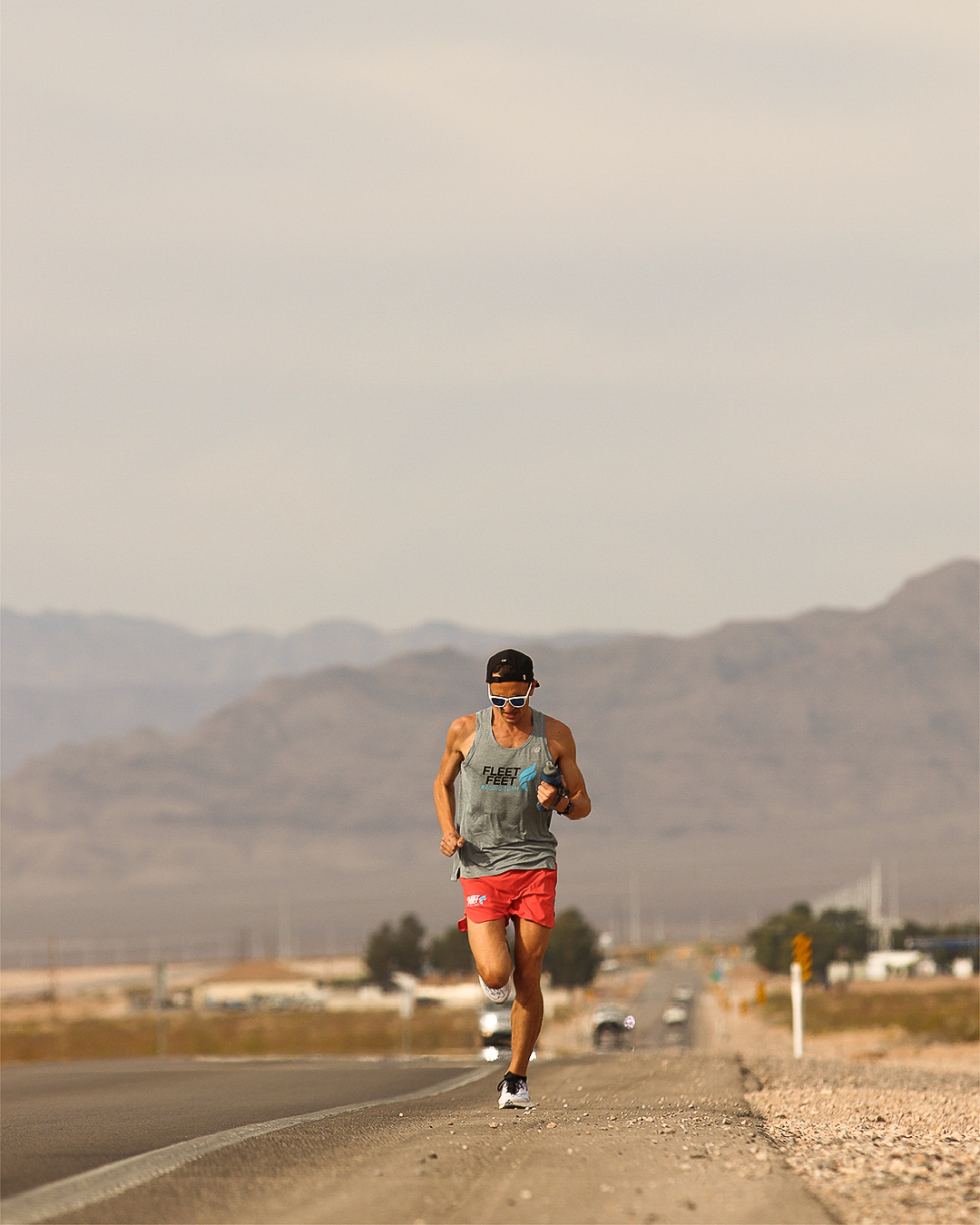 If you are familiar with the landscape and climate between Los Angeles and Las Vegas then you are well aware of the severity of its environment. Topping out at near 100º F, the runners and crew were tested by extremes as they ran and drove over the barren and rocky desert and mountain roads. Both the temperature and surfaces played a challenging role for the team.
"Running in the middle of the night on Powerline Road nearly broke me. For the first 12 miles, it was brutally uphill on soft unpredictable sand," said Brad begrudgingly. "I'd zigzag back and forth on the trail until I found ground that was hard enough to run on. At this point, we had a large lead in the race, and it was hard to motivate when every section I ran made me want to cry."
For Andrew, he found sitting in the back of the van the worst part.
"The back of my legs had rug-burn on them from being jostled around in the backseat of the truck," said Andrew. "I just felt sick to the point where I was looking forward to every time I got out of the truck to run, even though my legs were toasted, just because I wouldn't have to be jostled around in the back anymore."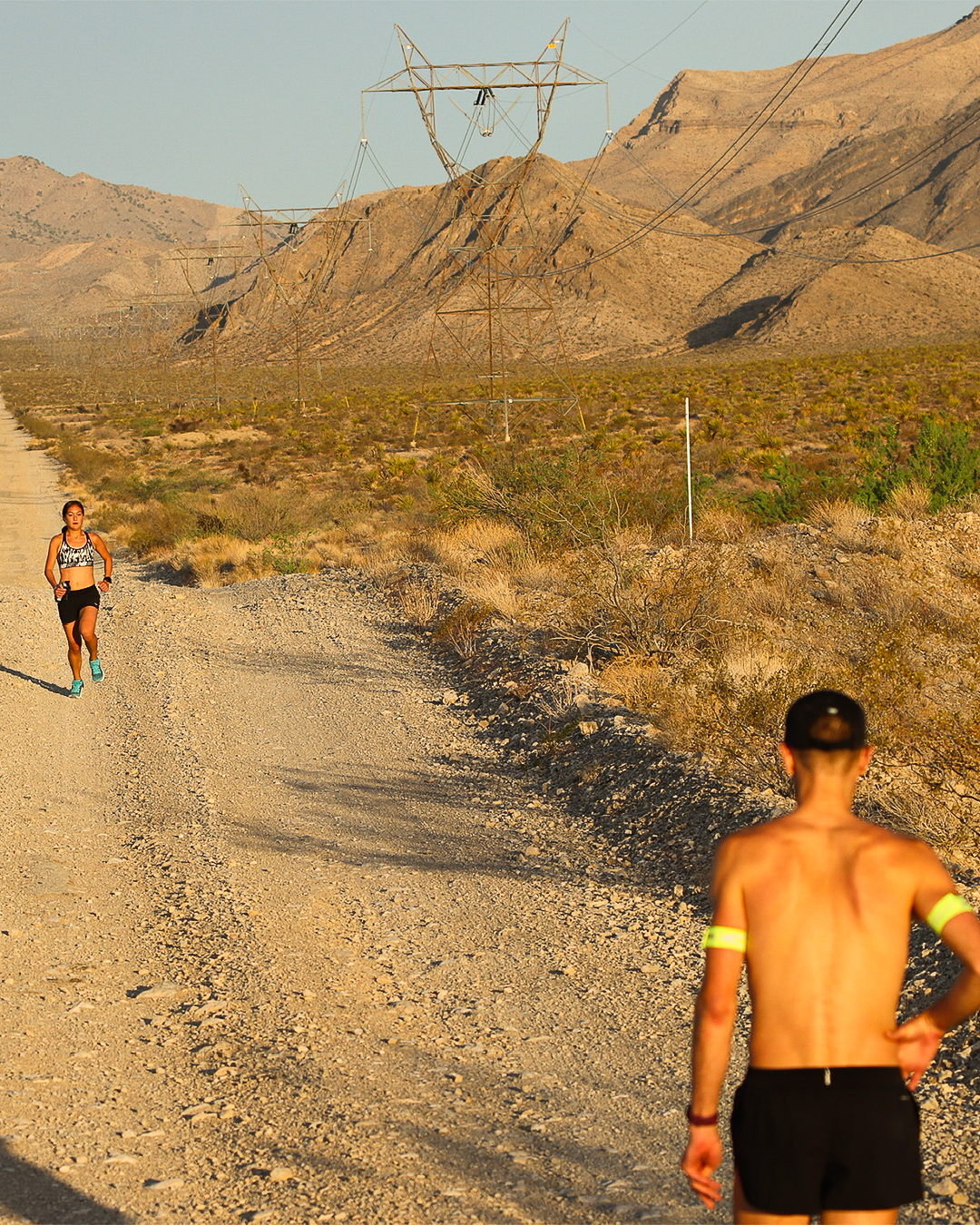 As the team dug deep and trucked through the night with little to no sleep, the win and the elusive 30-hour mark seemed ever so near. However tired the crew and runners were, this was no mirage.
With 25 miles to go the team was just minutes off the pace of the 30-hour mark.
"Towards the end, when we were a little behind, we were like, 'Okay, how competitive do we want to be? We have to commit right now if we want to break 30 hours,'" said Jamie. "We decided to run two-minute segments just so we could all run as fast as we possibly could. We all just poured our heart out in the end."
The knackered legs of Braddy Daddy's Stallions galloped the final miles into Sin City. With each exchange, and with every drip of sweat, the team worked together towards the finish line. They crossed the line in 29 hours and 51 minutes, breaking the course record by well over an hour.
"I haven't had that finish line experience with other people before, it was so fun," gleamed Jamie. "There's a big WhatsApp group that all the teams we are in. You have to post your photo and timestamp of your finishing time."
The finish provided a drastic contrast. Elite long-distance runners who have spent just under 30 hours running nearly 50 miles each roll into Las Vegas, a city known for its high-rise casinos, lavish shows, and party atmosphere, explained Andrew.
After posing with the iconic Las Vegas sign and popping some bottles of champagne, the team could finally rest.
"I was hungry and exhausted. I checked into our hotel room but my phone died before I could tell my teammates the room number," laughed Brad. "I then spent some time wandering around an upscale casino, wearing revealing half-tights and a running singlet that reeked of soured champagne and BO."
The following day there is a quintessential Las Vegas pool party for all the competing teams. Competitors can come together and share their experiences and bond over their collective sore legs.
In typical Vegas fashion, before the race starts each year every team has the opportunity to guess the finishing time of their team by writing it on a five-dollar bill, the team that finishes closest to the time they wrote down wins the jackpot. Daddy Braddy's Stallions guessed within six minutes of their finishing time, not only winning the race but also the jackpot.
"After the party, everybody goes to the closest roulette table. The contingency is that you have to bet the whole pot on one game of roulette. Matt bet on black and lost it. But we certainly did not leave Las Vegas empty-handed. Our team effort at The Speed Project earned us new friends, great memories, and a course record that we can't wait to watch other teams chase," said Andrew.
View this post on Instagram