When I think of Mike Norman I think of community. Of belonging. He made me, and so many others, feel like I was a part of something. Something joyful and special. Mike connected running and fitness to laughter and friendship - and that karma is gift that will live on in me and thousands of others! - Kelly O'Brien
If anyone has had the privilege of knowing Coach Mike Norman, they know how much he loves the Chicago Endurance Sports community.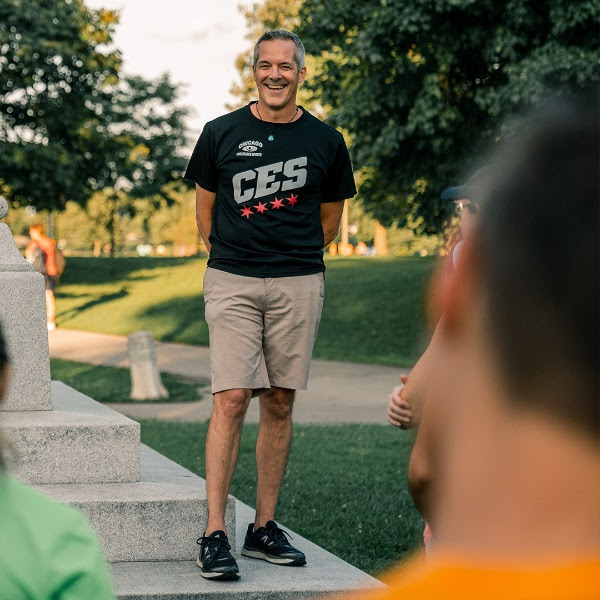 Coach Mike started Chicago Endurance Sports 23 years ago in 2000 with a simple goal - to help endurance athletes achieve their dreams through community training. What started out as a training program has become so much more – a community, a family, and a home for the Chicago running community.
I can go on and on there are so many things throughout the years, but most of all thank you for this journey. It has truly been amazing!! What you have taught me and thousands of others through CES, is something no one can take away. You have given me the opportunity of finding the athlete in me throughout these years. For this, I am forever grateful. - Jayme Tipre
Since 2000, Coach Mike has trained hundreds of thousands of runners to cross the Bank of America Chicago Marathon, Lifetime Chicago Triathlon, Ironman, and countless other finish lines.
It's never been just about running with Mike, but an entire culture around positivity, fun and achievement of audacious goals. And he's just about the nicest guy on earth too." My favorite Mike anecdote is when he took us all to the Bahamas for our Winter Warriors destination ½ Marathon. On a whim he entered the charity 5K the day before at the last minute, and he won! - Martin Smith
Not only has Coach Mike made a difference in the lives of runners, but his greater reach on the community is unmatched. Last year alone, 598 training participants in the Chicago Endurance Sports marathon training program ran and fundraised for a charity and raised over $750,000 dollars.
Mike always "set the bar high" for what he expected from himself and others, then encouraged and inspired every CES participant to always do and be their best. Mike also cared about CES doing and being its best, then created the training programs and environment that helped make that possible. - Charles Rubner

CES is a highly unique running community in Chicago. Mike created and continued the family like feel that had inclusiveness for individual athletes of all abilities. I have been with CES working alongside Mike as a coach since 2006. He gave me the opportunity to become the Head Coach in 2011. That opportunity helped me grow professionally as a leader and impact the experiences of hundreds of people. I wish Mike the best future ahead. We hope the rest of us working diligently to continue the CES legacy can continue the same cultural feel that makes CES stand out over other training programs. - Lori Koch

He has been an amazing coach.... always, kind, encouraging and supportive and he will be deeply missed. And he has been an incredible mentor to so many of us with CES. He helped many of us to reach goals we thought were not possible. He has certainly left a wonderful legacy, and I wish him the very best in his new adventure. CES will not be the same without him! - Alice Farmer
Fleet Feet Chicago has purchased Chicago Endurance Sports from Coach Mike and will keep up the same tradition Mike created in the community. There will be no changes to the training programs, and participants will enjoy the same community and dedication they've come to expect from Chicago Endurance Sports.
Mike is the one who absolutely changed my perspective and helped me take it to levels I never imagined when it comes to running. I became an Ironman finisher and crossed that finish line twice, because he told me, "There's nothing like finishing an Ironman. Unlike bigger races, you're coming down the finisher's shoot, all alone, and they call out your name and where you're from." I still get chills from thinking about that conversation. As Mike says at the end of each session to the participants, "We hope this isn't just a one-and-done for you, we hope you continue to train, race, and live healthy lives. - Ryan Caturan
While Coach Mike may be officially retiring, that doesn't mean you won't see him poking his head around from time to time! Mike will continue to serve in an advisory role with Chicago Endurance Sports.
"Mike's work in the community during the last couple of decades has left a lasting impact on the Chicago Running community," says Dave Zimmer, owner of Fleet Feet Chicago and Chicago Endurance Sports. "We look forward to honoring his legacy by continuing to bring his vision to life."
We are pleased to announce Chris Ott, training programs manager will be the new head of Chicago Endurance Sports.
Questions? Contact Chris at cott@chicagoendurancesports.com