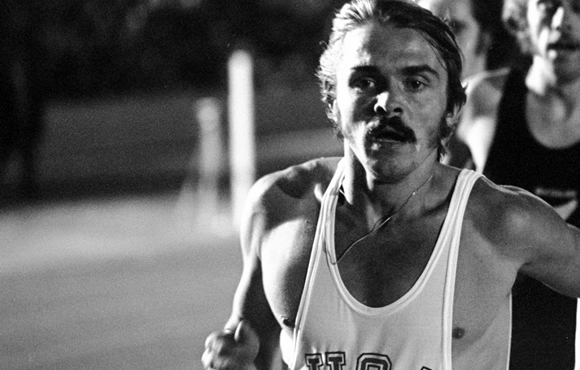 If Steve Prefontaine had not discovered the gift to run long distances during physical education classes while in junior high in Coos Bay, Oregon, the world would never have witnessed the unlimited talent and undeniable passion and drive of the long-distance runner who would simply become known to millions as "Pre."
"To give anything less than your best, is to sacrifice the gift."
Pre had guts, loads of it, and every race was a throw-down-the-gauntlet challenge to his competitors that the only way to defeat him was to have more guts than him. He didn't hang back and wait for the last lap to kick for the win, he lead from the front, forcing the pace, making the other guy hurt. In his lone appearance in the Summer Olympics, in the 5000 meters in Munich in 1972, he was not content to hang back, forcing the pace against the great Finnish distance runner LasseViren. That time he paid for it and lost out on the bronze, but the gutsy performance hinted at greatness to come.
"A lot of people run a race to see who is fastest. I run to see who has the most guts, who can punish himself into exhausting pace, and then at the end, punish himself even more."
Not many runners beat Pre. While at the University of Oregon, Pre won three NCAA Cross-Country championships and never lost a collegiate race at 3 miles/5000 meters and 6 miles/10000 meters. For one period Pre held the American record for every distance from 2000 meters to 10000 meters. He not only fought on the track but off it, railing against the amateur sports establishment that held to archaic beliefs that runners could not earn a living from their talent.
"Somebody may beat me, but they are going to have to bleed to do it."
Pre, with his rakish mustache and shaggy brown hair, was the rock-star of the blossoming running boom of the 1970s, the counter-culture rebel to the clean cut likes of Frank Shorter and Jim Ryun. He was revered at Hayward Field, the home of the University of Oregon track team and the mecca of American track and field. Fans chanted his name at the top of their lungs as Pre sped around the track to another victory. Even his foes showed their respect, wearing T-shirts reading 'Stop Pre.'
"My philosophy is that I'm an artist. I perform an art not with a paint brush or a camera. I perform with bodily movement. Instead of exhibiting my art in a museum or a book or on canvas, I exhibit my art in front of the multitudes."
We will never find out what might have been with Pre, how bright his star may have shined in Montreal in 1976, how many medals he may have won during those games, if he would have bested the great Viren. On May 29th, 1975, while driving from a party for a team of Finnish athletes who had competed in a meet that day at Hayward Field, Pre lost control of his 1973 MGB convertible and crashed, the car overturning.The crash took Prefontaine from the world of running far too soon, before the limits of his greatness could be defined.
"When people go to a track meet, they're looking for something, a world record, something that hasn't been done before. You get all this magnetic energy, people focusing on one thing at the same time. I really get excited about it. It makes me want to compete even more. It makes it all worthwhile, all the hours of hard work."
But Pre, with his devil-may-care passion to lead from the front and the lingering question of what might have been, has become one of the icons of the great explosion in the seventies that brought running into the mainstream of American society. A running boom giving birth to the great marathons of today and the sport that has changed the lives of so many millions.
With every mile run, with every race finished, Pre still lives on. Here are five quotes that still resonate with us to this day.