Proper fit is essential to an active lifestyle. We have expert staff on hand to fit you for the right shoes, bras, accessories, and apparel. Read here for a brief description of our processes, then come into one of our stores to experience it.
Shoe Fit
Our Shoe Fit process begins with you. An in-depth interview will help us reach you on a personal level understanding what your current use for shoes is and what your goals and aspirations are. That is followed by technical measurements and a thorough analysis of your gait. Gait is the way we move and how our feet strike the ground — and it's different for everyone. We can then narrow down a selection suitable for you from scores of different types of footwear. Throughout the entire process, we offer tips and suggestions on everything from proper form to nutrition and other products that can make you successful. Remember, color and style is not important; fit and function is. If you can bring your old shoes, great — the more information we have, the better, and if you no longer need them, you can donate them to charity!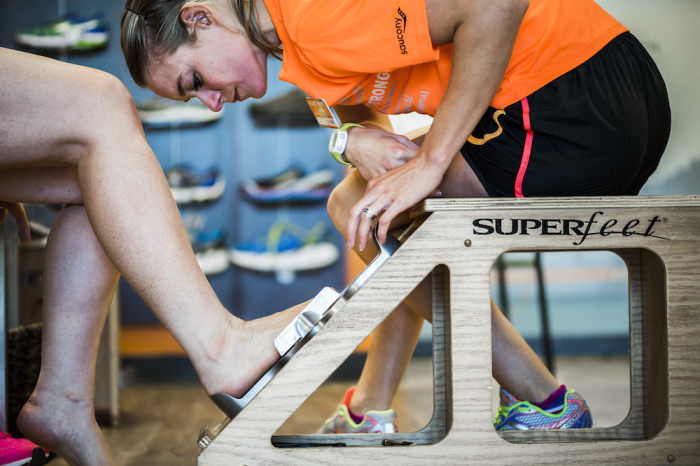 FIRST, WE LISTEN
Tell us about YOU. Are you running currently? Walking? What are your goals, your struggles, your limitations? There's no such thing as too much information here and the more we can discover, the better we can help!
SECOND, WE WATCH
Let's get low – to the floor, that is. To get the best assessment of your feet, we'll scrutinize your every stance, stride and step from the ground level. And while we assess the biomechanics of your foot, we'll be mentally mining through our extensive product selection to come up with the best shoes and gear specifically for you.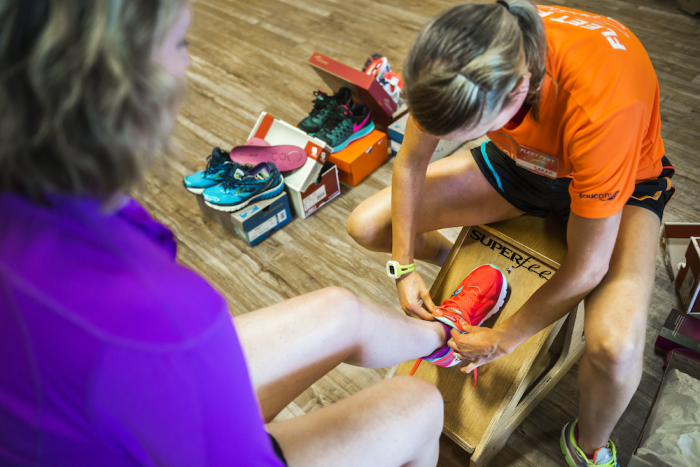 THIRD, WE ACT
Here's where the rubber hits the road. Whether you try on a couple pairs of shoes or eight, we will work with you to find that right match. From getting them on to lacing them up the right way, we're there through the whole process. We may also talk socks, insoles, gear or apparel – anything we think might benefit you.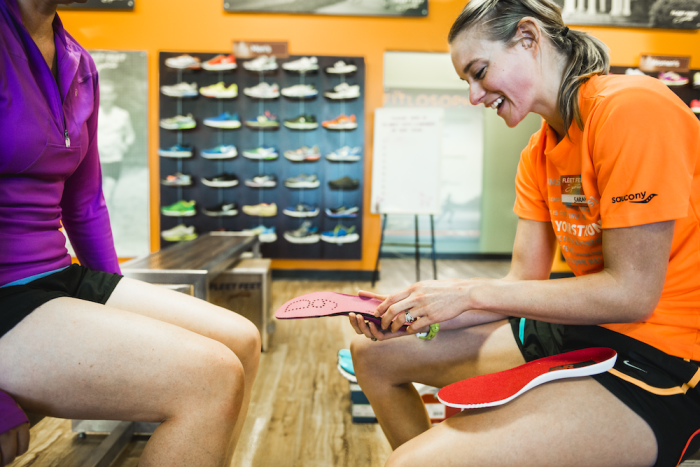 LASTLY, WE PLAN
You're geared up and ready to go, so what's next? Time to look ahead – training programs, tips, injury prevention (or recovery) – these are all things we're more than happy to discuss and plan right alongside you. The end of the FIT process is only the beginning!
The average life span of a pair of shoes is 300-500 miles or about six months. We can help track this for you through our Personal Rewards Program.
---
Apparel Fit
There is no such thing as bad weather, only bad clothing. Get that apparel that matches your needs and activity. Whether the fibers are technical or natural — or water resistant, windproof or both — there is a solution for every situation and a fit for every body. Elemental protection will repel wind, moisture and sun while breathability will dissipate heat and antimicrobial capabilities will keep us fresh. Let our experts will help you find your right "fit."
Bra Fit
Our Bra Fit process is all about you. Proper fit will provide all women the freedom to move and exercise with comfort and confidence. We start with an interview on what your current use for a sports bra is and what your goals and aspirations are. Next we take careful measurements and translate them for you into the correct size sports bra. Throughout the entire process we will offer tips and solutions that will help make you successful. For instance, the average life span for the support of a sports bra is six months. Beyond that you can risk discomfort and possible injury. Approximately 80% of women are wearing the wrong size sports bra. Let us help you find the right one.
Accessories Fit
Accessories are what make our active lifestyle luxurious. Our Fit Experts are trained to make recommendations based on your activities. For some people it is a hydration system allowing them to bring water or their favorite sports drink with them. For others, it could be anti-chafe products to make exercise more comfortable or a GPS enabled sports watch to track speed and distance. We even have a fully stocked nutrition department that can extend your workout and improve your recovery.