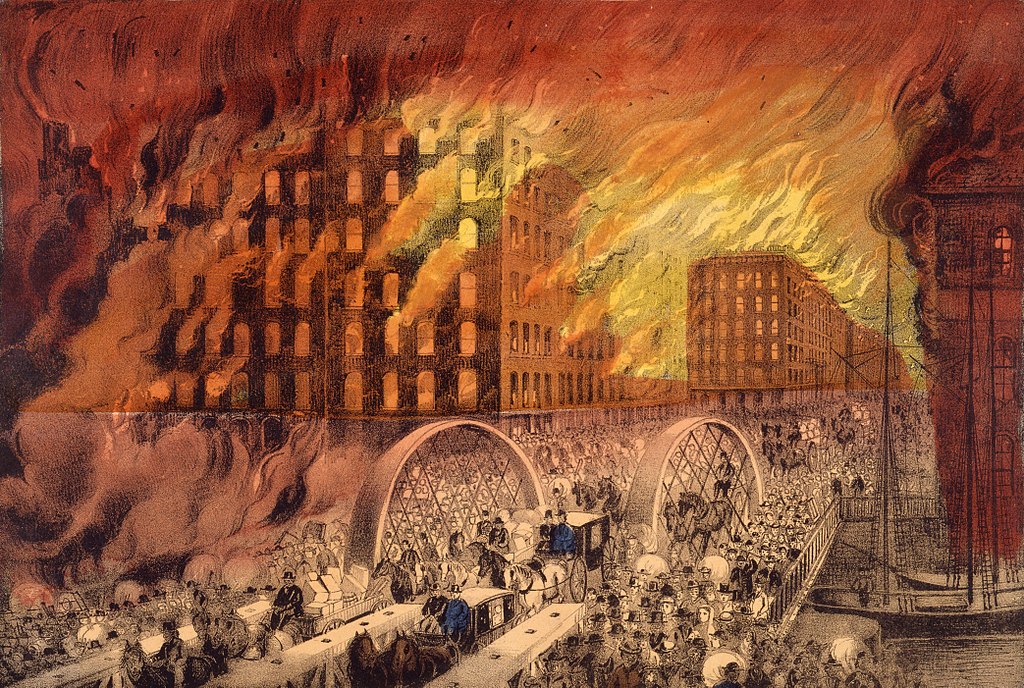 This run will explore the Great Chicago Fire through the South Loop neighborhood and explore how it shaped Chicago into the 20th century.
The run will begin at 9 a.m. Sunday, July 15th at Fleet Feet South Loop and end at Fleet Feet Old Town. Gear check will be available at Fleet Feet South Loop and will be transported by Fleet Feet staff to Fleet Feet Old Town.
The route will roughly be 4 miles. Strollers and dogs on leashes are welcome. The event is free, but be sure to RSVP to reserve a spot because we will reach maximum capacity.
Great Chicago Fire
The Great Chicago Fire was a conflagration that burned from Sunday, October 8, to Tuesday, October 10, 1871. The fire killed up to 300 people, destroyed roughly 3.3 square miles (9 km2) of Chicago and a third of the city homeless.
The Chicago Fire ignited in a barn on West Dekoven Street belonging to Patrick and Catherine O'Leary in what is now known as the South Loop neighborhood.
Popular lore says that one of the O'Learys' cows kicked over a lantern, but the specific cause of the fire remains open to debate. In fact, the Chicago Republican reporter who created the cow story, Michael Ahern, admitted he fabricated it because he thought it would make better copy. At least 300 people were killed in the fire, which destroyed about 400 square miles of the city. Karen Sawislak of the Encyclopedia of Chicago says the fire "cemented the reputation of the rising metropolis as a place of opportunity, renewal, and future promise." The World's Columbian Exposition began just 22 years later, as a testament to the city's rebuilding efforts.
Source: http://www.encyclopedia.chicagohistory.org/pages/1740.html