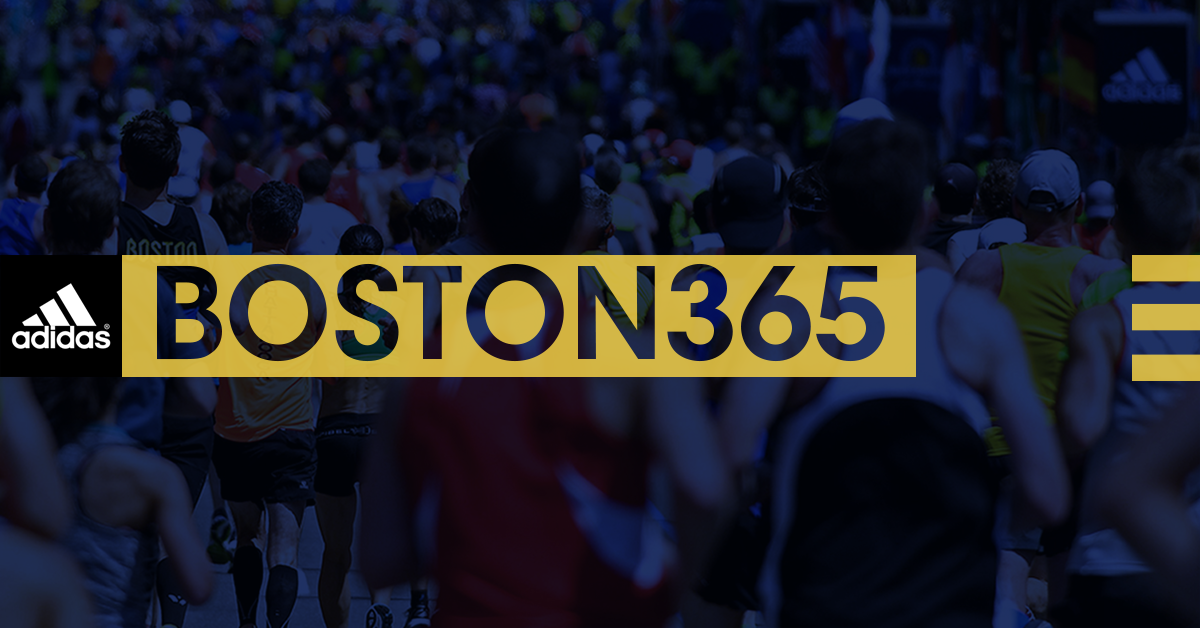 Make your 2019 Boston Marathon weekend the experience of a lifetime. At Fleet Feet, our acclaimed Boston365 training program is about more than just running the race. It's about developing lasting bonds with your training partners and creating unforgettable memories in Boston over race weekend. Official race sponsor adidas (in partnership with the Boston Marathon and Boston Athletic Association) returns as the exclusive sponsor of this program bringing participants an unmatched "behind the ropes" experience in Boston.
Informational meeting: Thursday, December 20th, 2018 at 7 p.m. at Fleet Feet Old Town (1706 N. Wells St)
Training begins: Saturday, December 29th, 2018
First group workout: Wednesday, January 2nd
Location: Fleet Feet Old Town
Workouts: 6:30 p.m. Wednesdays | 8:00 a.m. Saturdays

Wednesday workouts are at Fleet Feet Old Town
Saturday workouts will be at Fleet Feet Old Town to start, and then we'll begin meeting at Barrington High School for long runs over 15 miles.
About Boston365
Boston365 Program Overview
The program offers two options:
Boston Now: For those who are currently registered for the 2019 Boston Marathon. Includes amenities in Boston
Boston Qualify - For those who aspire to be a Boston Marathon qualifier and those who already may be at this level but may be running a different spring marathon or just want to train with us over the winter and spring.
---
Boston365: Boston Bound
For those who are registered for the 2019 Boston Marathon
Limited to 100 participants
This is by far the best way to experience the Boston Marathon. Whether it's your first time running, or your 30th, you'll get the expert coaching and VIP experience in Boston that will make this an experience of a lifetime.
The Fleet Feet Boston365 training program is a coached, 16-week program designed to:
Help you physically and mentally prepare for the Boston Marathon
Overcome Chicago's lack of hills and difficult winter training conditions
Create community and camaraderie among all participants
Alleviate the stress of race weekend detail planning so you can focus on the Boston Marathon experience
Provide unmatched amenities in Boston, not only for you, but for your invited guests as well
Program Benefits:
Weekly 16-week day-by-day training program coached by USATF Certified Coaches with more than 25 combined Boston Marathon finishes.
Wednesday Evening Speed/Tempo Run at Fleet Feet Old Town (gear check provided)
Fully Supported (gear check, Gatorade and water all provided) Saturday Morning Long Runs at Fleet Feet and Barrington High School (depending on weather conditions)
Hill Training that mirrors the Boston Marathon Course
Boston365 program shirt
Early access to official adidas Boston Marathon gear
Private clinics on topics including race prep, hydration, and nutrition
Special Boston-themed shopping and social events
Weekly Boston365 Email Newsletter with workouts, training tips and special offers
Post-event celebration party including Free Boston Marathon Medal Engraving!
Race Weekend Boston Amenities:
Access to select room blocks at various Boston hotels (based on availability, link to room block portal will be provided in registration confirmation)
Private adidas charter buses to the start line in Hopkinton – stay on the buses until your wave start and leave gear on the bus. Buses will return gear to finishers lounge for quick retrieval post race
Traditional Shakeout Run along the Charles River on Sunday morning with light breakfast included
Pre Race Private Dinner for program participants (friends and family may join you, they cover cost of their meal) in Boston's North End early Sunday evening
VIP pre-race lounge for runners prior to boarding buses to start line. Open at 5am with coffee, bagels, hydration and gear drop
VIP Finishers Lounge including gear pick up, massage, food and beverage (beer!)
Boston365 Boston Bound Program Fee
Fleet Feet Alumni: $275

Must be 2018 Fleet Feet Racing Team member or 2018 Chicago Endurance Sports Marathon Training member to be considered alumni

New Member: $305
adidas Shoe Offer: $55 (additional)

New for 2019, receive an adidas running shoe valued at $140 for just $55 as part of registration. Models include: adidas Solar Glide, adidas Solar Glide ST or adidas Adizero Adios.
1 per registrant limited to the first 100
---
Boston365: Boston Qualify
Not going to Boston this year? You can still train with us! You'll get the same expert coaching, and a wonderful group to train with to make sure you're ready to race this spring.
Program Benefits:
Participants in the Boston Qualify program receive the same benefits as the Boston Now program, excluding the amenities in Boston. See above for a list of program details & benefits.
Additional Benefits Include:
Assistance in selecting an appropriate event to qualify for the Boston Marathon.
Adjusted training plan geared towards your goal race.
Boston365: Boston Qualify Program Fee
Fleet Feet Alumni: $125

Must be 2018 Fleet Feet Racing Team member or 2018 Chicago Endurance Sports Marathon Training member to be considered alumni
adidas Shoe Offer: $55 (additional)

New for 2019, receive an adidas running shoe valued at $140 for just $55 as part of registration. Models include: adidas Solar Glide, adidas Solar Glide ST or adidas Adizero Adios.
1 per registrant limited to the first 100