Mercy Home for Boys & Girls is the Fleet Feet Sports – Chicago Charity of the Month for March.
You can be a Hero to children in need by running the Bank of America Chicago Marathon for Mercy Home. With every step you take, you'll help give abused, neglected, and abandoned children a safe, loving home.
As a member of our Mercy Home Heroes team, you'll have everything you need to reach the finish line.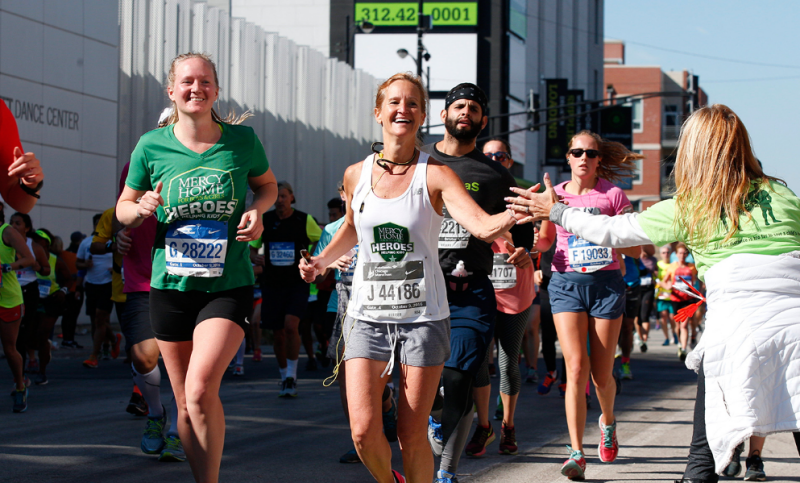 As a member of our Mercy Home Heroes team, you'll have everything you need to reach the finish line.
Guaranteed Race Entry
Don't take your chances in the drawing. Secure your spot by signing up today with the Mercy Home Heroes team and we'll cover $100 of your entry fee (limited-time offer).
Training
Whether it's your first marathon or you are a seasoned veteran, Mercy Home Heroes will provide training through Chicago Endurance Sports to make sure you reach the finish line. 
Events
Enjoy a pre-race pasta dinner, a post-race victory party, and team get-togethers throughout the year.
Gear
Show everyone that you're making a difference for kids with your free training shirt and race-day singlet.
Fundraising Support 
You'll receive everything you need, including your own web page. Among the many great incentives: Hit your goal, and we'll refund your registration fee.
Cheer
Receive a Hero's welcome from staff, kids, friends and family as you pass Mile 16 and our Rockin' Race Day party at Mercy Home.

Mercy Home for Boys & Girls is a Catholic organization answering the Gospel call to minister to children and families in need and has broken the cycle of neglect and abuse for over 30,000 kids since 1887. Help pave the way to a brighter future for troubled children and teens in Chicago.
Mercy Home for Boys & Girls saves young lives by providing:
A safe, nurturing residential treatment home,
AfterCare support for former residents and their families,
Community-based and site-based youth mentoring,
Promotes therapeutic, educational, vocational, spiritual and life skill development,
Is committed to raising public awareness of youth in need and encourages support to help them,
Is sustained by benefactors who believe in the miracle of God's mercy in action.
As a Catholic children's charity based in Chicago, Mercy Home is dedicated to changing the future for the boys and girls, ages of 9-21, who turn to us for help in their most critical hour.
Mercy Home for Boys & Girls offers kids a real home. A place where they can grow into successful men and women who will one day create loving homes for their own families.
Mercy Home gives the young people in its full-time care the tools they need to develop as people, as students, and as contributing members of society. Mercy Home also assists hundreds more by connecting them to a vast network of accredited professional service-agencies throughout metropolitan Chicago. 
Mercy Home partners with our children's families to promote emotional and psychological healing. And, Mercy Home is committed to raising the public's awareness about children in need. In short, Mercy Home saves children's lives.