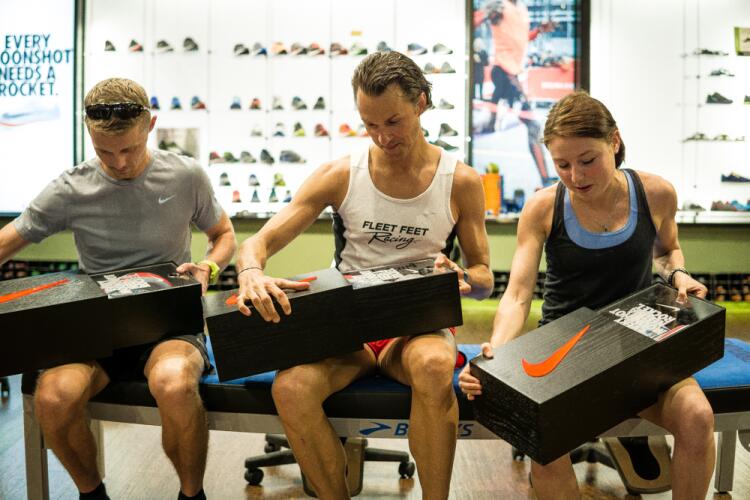 Members of the elite Nike Fleet Feet Sports Chicago Racing Team debuted the Nike Zoom Fly 4% on Wednesday night before the club's team workout.
Not to be confused with the Nike Zoom Fly. The Nike Zoom Vaporfly 4% shoe uses a brand new cushioning system that made its first debut in this shoe. The Nike Zoom Vaporfly 4% helped the world's fastest marathoners run their best during Nike's attempt to break the two hour marathon barrier.
The 4% promises to bring four percent greater efficiency compared to any other Nike marathon shoe. New tech such as Nike ZoomX foam which is capable of providing up to 85-percent energy return. Embedded within the foam is a full-length curved carbon fiber plate that provides a greater propulsion. Together, Nike claims these features deliver an average of 4-percent improvement in running.
Team members Kyle Larson, Daniel Glaz, and Camille Blackman(from left to right in above picture) received the shoes. The shoes come in a black woodgrain box that had to have weighed more than 5 pounds with a glass encasing inscribed "No human is limited. That's my message." A quote by Nike athlete and marathon record-holder (2:00:25) Eliud Kipchoge.
Both elites and athletes of the Racing Team are preparing for the BTN Big10K on Sunday.
The Nike Zoom Vaporfly 4% was released as a limited pre-order to those who attended Nike's Breaking2 viewing party at our Old Town store. The shoes have been backordered multiple times but are scheduled to arrive next week. Once they arrive, pre-orders will be available to be picked up to those who pre-ordered and the rest of stock will be released to the public.
Sign up to be notified when we receive the stock by filling out the form at the bottom of the page.