Earn "Rebuilding Miles" when you run, walk and exercise with your friends and family. Starting in November and through early December, log your efforts to help us reach areas hit by hurricanes in 2017: Texas, Florida, Puerto Rico and the Virgin Islands. Fund raising will support recovery efforts through Habitat for Humanity (and other organizations as fund raising permits).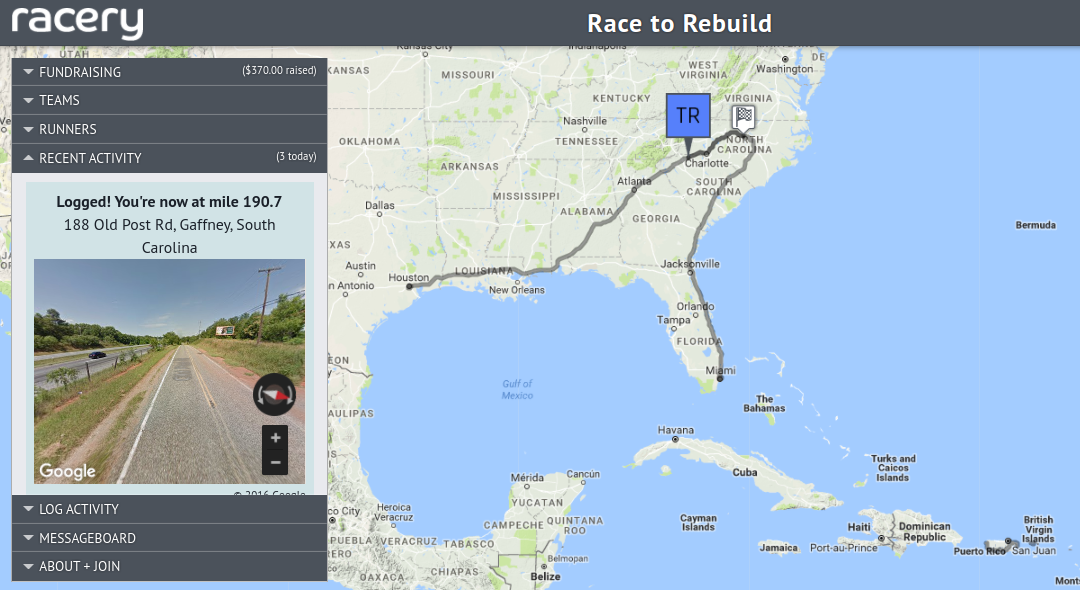 As a participant in the Race to Rebuild, you are invited to a number of events to for you to hang out with your community as we raise support for communities hit by Hurricanes Harvey, Irma and Maria. In addition to these events, we are working on a group classes for yoga and Pilates, cross-fit and spin class.

We will have a dinner event at the Red Bowl restaurant in University Place, Chapel Hill and an extended "interval" where a percentage of your check will be donated to Habitat for Humanity.  

The Thanksgiving Day, Gallop & Gorge 8k race in Carrboro is a great opportunity to add miles to reach our goal. Stop by the Race to Rebuild table before the race for a group picture.

The week of November 27 is the time to fix up your bike and prepare your wheels for cycling in 2018 at the Clean Machine in Carrboro. On Monday, bring your bike in for a "Tube and Lube" workshop to learn how to maintain your bike. On Friday, participate in the Bike Check, including an inspection of your bike and recommendations to improve your cycling experience.

We will have a "send-off" event in mid-December where we will tally the Rebuilding Miles and announce how far we have gone. Join your friends and neighbors for an evening celebrating what a good community can do for others.

Registration begins by Monday November 13 at Racery.com. Share your accomplishments with the hashtag #racetorebuild.