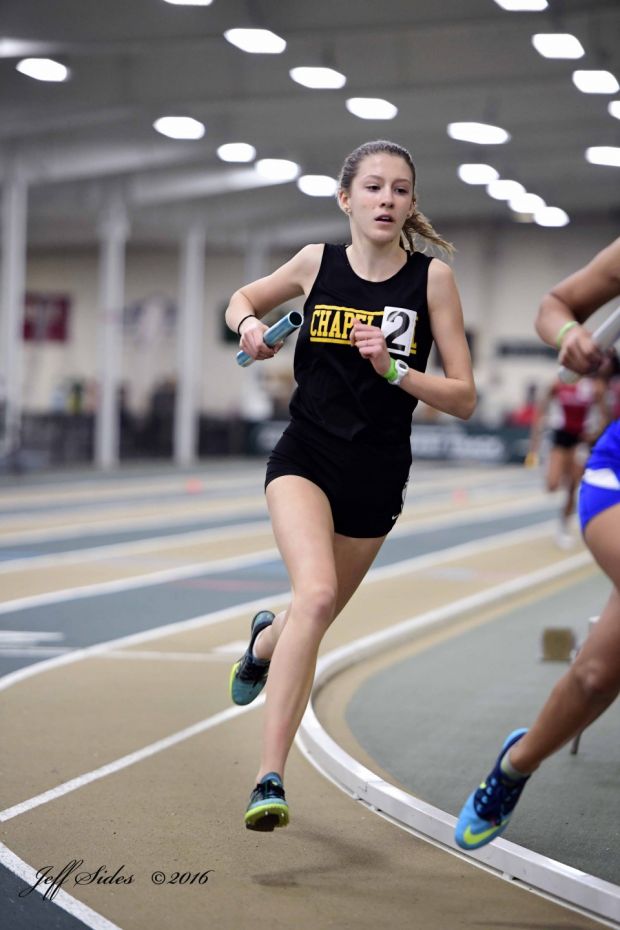 Hometown: Chapel Hill, NC
High School: Chapel Hill High School
Year: Junior
Personal Bests:
800m: 2.19
1600m: 5.00.95
Mile: 4.59.14
3200: 10:58.47
What is your running origin story, who got you into running, how did you start?
I originally was very into swimming, and didn't think anything about running. No one in my family was a runner, and my close friends at the time did other things. However, sometimes at swim practice we would incorporate things like running, core, and weights into our workouts. I realized that I began to enjoy the running part of practice more than the swimming part. I decided to run track at the end of 7th grade and really enjoyed it. In 8th grade I ran cross country and track and realized cross country races were my favorite. I then quit swimming year-round and delved into running more seriously. 
You and your teammates recently competed at the New Balance Nationals Indoor. What was it like in the big city competing against the best high school track athletes in the country?
Honestly, it's always intense. I love going to New York to compete every year just because the level of competition is astounding and the environment is very fun (especially with your teammates there), but it can be easy to get psyched out by all the elite athletes around you. 
Running for such a an elite high school program, does it make it easier to come to practice every day and trust your training?
Yes, definitely. I am aware and very glad that I have the opportunity to be a part of such a competitive and amazing team that is coached by equally amazing coaches. It is easy for me to trust my training, but I sometimes get quickly discouraged at my own performance. 
What do you want to accomplish athletically before you leave high school? As an individual and as a team?
I want to win one last state championship in cross country with my team before I graduate. I want to train hard this summer and break 18 in the 5k. I want to possibly win a cross country state title.
I understand that you come from a pretty academic family. When making your college decision how will you balance your academic aspirations with your athletic aspirations?
For me, academics has and always will come first, and this is probably mostly because of how I was raised. However, athletics are also very important and I will always have that in the foreground of my mind when deciding where I want to go to school. 
Speed Round:
1. Cross Country or Track?
Both
2. Hardest thing to give up during the season?
Saturdays
3. What shoe do you train in?
Mizunos
4. Who do you look up to athletically? 
My coach and competitors around me
5. If you had to choose one person who has been vital to your success as an athlete who would it be?
My coach
6. Duke, NC State, or UNC?
UNC
7. Long run or speed workout?
Speed workout
8. Go to meal the morning of a big meet?
No
9. Favorite area of study in high school?
Calculus room
10. How many miles a week will you be running 

in 20 years

?
30
Any Shout outs?
My wonderful team and dedicated coaches. Also my parents for supporting me and taking me to many races. 
What We Think:
Katherine follows a long line of successful Chapel Hill High School distance athletes. She has had the opportunity to represent the Chapel Hill area as an individual and as part of a team at the local, state, and national level. Katherine's personal bests speak for themselves and make her one of the faster high school athletes in the state. Not only does Katherine succeed on the track, but she is also a great student who makes her studies her top priority. We had a blast getting to know her and wish her and the entire Chapel Hill Track and Field teams good luck for the rest of the season.