ZHARA (right)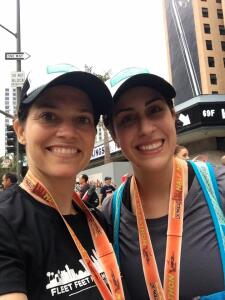 1) How long have you been a runner? What got you into running?
I've always enjoyed running, however, about a year and a half ago I started to get back into running regularly.
Running for sport was introduced to me at a young age as I was encourage to compete in county wide mile races for my elementary school. From there it progressed to competing in track and field in middle and high school, and now I run for fun and personal goals.  
2) What do you like best about running?
I like the personal growth that comes with running regularly as running has pushed me both physically and mentally.
3) Where is your favorite place to run?
Anywhere!
4) What is your favorite race experience?
My favorite race experience was running Rock n Roll Los Angeles half marathon last year as I ran it with two of my friends that I met through Fleet Feet, and we had a blast running the course.
5) How has running changed your life?
Recently running has changed my life for the better. Not only has it been a way to meet some wonderful people, but it's a way to remember to not only focus on things that I have to do but also on things that I want to do, like going outside for a run.  
6) What is your favorite thing about mentoring?
I enjoy watching individuals meet their running goals and helping them along the way to achieve those goals.
7) What is your favorite piece of running-related equipment?
My Saucony Guide running shoes.
8) Any tips for new runners?
Just get out there and run, and remember to have fun!