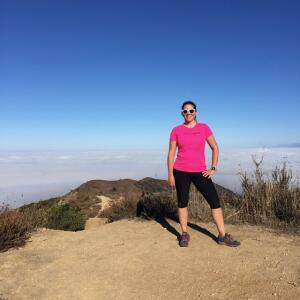 1) How long have you been a runner? What got you into running?
I've been running for 4 years. I started running after my daughters were born. I felt I needed some time to myself, and then I saw an advertisement for the Fleet Feet No Boundaries program and signed up.
2) What do you like best about running?
The best thing about running for me is setting a goal for myself and seeing it through. There's no better feeling than accomplishing a goal (distance or time) that you set out for yourself and worked hard for.
3) Where is your favorite place to run?
I love running on the trails. I'm amazed by the beauty that you find at every turn. The beauty that you see at the top, you can only see by getting there on your own two feet.
4) What is your favorite race experience?
My favorite race experience was Mt. Baldy Run To The Top. I was very emotional at that finish line!
5) How has running changed your life?
Running has encompassed my whole life. We run as a family. We hike as a family. It really influences everything you do and the people around you.
6) What is your favorite thing about mentoring? 
The bond that is formed with the participants from program to program. I can relate to them. Every ache, every pain, every uncertainty, I've been there. I love to help each one of them conquer their goals.
7) What is your favorite piece of running-related equipment? 
My favorite is my Garmin 235. I love to track my runs, track my heart rate during my runs, and celebrate a good pace and negative splits!
8) Any tips for new runners?
I would say, just keep showing up. Consistency is the key. And don't be afraid to reach out to your mentors or coach. We're here to support you, and you CAN do it!