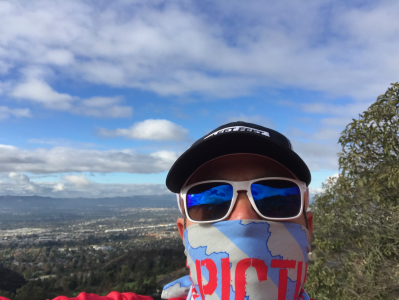 1) How long have you been a runner? What got you into running?
I've been running for 9 years. I quit smoking and needed a new habit.
2) What do you like best about running?
The sense of accomplishment. Not to mention I get to eat all the food.
3) Where is your favorite place to run?
I'd have to say Santa Monica near the Pier. I also really enjoy running on trails.
4) What is your favorite race experience?
I have too many to mention. They all have to do with great people being there for me during dark times of a race. Y'all know who you are.
5) How has running changed your life?
I've made life long friends  because of it.
6) What is your favorite thing about mentoring?
Helping runners achieve goals they never thought they could accomplish. Especially when they complete their first Marathon, that makes it all worth it.
7) What is your favorite piece of running-related equipment?
My Salomon hydration vest [S Lab 12 Series].
8) Any tips for new runners?
It doesn't matter how fast you're going as long as you're moving forward.