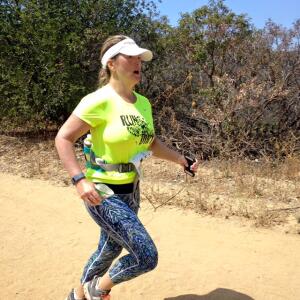 1) How long have you been a runner? What got you into running?
I have been running about three and a half years. I made the mistake of walking into the Fleet Feet store to look around and was approached by one of the sales reps and the rest is history! 
2) What do you like best about running?
I love how I feel after I run. 
3) What is your favorite race experience?
My favorite would have to be the trail half marathon [left]. That was the hardest race, mentally and physically, but I did it with the help of my coach (Stephanie) and running team.
4) How has running changed your life?
There are days when I don't feel as strong and my energy level is low but I have the same great feeling after running. I think running has truly been a blessing in my life. It has given me an outlet when I've had a bad day, or am feeling stressed out. 
5) What is your favorite thing about mentoring?
I enjoy meeting new people and learning how I can help them meet their goals. I can get lazy some days but mentoring makes me accountable to others, so I stop thinking about myself and "Just Do It"!