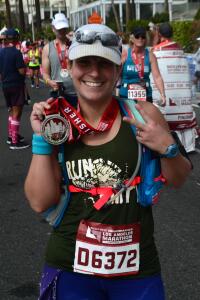 1) How long have you been a runner? What got you into running?
I've been running for about 12 years but started taking it more seriously about 5 years ago. Living with a Marine helped, but I mostly started just to see if I could do it. Then I started to like it. Plus it helped add something new to my life when I was living in a new city.
2) What do you like best about running?
I like the alone time it offers, as well as the people it has brought to me. Running can provide anything you need it to.
3) Where is your favorite place to run?
I love running by the beach despite not being able to very often. I also love running at sunrise - the colors of the sky are hard to beat.
4) What is your favorite race experience?
It's hard to pick something. Any time you finish a run feeling strong, that's hard to beat. One of the most memorable moments was crossing the finish line of my first marathon and my training group was all there waiting for me. We laughed and cried and lamented and limped together, and it was awesome.
5) How has running changed your life?
Running has made me healthier and stronger. I now know how to push through an overwhelming desire to not do something, and get it done anyway. Sometimes I even end up doing it better than ever as a result.
6) What is your favorite thing about mentoring?
I've met some really amazing people who inspire me to do more and try harder. Helping someone figure out what they can do always reminds me of what I can do, too. Seeing the look on someone's face when they hit a new milestone, or mile, never ceases to inspire.
7) What is your favorite piece of running-related equipment?
I have a pair of Nike pants that are my absolute favorite, but they're dying, which is sad. My Garmin watch has turned into my most required equipment - it's so useful! My phone's GPS is just about the most important thing ever; it has saved me on many a road and trail.
8) Any tips for new runners?
Don't worry about what anyone else is doing. Run YOUR run. Some days it will be a delight, but most days it will be difficult, and that's not only OK - it's normal. As long as you're staying true to the mission of trying your best and improving yourself every time, the results will find you in time. Everyone has different bests - just keep aiming for yours.