Before the 2015 LA Marathon, we posted videos and stories from our running community in a new series called #FleetFeetStories. We hope to continue to inspire, motivate, and create a dialogue about our awesome community of runners, but we need your help.
Get your story or video featured! It could be a video during a run, a recorded testimonial about why you run, or a written story about your journey with running. We want it all! Contact rachel@fleetfeetburbank.com. 
We'll continue to post new videos and stories to this page, so if you ever need a little extra motivation, your fellow runners are here to give it!
Post Marathon Fun - Leo's Run
Catch Leo at the 1:40 mark!
Stephanie Anderson's Story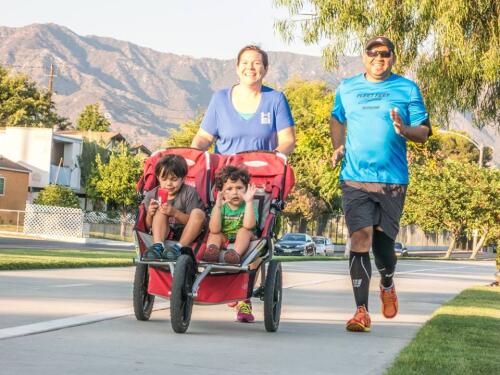 I am not what you would call a "natural" runner or athlete. In fact, running was something I always dreaded because it was so hard for me. I would jokingly tell people I must have asthma because I couldn't breath when I ran. In reality, it was because I was overweight and unfit.
It wasn't until my first son was born in 2009 that it hit me - I needed to get healthier so I could be around for my family. Children look up to their parents and want to be like them . We are their first role models. I didn't want to be the mom that sat out of breath on the sidelines as her child played off in the distance. The last thing I wanted was my kids to have the weight problems I battled with most of my life.
With that in mind, I challenged myself to attempt things I thought were impossible for me. I signed up and completed my first triathlon in the fall of 2010. Not only did the running scare me, but I had never swam in the ocean before. It was difficult, but when I crossed that finish line I knew I was stronger than I thought I was. After my second son was born in 2011, I decided test my limits again and signed up for a half marathon. I trained on my own, and didn't really know what I was doing, but my goal was just to complete the distance (run, walk or crawl) which I did. The only problem was after the goal races, I would stop training and my unhealthy habits would slowly sneak back into life.
In the fall of 2012, my husband found out about a new running store that was opening in Burbank. It offered a beginner's 5K training program, and he thought it might be something I would be interested in. Being a little intimidated by a "group of runners" I asked my husband to come with me. He agreed and we showed up with our two boys in a double stroller not knowing what to expect. Honestly, what I hoped for was this group to keep me accountable for my running. Little did I know how much more it would give me and my family - support, a sense of community, and many fun times. Yes, fun times while running! I never thought those words would be said by me. On top of it, I got to share this experience with my husband and kids, which made it even better.
After our program ended, my husband and I decided to come back as mentors for the next group. For me I wanted to share my new passion for running with others who might have been in the same place I was before.
That was two years ago. Today, I honored to be coordinating training programs at Fleet Feet Sports Burbank and love to see new runners bloom. But the best thing running has done for me is that it has given me a stronger and healthier future with my family. My husband and I continue to run and remain active. Our boys are starting to run next to us instead of being pushed in the stroller. I am no longer on the sidelines watching the action. I am right there in the middle of it and having fun with my husband and two boys.
Steph also runs a Facebook page called "Keep Calm and Run Mom".
Zak's Story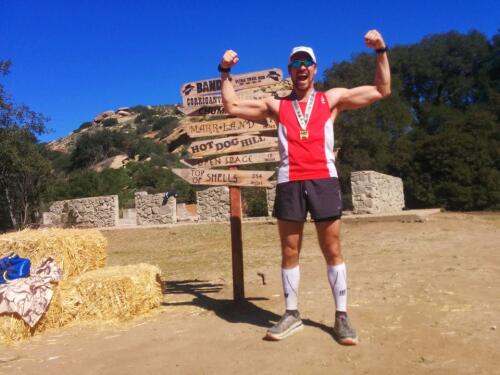 I started running only after I turned thirty. Prior to that, the most athletic thing I had ever done was marching band in high school and college. I had taken a new position within my company, putting me behind a desk for the first time in years instead of working and walking on the retail sales floor. From October to February was enough time to notice a difference (What is this extra layer around my middle? I didn't eat that much more over the holidays....), and though I had kept the same gym routine as before, I was much softer around the middle just from less daily walking. I needed to add more activity back into to my routine to battle my new, more sedentary existence. So I started to run. Maybe twice a week; on a good week three times, but not more than every other day, and usually for about a mile and a half or two.
A coworker (who traveled to run half marathons with her mom) recommended a book, "Running for Mortals", which I borrowed and read. 
My two main takeaways from that book, which I recommend for beginners and weekend warriors alike, were these:
# 1 - Run or walk a small local race, to see if you like that environment. Just pick one, a 5k or something relatively short like that, and lace 'em up. If you like it, great, keep running. If you hate it, running races may not be your thing, at least you gave it a shot and now have a new t-shirt.
# 2 (and this is if you liked the first race) - Pick a new race and train for it. Pick a distance or destination that you look forward to. Don't pick something crazy, scary or intimidating. Just find one that looks fun and give yourself a realistic time frame to train and prepare for your next goal race or distance.
My first race was the OC Fair 5k. It was in my back yard and a few weeks away. On opening day that summer I got to run through the fairgrounds before they opened to the public plus I got free admission and early access to the fair. I earned that corn dog and that beer. I came back again for round two at the closing day OC Fair 5k. I was a little faster than the first time and I got a special medal for running both races and another new t-shirt. After that, my second ever 5k, I pondered the words in the book and picked a race that looked fun and challenging to me. That race was the Malibu Triathlon. I tore the advertisement page out of a copy of Men's Health and taped it to my bedroom tv. (My thinking there being, any time I wanted to watch television in my room was a time I could be training instead.) I certainly didn't cut out my viewing entirely, but I always taped that page back on the tv after I turned it off. That was my next goal race and I trained for just over a year for it, adding swimming and biking into the mix.
Since then I've ran more 5k and 10k races, a few half marathons (still my favorite race distance), moved from OC to Culver City, ran the LA Marathon just once (the year that it rained), done the Malibu Triathlon six times (by myself and as part of a relay team), finished the IronMan 70.3 Triathlon in Oceanside, moved from Culver to Burbank, and just recently ran a 30k trail race. Running for me has become a stress reliever, a time to enjoy some fresh air and think to myself, a chance to listen to music or a podcast, a way to meet new friends, connect with people, even talk business with colleagues, all while working up a good sweat.
More running pics and other random stuff on Twitter and Instagram @zkgraff. See you at the Pub Runs!
Fleet Feet Pub Run
If you've ever been to our Wednesday night Pub Runs, you know what a great community of runners we have.
If you've NEVER been to one of our Pub Runs... here's an inside look! We hope you'll come check one out soon - this Wednesday's LA Marathon DFA-33 Pub Run with ASICS is a really good place to start. With an exclusive look at the official shoe of the LA Marathon plus a chance to win some awesome raffles, we'll have you coming back every week!
Wednesday Pub Runs start at 6:30 PM from the store. All levels welcome! Bring a friend, or make new ones.
Sam's Story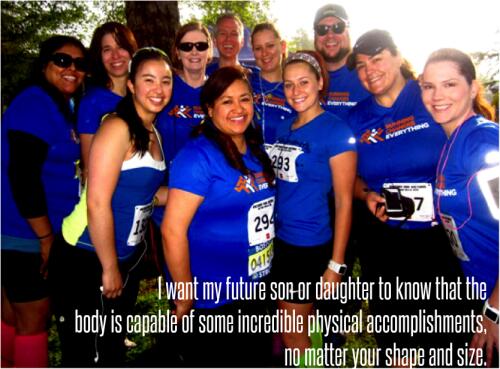 I was never much of an athlete growing up. I played baseball for a few years, danced for many, but anything that required too much running was completely out of my comfort zone. Overweight through most of childhood, I found my way into a gym at 16. My body rapidly changed but my poor body image did not. I forged unhealthy relationships with food and fitness well through college. I was in the gym everyday, for hours at a time. Some days I ate everything; some days nothing.
I fell into running my senior year, by accident. There was a 3-mile loop around campus that suddenly everyone in my department was running. My first attempt at following the trend was a DISASTER. Between years of neglecting my cardiovascular endurance and the Miami humidity, I could barely run a minute at a time. But I stuck with it, and soon I could run a song at a time. And then two songs at a time. And finally about 3 months later, I could run the whole loop without stopping. I ran it almost everyday. It became my escape from the stresses of graduation and a messy break-up. But it wasn't quite enough.
When I moved to LA after graduating, I was the definition of a hot mess. And when you're an insecure actor with poor body image, this city can eat you alive. I was ravaging my body with disordered eating. I continued to run, but lost the tranquility of it. I ran because I thought I had to. Then I started coaching.
Helping others start their running journey the same way I began mine was both inspiring and humbling. How could I tell these people to train diligently, eat smart, and trust the process while I continued my unhealthy lifestyle behind closed doors? So I started to change, slowly but surely. By October 2013, I managed to take control of my health for good. In March 2014 I ran my first full marathon. By October and November 2014, I PR'd my half marathon and 5k times.
Now that my body is working on bringing a new human into the world, I'm not looking at setting a new PR anytime soon, but I do plan to continue running. I want my future son or daughter to know that the body is capable of some incredible physical accomplishments, no matter your shape and size.
Owner Colin Klein's Story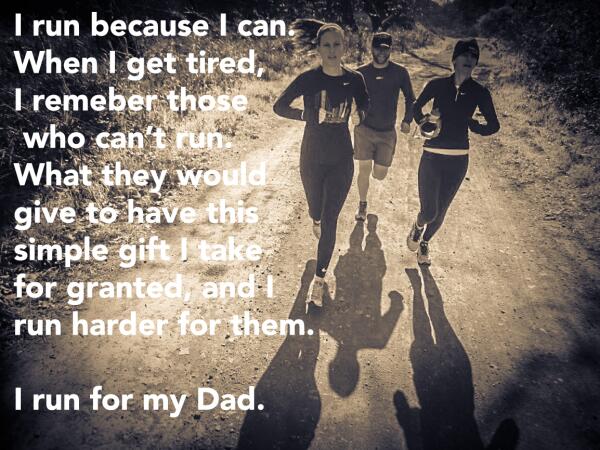 In 2010 my Dad was diagnosed with Amyotrophic lateral sclerosis (ALS), or better know as Lou Gehrig's Disease. I didn't know much about the disease at the time but became intimately acquainted with it over that year as I watched him struggle and slowly fade into a shell of his own body. He would lose his ability to move, to speak and finally breathe. 

I would learn to find solace in my time out on trails around the Arroyo and I found joy in running the routes we used to hike as a child with him. Running is my meditation, and my memories of time spent with him. I run because I can. I run because he no longer could.
Britt's Video
Steve's Video