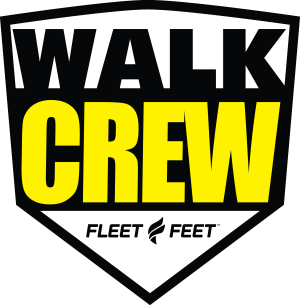 At Fleet Feet, we are passionate about helping you get fit, and walking is an excellent low impact activity to do that! As the name implies, WalkCrew is strictly walking. To better accommodate all fitness levels.
Program start date: Tuesday, August 13th at Fleet Feet Buffalo (2290 Delaware Ave)
WalkCrew – WalkCrew is perfect for those who have no desire to run, but still, want to be active and healthy. A supportive and trained coach will help participants adopt a regular walking routine and assist them in meeting new fitness partners along the way. Participants will be encouraged and prepared to walk a 5K at the end of the training program.
Goal Race – Pumpkins in the Park on Sunday, October 27th, 2019
Program Schedule:
Tuesday workouts take place at Fleet Feet Buffalo from 6-7pm 
Saturday workouts take place at rotating locations including Chestnut Ridge Park, the Outer Harbor, Niawanda Park, and the Fleet Feet Buffalo Store. We start at 8 AM on Saturday mornings.
Trainees will also have 2 homework workouts to complete each week.  
Program Fee: The program is at a reduced rate of $90.00 until 8/6/19. On 8/7/19 the fee increases to $100.00
Refund Policy: All refunds are partial. No refunds after 8/27/19. ($20.00 admin fee will be deducted from original price paid)
Join us for a free program information session on Tuesday, August 6th at Fleet Feet Buffalo (2290 Delaware Ave) from 7-8pm
Each program offers:
Flexible training schedule
WorkoutLog, which is an online training tool
A safe, supportive environment for all athletic abilities
2 weekly organized, coached and mentored workouts
Great camaraderie and friendship
Supportive and encouraging coaches and mentors
Online private Facebook Group page
Graduation party after completion of the program
Special shopping day
Earn the Fleet Feet Running Club WalkCrew Badge!
For questions, contact our Training Program Coordinator Scott at Scott@fleetfeetbuffalo.com