Training Group Success Stories
We always mention how successful our training groups are, but the proof is in the numbers. Here are several people that have shared their success stories and personal best times with us!
If you have a training program success story you want to share please email Kateri@fleetfeetbuffalo.com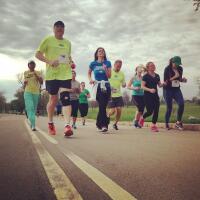 Peter Cullen - No Boudaries Runner/Mentor
Four years ago. It really seems like yesterday in so many ways. Four years ago I started running. So, what's changed? Let's start with health. My triglycerides were literally off the chart. My bad cholesterol was bad. My good cholesterol was bad. My blood pressure was too high. I was diagnosed as obese and was told I needed to exercise more. This past February all of my levels were within normal limits! It could have been any activity, done consistently. But, somehow, it was running that did it for me. 

I also eat better. My diet could still use some improvements, but I honestly didn't sit down and change it. Once I started running more, my body reacted. I was craving more nutrition/protein and less junk. I used to get fast food lunch a couple times a week. It's now more like once a year, and I regret that afterwards. I'm in MUCH better shape than I was four years ago. And, that has really helped to improve my self-image. I'd say I'm more confident and that comes from running, too. 

Let me tell you (if you don't know), training for a 1/2 marathon is the most strenuous challenge I've ever undertaken - both physically and mentally. There's a lot of interim goals between running a 5K and 13.1 miles. But, achieving them and the final goal of finishing the 1/2 is an amazing feeling. Both times I've finished a 1/2, in a quiet moment I have taken a very deep, inward look at myself and reacted with utter astonishment. Sometimes, I'm not sure who this new person is that's doing all this running. Then, I realize it's still me. 

What else has changed in four years? The people who I now consider friends: Tracey, Melina, Dana, Leslie, Ros, Anne-Marie, Jimmy, Rose, Kat, Fran, Don, Dan ... this list goes on and on. They are all such great inspirations for staying involved in this sport. I'm so happy to be able to give back by mentoring new runners with No Boundaries at Fleet Feet. That's been a really big change as it pulls me out of my comfort zone as I try to encourage others to "keep going" and "don't give up." It may seem longer (from all this blabbering), but I can easily remember my first run with NoBo at UB like it was yesterday. I have to say, that's one of the best named programs ever. Not only do they show you there are no boundaries to what you can accomplish, but you soon begin to realize that there are no boundaries when you are running! It's just you and the road. Nobody tells you what to do - what you should or shouldn't do - what you can and can't do. It's all up to you. It will be October before I know it and I'll be running my third 1/2 marathon. Running changes so much. Running changes everything.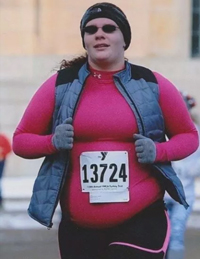 Janice Elizabeth Wojciechowski - No Boundaries
I first hated running but loved what I could do with it. I switched to obstacle racing thinking that would be my thing, not quite. After a year I ran my first half and it changed everything. I met my best friend. Found long distance was my thing! Shortly after I was introduced to a group - I run for Michael. I was matched with a little boy with rett syndrome and other issues. I now run for him and send my medals. It's a sense of propose. I feel better physically mentally I get to travel and meet the best people!
Timothy Curtiss - No Boundaries/Distance Group
I began running last September. I was motivated to do so after participating in a four mile fun-run/obstacle course race. Some friends were participating and talked me into doing it with them. When I signed up for the race it seemed harmless enough – run a little bit, drink a beer, do an obstacle, repeat the sequence over and over for four miles. Harmless – yeah, right. There was nothing 'fun' about that run at all. I had to walk the majority of the way (and by majority, I mean virtually the entire way).

Following that experience, I knew I had to start making changes in my life. I began the No Boundaries program on Tuesday, September 18, 2012 with a group run at Delaware Park. Consistent with my experience at the four-mile race earlier that month, I couldn't run ½ mile without having to stop. Luckily, with the support of my friends and family along with the coaches and mentors of the No Boundaries program - I forced myself to stay with the program. I am proud to say I completed my first 5k on December 1, 2012. I finished the program goal race, the Medaille College Reindeer Run. Not only did I not have to stop and walk, I completed the race in 26:50, an 8:33/mile pace. So this is what Usain Bolt feels like!

So, with a little encouragement from my new found friends at Fleet Feet, I took the next bold step and signed up for the Distance Training program at Fleet Feet. My goal would be to complete a half-marathon. Six months later, I completed my first half-marathon (The Buffalo Half-Marathon) on May 27. The tagline of the No Boundaries Program is 'Running Changes Everything'. It is one of the most accurate statements written. The proof is in the numbers: Since not being able to run ½ mile without stopping last September, I have participated in 18 races (Four half-marathons, one 15k, one 10k, one 8k and eleven 5k's) I have lost 84.5 pounds - (239.5 pounds (September 2012) to 155 pounds (November 2013)) I have dropped from a 48R jacket to a 40R jacket, a 42" waist to a 30" waist, a 19.5" neck to a 15.5" neck
Ed Roberts - No Boundaries/Momentum
"I just wanted to say, I can't thank you enough. Between the spring No Boundaries and Summer momentum programs this 44 year old fat guy got off the coach to running 20+ miles a week. I could have done it myself. But, there is no way I would have. The money I spent on training was trivial for the progress I made. Thank you."
Joe Schretzman - No Boundaries/Distance Group
"I learned about Fleet Feet from a woman on the shuttle bus at the 2012 Corp Challenge, so I guess this makes tonight my first anniversary with Fleet Feet. I can't thank you all enough. Your programs have given me running. Training and and planning around running have given me more than I could have dreamed. I have found (and enjoy!) focus and commitment. My approach to frustration is completely changed: it's the difference between giving up -- quitting -- and giving out -- exhaustion. Giving out happens. Giving up is a choice. I still talk to myself, I just listen a lot less. Friends asked what I got out of the No Boundaries program last summer (2012). Hopefully, experience that counts as wisdom: "You can't cram for a 5K." Don't cram for ANYTHING if you want to experience it fully and deeply. Meeting other people who get this, and who live this way, is both inspiring and liberating.

May 20, 2013 I put a 13.1 magnet on the trunk of my car. There are times I still don't believe it's MY car. Then there are the times I KNOW it's my car, and I find myself challenged to live up to what I had to do (and be) to put the 13.1 on the trunk."

Krysten Stoll - Distance Group
"Just wanted to share that I have had two PR's this training season! Set a 5k PR of 23:04 (used to be 23:50) and also set a PR at the 15k of 1:15:43 (used to be 1:23 and change... took 8 minutes off!) Hopefully I will be enjoying a new marathon PR in Chicago in a couple weeks!"
Douglas Stoll - Distance Group
"I ran the FF 15k last year in approximately 1:17 and this year I ran it in approximately 1:07.  Additionally, I keep PR-ing in 5ks.  I think the mid-week threshold runs are helping here, and it is only my second year of running so I'm still in the process of improving my overall fitness.  I PR-ed at my last 5k a few weeks ago with a 20:33 time. I'm even starting to place at some races!  I think the training is helping my overall running fitness and the staff has been extremely friendly and helpful.  I'd highly recommend your training group to any runner."
Jessica B. Farley - Distance Group
"Although it's slow for most, I reached my PR at the Fleet Feet 15K. I only ran it twice, but last year my net time was 1:45:34 and this year it was 1:36:54. I was super happy, and I absolutely love the group of people that I have met through the distance group!"
Laina Bay-Cheng - Distance Group
A distance group repeater, Laina continues to improve her performance with every race. After a 3:24:16 finish in the Boston Marathon back in April, she has been burning up the local races in the area. She clocked a 20:14 at the Jog for Jake and a 1:01:52 finish at the Fleet Feet 15K in early September. Her most recent accomplishment was a 01:25:45 finish at the Nike Hospice Dash Half Marathon which earned her the first place women's spot and a huge trophy! More than 5 minutes faster then her Grimsby Half Marathon time of 1:31:43 back in February. She is certainly an inspiration to the other group members and we can't wait to see what she does next!
Diane Strawbrich - No Boundaries Program / No Boundaries Next Step Program
"I joined the No Boundaries group in March, hoping I'd run at least once around the Ring Road! I ran my first 5K in the Susan G Komen Race for the Cure. My time was 40:02. I ran in the Ronald McDonald 5K with a time of 37:17. This past Sunday I ran the Linda Yalem 5K in 36:34! While in the Next Step program, I did a distance of 5.25 miles. Didn't quite make the 6 mile mark. I am still working on that."
Katie Webster Maccallini - No Boundaries Program / No Boundaries Next Step Program
"I did it! In January of this year, I made a New Year's resolution to run a 5K (a first for me). I signed up for the spring No Boundaries group and ran the Susan Komen race in 29:30. Yesterday, after participating in No Boundaries: Next Step, I ran the Linda Yalem 5K in 28:34. Thanks to Fleet Feet and No Boundaries, I had the support needed to achieve my goal!"
John Waller - Distance Group
"I started from ground-0. I haven't ran since 1996 in any capacity worth mentioning. So to go from no more than 3 miles ever ran at one time to 13.1, 16, and 18 miles in less than 3 months. I owe my life to you folks at Fleet Feet for guiding me to new heights.... not to mention probably saving my health from eminent downturn .. my cardiovascular is unbelievably healthy."
Stephanie Stoll - Distance Group
"Here are 2 PR's I have acheived during training with Fleet Feet: Fleet Feet 15k - 2011 Time 1:19:09, 2010 Time 1:23:07.  5k PR: 2011 Harvest Moon 23:38, Previous PR 2010 Freezer 5k 24:08."