Kateri Walsh

I started working at Fleet Feet Sports in 2011 and recently became the full-time Training Program Coordinator. I'm from West Seneca, NY and I started running at 7 years old.  I have a degree in Sport Management with a minor in Coaching from SUNY Fredonia.  In 2009, I became a NJCAA All American in Cross Country for Erie Community College.  At SUNY Fredonia, I ran Cross Country and Track.  I was on two school record breaking relays along with attending NCAA Regional Cross Country Championships 2010-2012.   I coached at Mount Mercy Academy for the 2014 Track and Cross Country seasons.  I have completed a haf marathon in 2013 but thrive on 5k's! My goal for 2015 is to run a full marathon and hike part of the Appalachian trail.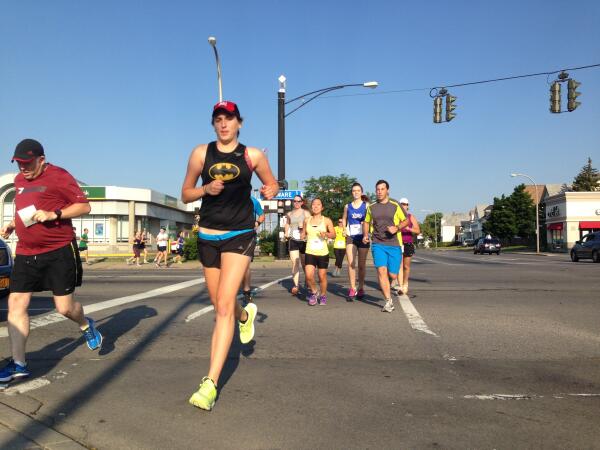 Dana Dobinski
I've been with Fleet Feet Sports for almost two and a half years now. I grew up in Elma and East Aurora but currently live in Buffalo. This will be my third season coaching the Marathon distance group as well as many other Fleet Feet Sports groups before that and I'm wicked excited to start fresh and get it going again. I started running on my 6th grade cross country team and have been bitten by the bug ever since. I have completed three marathons, many halfs, and most recently, a half Ironman, but lets not forget all of the fun 5 & 8ks around Buffalo every year. My next BIG goal is to train for and complete the Ironman in Lake Placid! (No virus and weather can stop me this time around!)

Rosellen (Ros) Marohn
Rosellen began running her junior year of college as an exercise in self-discipline. After completing her first half marathon in the fall of 2008, running has been an important part of her life. She remained a runner throughout her Peace Corps service in El Salvador where she was affectionately known as "La Gringa loca que siempre está corriendo." This spring, Rosellen has run two half marathons and is looking forward to completing her first full marathon in the fall. When she's not analyzing data at her day job or testing out the latest trainers on her quest for the elusive perfect running shoe, you'll find her on her mat practicing power yoga. Just ask to see her forearm stand.