Garmin Forerunnner 235 
Stay on pace for your next personal record with the Forerunner 235. It's built-in activity tracker keeps recording steps, even when you're not running. Pair your watch with a compatible smartphone for connected features such live tracking and audio prompts. 

NEW: Audio Prompts - receive audio prompts from your connected smartphone, including laps and lap times
IMPROVED: Larger Screen - 44% larger screen than the Forerunner 225, but the same physical size
IMPROVED: Battery Life - Longer battery life than the 225; 11 hours in training mode and up to 9 days in watch mode
IMPROVED: Wrist-Based Heart Rate - Utilizes Garmin's very own wrist-based heart rate sensor that tracks 24/7

Heart Rate Measured at the Wrist
Forerunner 235 with Elevate™ heart rate technology measures heart rate at the wrist 24/7, giving you the option to run without a strap. Its colorful gauge identifies your heart rate zone and beats per minute in real time.
Customize Your Watch and Your Training
No two runners are the same, and neither are their goals. Set yourself up to reach yours by downloading advanced workouts and training plans to your watch from Garmin Connect. You can even customize your data fields, and download watch faces, widgets and applications all for free at Connect IQ.
On and Off the Road Running
A built-in accelerometer captures distance and pace data when you're running on an indoor track or treadmill, with no need for a separate foot pod accessory. Once you're done running, it doubles as an activity tracker², counting your steps and calories throughout the day. It also reminds you to move after sitting for more than an hour. Forerunner 235 is compatible with GPS and GLONASS satellites to locate your position quickly and precisely whether you're running deep in the woods or near tall buildings.
It's Simple. Period.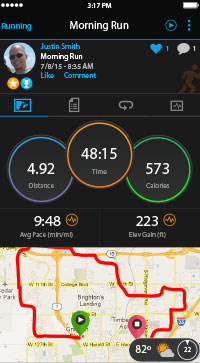 Concise, easy-to-understand charts, graphs, maps and more let you view your activities, track progress toward goals and wirelessly upload and share relevant data directly with the online Garmin Connect network. So, you can compete with friends or family members on weekly step or running challenges — and compare your results in real time, using the LiveTrack feature. You can also use the app's wireless connectivity links to receive current weather conditions, forecasts and smart notifications right on your compatible Garmin device.