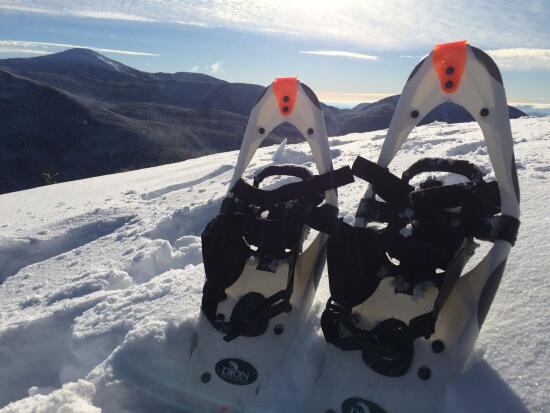 Model 121 (pictured above) is the smallest and narrowest snowshoe (7"x21") allowed by the USSSA. Great for Sprints, 5k and short distances but also able to handle the long stuff. Weight 2lbs 4oz. with binding and cleat!
This model is set up with The Deep Cleat and is great for deep snow or dry powder conditions. It is longer than the Standard Cleat and has longer "fangs" for better grip. It also has the Teflon coating to keep wet snow from sticking.
What makes Dion Snowshoes so "special"?
Designed, built and used by experienced snowshoe racers and hikers, these tough, lightweight snowshoes are comfortable to wear and can adapt to a wide variety of terrain and snow conditions. Just a quick turn with a screwdriver and all of the parts can be changed in seconds! The modular design allows you to create the perfect combination of components to suit the conditions or your personal taste. Also, you can easily replace worn parts or upgrade as new parts become available without having to buy an entirely new snowshoe.
What are the benefits of owning a pair?
These frames are the narrowest on the market. Men, women, and kids ALL want to run and walk with a natural stride

No more "one size fits all". Even the straps are interchangeable

The modular system provides a "custom-fit" and can adapt to changes in terrain or snow conditions in seconds

The interchangeable frames, bindings, and cleats can eliminate the need to purchase a second pair

The durable, hand-bent, aircraft aluminum frames are light, flexible, and are fitted with wear resistant decking

Ergonomically designed, teflon coated cleats will allow your foot to move naturally and help repel sticky snow

Comfortable bindings accurately control the position of your snowshoe...meaning no more banged up ankles!