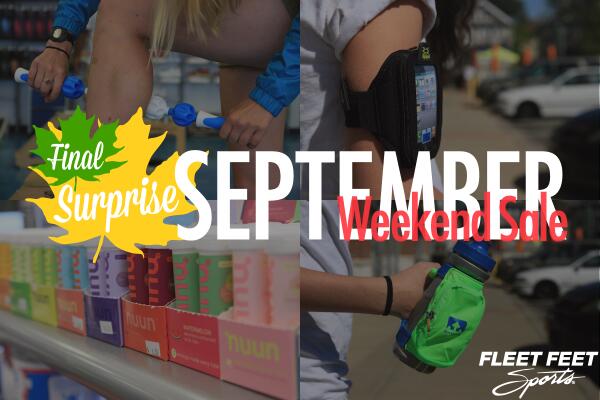 Final Surprise Weekend Sale - September 27th & 28th
Save 25% on all injury prevention products!
For our final Surprise September Weekend Sale, we are doing our best to help you prevent injuries!  This weekend only, you can save a whopping 25% on all products that help you fight injuries.  Think products from Addaday, CEP, KT Tape, Pro-Tec, The Stick, Run MD, Trigger Point and Zensah.  
Don't think the final Surprise Weekend Sale ends with just injury prevention, we are also offering "Buy One Get a Deal" specials as well.  Here are the specials:
Feetures and Balega Socks – Buy 1 pair, get the 2nd at 50% off
Run Guard – Buy 1, get the 2nd at 50% off
Honey Stinger – Buy 3, get the 4th FREE
PowerIce – Buy 3, get the 4th FREE
Nathan – Buy 1, get a 2nd Nathan item at 25% off
****Only available on in-stock items.  Sales cannot be combined with any other coupons, offers or Personal Rewards.  All prior sales excluded.****