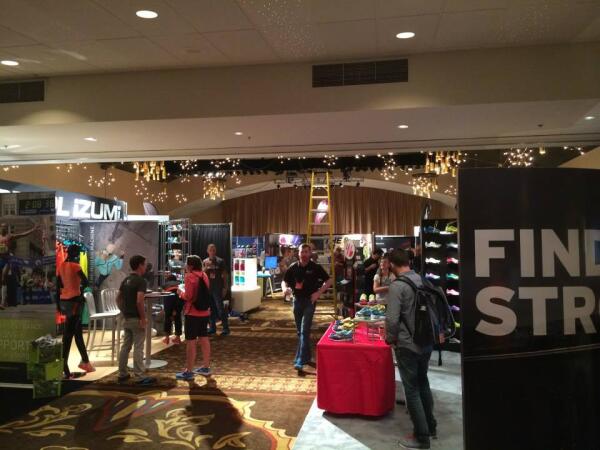 While June 21st signaled the first day of summer, the summer solstice also signified that the Fleet Feet National Conference was right around the corner.  This year, flocks of Fleet Feet owners and employees descended upon St Louis, Missouri for four days of training, seminars and round table discussions with the owners and employees of over 100 Fleet Feet stores from around the country.  Every morning, in true Fleet Feet fashion, started with a balmy (St Louis,  unbeknownst to me, is not only very hot in the summer but also  extremely humid) run through  the large and beautiful Forest Park. After our run, the days were filled with discussions about what is happening in the running world and what trends are popular around the country at all the different Fleet Feet locations.   We were able to share great ideas between stores and I am happy that I was able to bring them back with me to Buffalo to better serve the community and our runners!   
One of my favorite parts of conference  was the two-day trade show, which gave me an opportunity to wave my "gear nerd" flag and learn about the newest and coolest products coming out.  Even though there were so many exciting things to see, the coolest product I got to learn about was Garmin's Vivofit.  The VivoFit is a fitness tracker that monitors your activity levels when you're not working out.  It indicates whether you're spending too much time sitting at work or at home, as well as tracks your quality of sleep.  It pairs with the Garmin Connect App, which allows you to create goals or compete against other users for certain fitness goals.  I love that this product encouraged me to think about how active (more like inactive) I am during the majority of the day outside of my daily run.   It's a great complement to a running watch or GPS and can help you stay on track with a healthy lifestyle.  The information Garmin provided and the idea behind the VivoFit got me so excited it was the first thing I made sure we brought in when the day I got back from  conference. 
Being a part of the Fleet Feet Conference is always a special experience for me because I love having the opportunity to surround myself with so many like-minded individuals. For the past three years, I have left each conference feeling really excited and proud to be a part of Fleet Feet and always looking forward to the next conference!