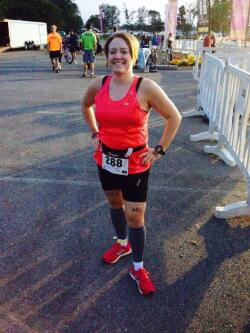 I WAS a runner, that's what I told myself as I struggled on the treadmill for my first run in more than 10 years.  A high school sprinter I always hated running more than 100 meters at a time but a dare from a friend had me on the treadmill cursing through shin splints and shortness of breath.  My goal was to run the Shamrock Run it was 2006 and the last time I had run was roughly 1994.  The good news, I ran the race and even broke the time I predicted by about 5 seconds.  I wish I could say that was all it took but that would be a lie. Several terrible 5 k's and years passed me by and before another Shamrock Run (this one 6 years later in 2012) I went into Fleet for HELP.  I sounded the SOS to Brian regarding my shoes and the state of my shins.  Brian was super nice without being preachy or pressuring me for the sale.  Right then I knew Fleet Feet Sports was different and although he pointed out the major flaw in my training to that point (not running in actual running sneakers) he helped steer me to the right pair and I became a fan of the Fleet philosophy.  
This interaction got me started with Fleet Feet Sports and it was through them that I learned of Diva night and met Coach Ros.  I can say with absolute certainty that Coaches are the life blood of why Fleet Feet Sports works.  After telling her that my bucket list contained "Run a 1/2 Marathon before I get too old" her interest was piqued.  When she told me that if I could run an 8 k I could run a half, I just needed to commit to the training I thought she was crazy but her enthusiasm convinced me that I had nothing to lose.  "Pay for it," she said...I always end up following through on the things I pay for.  I did and...
The long and the short of it is that she was right.  I did the training and it was hard and exhilarating, exhausting and wonderful.  The first time I couldn't make to Fleet Feet Sports Half Full Marathon training run and did it on my own anyway and in the worst weather I knew I was hooked.  I ran my first half right after my 41st birthday.  I will never forget the feeling of running through that finishing shoot and getting my medal.  All the hard work, all those miles all poured out in tears of joy as I crossed the finish line.  Since then I have done seven more half marathons, one Tough Mudder, my first Duathlon, one 30 k (18.7 miles) and will begin training for my first full marathon with the HFM group in June.  I have been in 3 other HFM groups, have been a NOBO mentor for 2 years and counting and I am currently a HFM pace leader.  Giving back is part of what reminds me every day not to take my running for granted and the group participants from newbies to seasoned vets never let me forget the love of the run.
What can you learn from me?  Always take the opportunity to run in fresh snow, age is just a number, take a chance, give back and remember it's never too late to become who you were meant to be!