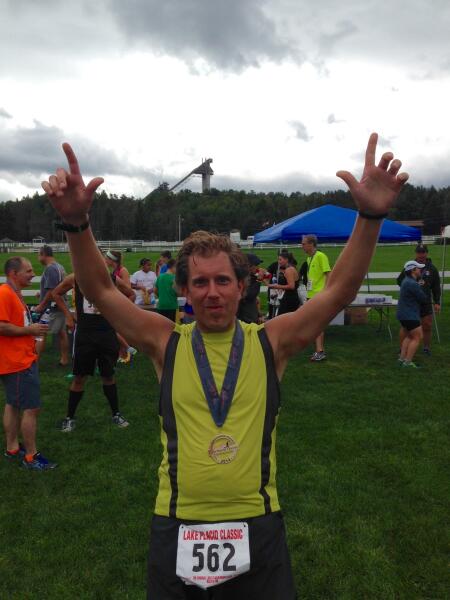 It was Friday and I only ran two training runs during that well-deserved "rest" week. As I contemplated the upcoming group run, it was easy to talk myself out of the 16 mile long run on the calendar for early Saturday morning. My legs were left heavy from Thursday's speed work of only a few fast intervals and the previous two-weeks of high-mileage; it was an easy call—I'll run Sunday instead of Saturday.
Instead of the customary long run mental, physical, and nutritional preparations and checks, I took a few liberties with my beverage, dietary and bedtime choices. Yeah, I love Friday!
To my surprise all the alarms went off Saturday morning—alarm clock, phone, iPad and watch.  I realized after a snooze, or few that this was an unmistakable sign; I am running today!
I can make it, better late than never! So I checked off my mental list: Shorts or pants? Pants. How many layers? Hat and gloves? I don't know; what's the weather? I don't know! Breakfast? NOPE. Shower? Sorry guys-I hope it's breezy!
Time check: LATE!
It was a fire drill as I left the house struggling to carry everything. I hurried out the door in my sandals. Car snack? Check. Belt w/gels? Check. Water? Check. Shoes? Check. Where are the socks I stuffed my shoe? They're in here somewhere. Wrong!
I'm only three blocks from home, but I'm already 10 minutes late—at least. Some athletes run without socks, but not me. If I turn back, best case—I'll be 15-20 minutes late and running alone! Worst case, I won't go!
As I waited at the red light, I convinced myself that: my shoes are good, my legs are strong, and I can do this.
I was realistic. I wouldn't be easy and I probably wouldn't catch my group, but at least I wouldn't be on course alone for 16 miles.
As I get to the park, take a moment to catch my breath, brief my coaches on my morning, and review the course—since I was starting alone. I focus and prepare to start; I reach for my wrist ready to start the chronograph and look down-no watch. No socks. No watch. No problem!
I never chased down my pace group—I didn't expect to, but I was able to have great conversation with friendly runners, as I moved between groups and counted down the miles. All the while mostly distracted from my growing discomfort.
It wasn't a picnic, but I did it! And it would NOT have happened if it wasn't for the Half/Full Marathon Training program from FleetFeet.
The HFM program got me through that 16 mile run. That run, just like every group long run, had a designated course led by great pacers. It also had hydration to refuel and coaches with encouragement and motivation on course. On that particular run, there were also eggs filled with nutritional goodies—which I sorely needed that day!
While running is often solitary, training doesn't have to be. For me, the greatest parts of the HFM program are the social, competitive and other intangibles; the benefits of which I cannot overstate!
Those long runs for me are carefree—I look forward to them. I don't have to worry about the route or pace. Misery loves company, but most runs are far from miserable and many are even fun due in large part to the group support and comradery. I run until my pacer stops or the road ends. On some runs I'm sharp, but on others I'm dragged to the finish.
How'd that 16 miler go? Not as bad as you might think and better than I expected. My feet didn't look like hamburger, but there were blisters—plenty of them, in places I didn't know could blister.
Sixteen blisters in 16 miles; that seems right—it was meant to be!
What's next? A windy 22 mile training run along the river, next week with free high fives—I'll see you there, with extra socks!