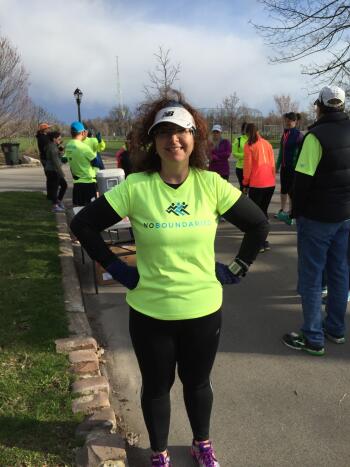 I mean I really HATED it.  Besides playing a sport or running for my life, I couldn't understand why anyone would want to run.  I knew it would help with weight loss but since I hated it, I opted for other forms of cardio and healthier food choices.  Yet no matter what I did, I just could not shed the excess weight I had been carrying around for over a decade.
Then one day, my doctor informed me that some of my blood levels were too high putting me into bad categories.  At 43 years old, this news is the kind that makes you either get real and make changes or wallow in despair, doing nothing ultimately manifesting that destiny.  For me it was a no brainer - I immediately took action starting with my diet.  I found a Registered Dietician to help me figure out what I was doing wrong.  Little did I know that I found the person who would lead me to Fleet Feet's No Boundaries. 
Melinda Yoder, RD, in house registered dietician from Balanced Nutrition of WNY.  During our first consultation, I shared my strong dislike of running with her.  She countered, telling me she had just the group for me!  As she talked about No Boundaries, I couldn't believe my ears.  What part of "I hate running" didn't she understand?  I knew I needed to make serious lifestyle changes.  Maybe running would help save me from a future of health problems and prescriptions.
I signed up for the 2013 spring NoBo training session.  My journey began at Fleet Feet with a fitting for new running sneakers.  The New Balance rep who had been helping me told me to "enjoy the process" as we parted ways.  I didn't understand what he meant, but those words stuck with me over the next 12 weeks of training for my very first 5k.Of course, I understood the words on my No Boundaries training shirt - Running Changes Everything – from the get go.  I already knew running would change me (physically). By week three, I could control my breathing making for a more enjoyable experience.  My endurance level also improved and I was sleeping better.  By week ten, I was faster, shaving time off my runs. I became that person who talks about pace, times, and mileage.  My non-runner friends and family could not relate but they knew I was doing something that excited me and made me happy.  Week after week, my body got stronger.  I was becoming a runner!
The physical changes were very positive: weight loss (56lbs so far!), normal blood pressure, healthy blood levels, more energy and endurance. However, it wasn't until I had been running for eight months that it finally dawned on me – I had never fully understood or appreciated what those words on my training shirt really meant.  At that very moment, I knew.  Running not only changes you physically but mentally and emotionally too!