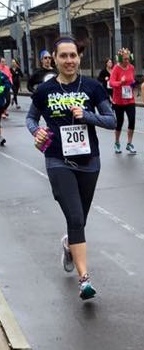 In my teens and twenties, I was a casual runner.  I could go outside and do an easy 30 minutes whenever I was bored or just felt like exercising.  Fast forward to my 30s and things were very different.
It was the summer of 2014 and I had two beautiful children, ages 4 and 1.  A friend of mine called me and asked me to do a 5K with her.  I happily agreed.  I thought it would be a fun, easy activity to do with a friend.  Besides, it wasn't like I never did a 5K before.  We met up on a humid August night to run in the Moonlight Run in Williamsville.  The race began and I realized that there was a problem.
Everyone was passing me.  I couldn't catch my breath.  My legs hurt.  I had a side stitch.  This was not going as I had planned.  How could this be?  I had done so many 5Ks in the past and even a 10K training program with Fleet Feet Sports.  I was dead last, being followed by the sag wagon.  I walked the last mile.   After having children, I was 30 pounds heavier and completely out of shape.  I needed to change, but I knew I needed support.
I thought about Fleet Feet Sports and how great of an experience I had training for a 10K in 2009.  I signed up for the Learn to 5K program.  It was just what I needed; to start slowly and build my confidence.  I made friends and achieved my goal of running a 5K.  With the encouragement of my new friends and the fantastic mentors, I moved up to the 2.0 program, then the 3.0 program, until finally the Beginner Half Marathon training group. 
I would not have believed you if you told my 2014 self that I would be running double-digit miles in 2016.  I felt hopeless, but with the support of the Fleet Feet coaches, mentors and participants I am a strong, healthy person again.  I am forever grateful to Fleet Feet making me a healthier mom to my children.  Being able to wear skinny jeans is pretty great too ;)