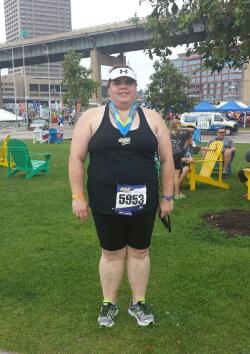 Flashback to High School, gym class was horrible! The only running I would do is to catch the bus after I overslept.  Up until last year I wouldn't even have thought about running and getting all sweaty. Nearing my 45th birthday I really needed to consider getting healthier.  I thought why not give running a try!  For $20-$30 you got a t-shirt and free food at a race, I could run any time of day! I didn't need a gym, no equipment was necessary, no team and portable. I started the C25K app on the phone but wasn't getting anywhere with that, I had no real structure and no one to help guide me and push me when I needed that push.  I signed up for the Buffalo Marathon Inaugural 5K.   Wow that was an eye-opener. I could barely run and walked the whole thing and came in last. If I was going to do this I needed help!
I signed up for my first No Boundaries program in June. I had severe pain issues and the coaches helped me to overcome with exercises and then physical therapy. I was always the last one to finish but made some great friends and learned so much from the coaches and the mentors. I completed my goal race with undiagnosed pneumonia. I had the mentors and coaches cheering me on every step of the way. It was a phenomenal experience.
I then, registered for the Fall No Boundaries program and came back to complete 3 more 5k's last year with the help and guidance of some wonderful coaches and mentors.  They will answer any question you have about running from gear to breathing to stomach issues. 
I took the winter off and did other activity waiting for the NoBoundaries program to start and the introduction of the new Tons of Fun program. When they say running changes everything, it does. There is also so much more to running than just running, it's the kind people you meet, the need to do better than you did before. I'm currently a participant in the NoBo program and will do so for quite some time. As of today I have lost over 10 pounds and have decided that with the support of the coaches and mentors I am ready to tackle the training for a half-marathon in fall. I may still be at the back of the pack but I'll get there. I usually always leave a group run with a sense of accomplishment and that much talked about "runner's high". I've learned that the only bad run is the run you didn't do. Oh and that shower after a hot and sweaty run feels so amazingly awesome and so worth the sweat.