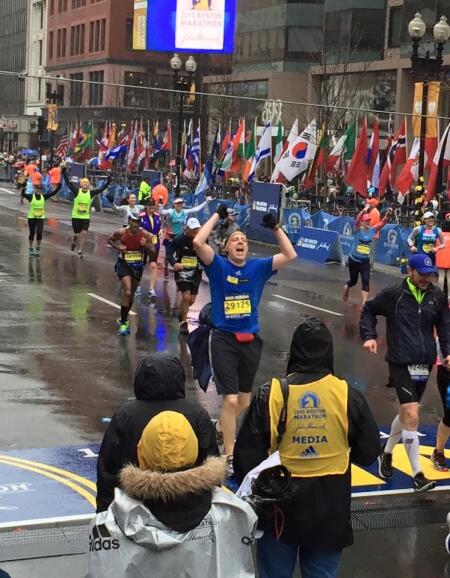 "Have you ever considered running the Boston Marathon?" That was a text message I received on Dec 29th 2014 from a friend. I'm not sure I would use the word consider as much as I would use the word dream. My friend that texted me sustained injuries in the bombing at the Boston Marathon in 2013. She was not running in the race but cheering on her niece and other runners. Thankfully, her physical injuries have healed. As part of her compensation she was offered a spot to run in the marathon. Not being a runner herself, she offered it to me.
 How could I turn down such an opportunity but I also didn't want to accept and then fail. I had run a few ½ marathons years ago and couldn't imagine doubling the distance. Since my last race I had several knee surgeries, children and everyday life was just busy. I just didn't have time to run (so I thought). I was using these things as an excuse to justify me being lazy quite honestly. I needed some motivation and support if I was going to accept this chance of a lifetime and succeed. I certainly could not do this on my own. So I turned to Fleet Feet and their HFM Training Program. From the moment I met the coaches and other runners at an information session I knew this was it. The energy from the coaches and their attitudes were infectious. I drove home that night knowing I had found my motivation.
Fast forward to the WORST winter in Buffalo history and I will be running outside. I thought to myself this is the most ridiculous thing ever. That was until I got to the store to run and everyone was excited! "Who are these people, its dark and FREEZING out!", I thought to myself.  I certainly couldn't turn back now and let myself or my friend down. During our run EVERYONE chatted. We talked about everything and before I knew it 8 miles had passed in the worst weather I ever ran in and I had a BLAST. Training was difficult at times as you can imagine but with the support of my pace leaders, fellow runners and coaches I was able to succeed. They are all amazing.
The program is flexible and that's very important because "life happens" and the coaches realize that. They are there with you every step of the way and usually just a quick email away when questions arise. Their knowledge is invaluable! Not only did I make some new friends, I completed my 1st marathon ever… THE BOSTON MARATHON!!! None of this was possible without this great program!