Fundraising for a cause that you're passionate
enough to run for is about to get easier.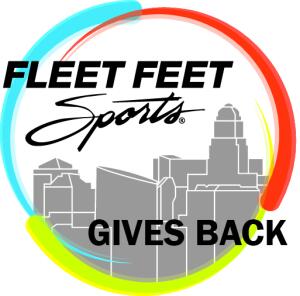 March 4th • July 22nd • October 21st
Fleet Feet Sports has always been committed to our community. We are constantly finding ways to support local organizations that are making real and positive differences in the areas where we live, work, and play. But there's more to be done. With our Fleet Feet Sports Gives Back program, we'll be able to do more for the charities and causes that are important to YOU.
If you're running a race for charity this year, we want to help you reach your fundraising goals. We have designated three different days - March 4th, July 22nd and October 21st - as special shopping days at all 3 of our stores. All you have to do is register with us in advance by filling out the form below. We'll provide you with special "Gives Back Cards" that you can hand out to all of your supporters: friends, family, neighbors, coworkers, etc. They are invited to come into the store that is most convenient for them on your designated Gives Back Day. When they turn in the card, we'll donate 10% of their sale directly to your online fundraising campaign. It's that easy!
The fine print:
You can only participate in one fundraising day for each event you are doing. For instance, if you are running a fall event, you must chose only ONE of the Fleet Feet Sports Gives Back days. However, if you are running multiple events for charity, you may fundraise for each one on different Fleet Feet Sports Gives Back Days.
You cannot hand out Fleet Feet Sports Gives Back Cards to customers on the day of the event at the store.
Cards must be handed in at the time of purchase, and can only be used on the designated Fleet Feet Sports Gives Back day.
Online sales do not apply.
Returns will be subtracted out before final donation is made.