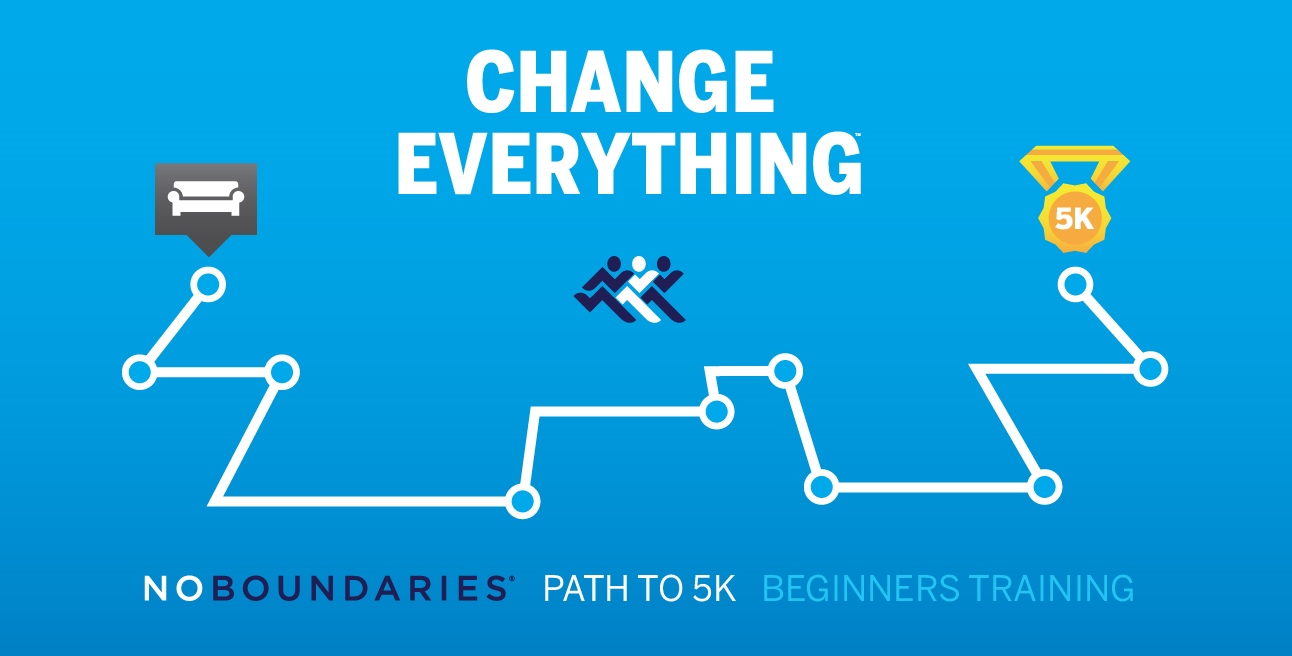 Our Summer 2020 No Boundaries Program is a 7-week beginners training program structured to help you cross the finish line of your first 5K (or cross it again after taking time off from running).  Whether you are brand new to exercise or are currently doing a run/walk routine this program is for you!  For this program our graduation race will be The St. Jude 5K on Saturday, September 19, 2020.  However, you can also use this program to train for any race you choose or just to learn to run with great people.
There will be a Facebook live program informational session on Thursday, July 30 at 7:15 pm.  Tune in to find out if this is the right program for you.  Our program kick-off and first workout will be Tuesday, August 4 at 6:00 pm.

When:   Training runs will be at 6:00 pm on Tuesdays and 7:30 am on Saturdays
Where: The group will meet at Tipton Park, Rosa Parks Commons, Rollingbrook Park and other locations in Bloomington-Normal. Participants will receive a program calendar that highlights where the group will meet each week as well as weekly email reminders.  Due to Covid guidelines we will always meet outdoors for the duration of the program.
Program Cost: $70 per participant. Cost for this program does not include registration for the graduation race but participants do receive a race discount. 
Virtual Option: $50 per participant. If you're just not ready to meet with us in person (or live out of town) you can register for our all-virtual option.  You'll still receive all perks listed below (training plan, invitation to Facebook group, shirt, store discount, emailed educational content) but will complete your training runs outside of our group meeting times.  Type in promo code VIRTUAL20 on the payment screen to adjust the program price.
**Please note:  in-person or virtual option must be selected at program start.  We will not be able to switch program options or offer refunds at any point after the program has started.
Additional Info: Due to the uncertainly of Covid this program will have some changes from our usual offerings.  Participants will need to provide their own hydration for runs but we will help you figure that out at our kickoff session.  We won't be able to provide a key box or any shareable tools, gear or snacks.  At any point in time our program may become virtual.  There is limit of 50 participant/mentors for this program.  No matter what happens we will still show you how Running Changes Everything and Running Will Never Be Cancelled.
As part of the No Boundaries program, participants will receive the following:
**A 7-week training program and calendar with workouts provided
**Twice a week runs with a coach and mentor-guided training sessions
**The camaraderie of others with the same goal!
**Educational clinics on proper footwear, injury prevention, nutrition, and more
**Dedicated support from coaches and mentors to answer individual questions and help motivate you on your training journey
**Group newsletters and access to coaches via email during the week
**Program technical shirt and other great swag
**A 15% store discount for the duration of the program (excludes sale items and electronics)
**Facebook group for participants only and access to a training program graduates Facebook group after program completion
Note:  Past training program participants that already have a FitVil account have the option to register for the program and pay with cash or check at the store. 

For more information please email Training Program Coordinator Julie Zei (training@fleetfeetbloomington.com)
registration closes August 16

Here's what past program participants have to say about No Boundaries:
"I'm so glad I joined No Boundaries! I've always liked the idea of running, and more than once I've tried to start on my own and quit after a couple weeks because I wasn't being held accountable or I pushed myself too hard and burned out. No Boundaries gave me the knowledge and tools I needed to be successful, from how to dress to how to pace myself. I can now run 30 minutes straight and actually enjoy it--something I wouldn't have believed a few months ago! Plus the program was full of great people, and who doesn't want some new friends?"  - Lauren Lacy
"I started the program with a time goal. By the end of the program I realized that I was a winner even if I did not meet my time. The real win was running with a great group of people." -  Bill Harrison
"Running does change everything. When I started, I could not run a mile and now I have been able to run over 4 miles without stopping. I may not be "fast" yet, but I am continuing to improve in both speed and endurance. I have met many amazing people that I now call friends. I have lost weight, gained confidence and am overall more productive. The Fleet Feet family is the best."
"Fleet Feet's running program is for all skill levels. I have never been a runner or ever thought I could be one. With the great staff and mentors of Fleet Feet I just completed my first 5K at the age of 35. I am excited to start another FF training program soon, as I work at becoming a healthier person."  - Andrea Aggertt
"I am one of those who always said "I hate running" and NEVER saw myself able to run a 5K, but No Boundaries changed all that. I saw a post on Facebook about it and I don't even know why I clicked on it, but I am very glad I did. I was clueless HOW to run and the support, education, encouragement and mentoring I received while completing it are priceless! The sense of a major life accomplishment (for a nearly 50 year old whose never ran a day in her life before NoBo) is something that will stay with me the rest of my life!"
"In no way have I considered myself a runner. I haven't been an active runner since high school. This program helped me gain confidence in my abilities that I could run, I could complete a race and I could run longer distance. Towards the middle of the program I actually started to enjoy running! I never thought I would say that. I am excited to continue running and create new goals for myself!"
"Great program. I recommend it to those just starting running as well as those who have been running already but need a new routine and encouragement."  -Kathy Schlueter
"I would encourage anyone of any shape, size, age, experience level to take advantage of this program. Any good exercise program is executed best with correct equipment and training. I have tried running on my own with apps and purchasing shoes however I was met with pain and a lack of motivation. The NoBo program helped me select a pair of shoes and educated me the whole way through the walls that would pop up, pain, hydration, cross training, motivation. I did not make it to the graduation race in 10 weeks. Life happened and some setbacks however I will eventually. Running is now one of my options and I have the tools and support I need."
Program Start: August 4
Program Schedule: Tuesdays, Saturdays
Program Fee: $70
Description: Our No Boundaries Program is a 7-week beginners training program structured to help you cross the finish line of your first 5K (or cross it again after taking time off from running). Whether you are brand new to exercise or are currently doing a run/walk routine this program is for you!