Fleet Feet Sports Bloomington is proud to be a gold sponsor of this event!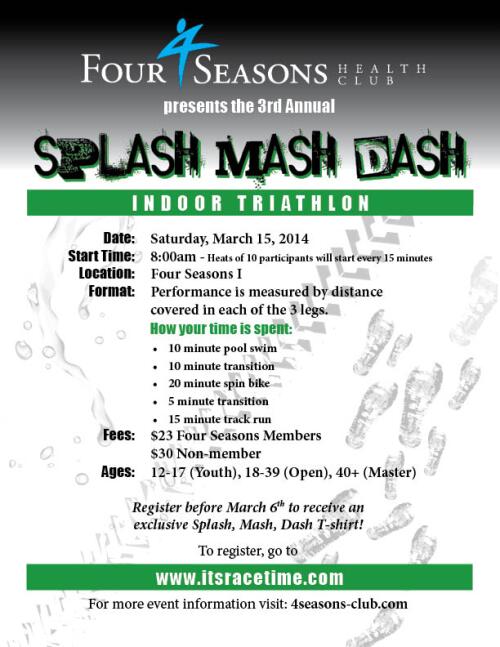 Bloomington, IL – March 4, 2014– Four Seasons Health Club and the ISU Tri-Birds are excited to present the 3rd Annual Splash, Mash, Dash Indoor  Triathlon on March 15, 2014. Registration is open to the public age 12 and up.
This triathlon takes place at the Four Seasons I pool and indoor track areas. Our goal for this event is to promote exercise and fitness in the Bloomington-Normal community while raising funds to help send the ISU Tri-Bird athletes to the USAT College Nationals.
The Splash, Mash & Dash Triathlon is a great opportunity for first timers to test their skills and for experienced triathletes to get warmed up for tri season. The race is broken into 3 sections. Participants will spend 10 minutes in the lap pool, 20 minutes on a spin bike and then finish with a 15 minute run on the indoor track. The more distanced covered the higher the score. Registration must be received by March 6, to receive an event shirt.
To register go to www.itsracetime.com or visit www.4seasons-club.com for more information