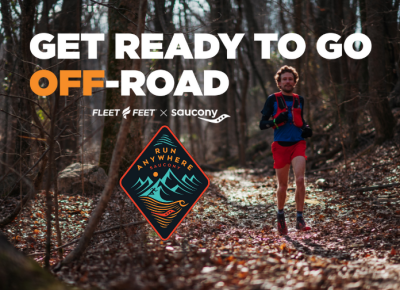 Fleet Feet x Saucony Trail Run
Wednesday, April 17 @ 5:30 pm at Fishermans Trail, Comlara Park
Get ready to go off-road.

This spring, Fleet Feet is teaming up with Saucony for the Run Anywhere: Fleet Feet x Saucony Trail Run. This event will get you ready to hit the trails for the first time or go where you've never been before. Join us for an amped-up group run at a local trail where our staff and partners will provide off-road running and outfitting tips and Saucony will demo trail running shoes. We'll cap things off with a celebration and refreshments—and a chance to win a prize or two.

Ticket proceeds will be donated to Keep America Beautiful, a nationwide environmental stewardship nonprofit. The first 25 people to register for each event will get a free limited edition BOCO trail neck gaiter.* Sign up now, and get ready to Run Anywhere with Saucony and Fleet Feet!  *Registration closes at noon on April 17th and there will be no same day sign up.

What you get for your $10 donation to Keep America Beautiful:

1. Welcome to Trail Running tips and tricks from Fleet Feet, Saucony and our event partners
2. Group run with varying paces to accommodate new and experienced runners alike
3. Saucony trail shoes to demo
4. After party with refreshments and giveaways
5. BONUS: Snap a picture at your trail event, and post it to Instagram with #RunAnywhere, @fleetfeetsports and @saucony for the chance to win one of five trail runner getaway packages that include tents, sleeping bags and more!

*The first 25 registrants per event will receive a free limited edition BOCO trail neck gaiter. Registrant must be present at the event to claim their gaiter. Any gaiter left unclaimed after the event will be awarded to the next winner on the list.