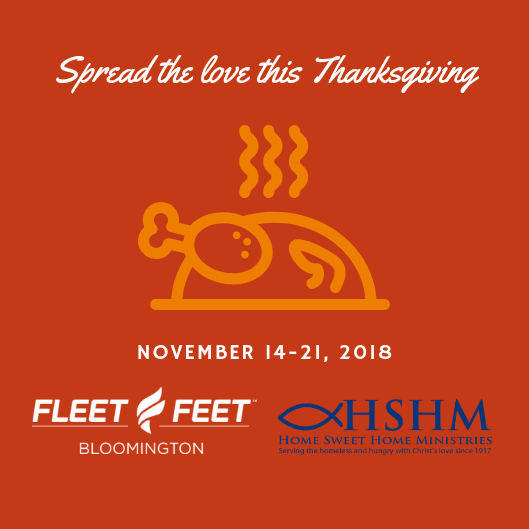 This is the time of year for visiting family, spending time with loved ones, and being thankful. Help us at Fleet Feet spread the love and spirit with those in need. We are supporting Home Sweet Home Ministries and their Give Thanks campaign.
As part of the Give Thanks campaign, Home Sweet Home Ministries plans to distribute 2,000 Thanksgiving meal boxes, 600 home delivered meals, and 150 in-house meals. Plenty of people are in need this holiday season and could use your support. 
Here's how you can help!

Be entered into a drawing to win a $25 Fleet Feet Bloomington gift card by:
Making a $15 donation (cash/check) at Fleet Feet or Home Sweet Home (bring receipt to FF) for the purchase of a turkey.
Donating a turkey to Home Sweet Home Ministries (take a picture of you with the turkey at HSM)
Bring in 3 of the following items to Fleet Feet Bloomington to receive 15% off a pair of shoes:
Cans of Green Beans
Cans of Cream of Mushroom Soup
Cans of French Fried Onions
Cans of Cranberry Sauce
Turkey Gravy Packets
Cans of Pie Filling
Boxes of Pie Crust Mix
Home Sweet Home Ministries is located at 303 East Oakland Avenue in Bloomington.  Drawing will be at the close of business on November 21 and will be announced in our Black Friday Weekend Facebook Event.
Questions?  Email Jon Grimwood (jon@fleetfeetbloomington.com)