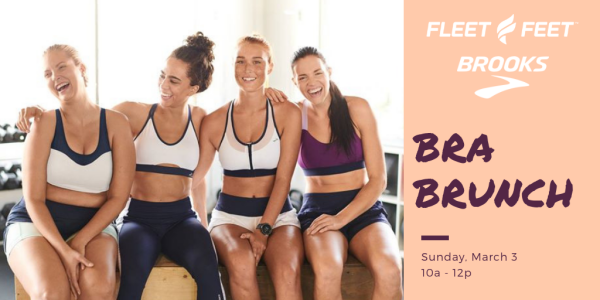 The sports bra is an important piece of equipment and 8 out of 10 women wear the wrong size bra! Are you one of them?
Do you wear two sports bras?
Does your sports bra chafe or irritate you?
Is your sports bra more than a year old?          
If you answered yes to any of these questions, Fleet Feet is here to help!
Join us for breakfast treats, a mimosa bar, discounts, free gifts and more at our Bra Brunch event on Sunday, March 3rd from 10 am to 12 pm at Fleet Feet Bloomington. We will have bra fit specialists available to help you find the perfect sports bra!  Click here to schedule a fitting appointment – spots are limited. 
If our appointments become filled you are still welcome to stop by to enjoy tasty eats, drink some bubbly and take advantage of special sports bra discounts.
Visit our Facebook Event to stay up to date on event details. 
Questions?  Email julie@fleetfeetbloomington.com