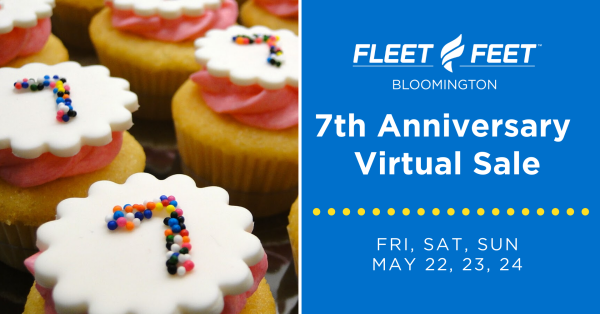 Fleet Feet Bloomington is turning SEVEN!
This month we should be celebrating the seventh anniversary of opening our doors on May 23, 2013.  Unfortunately we can't have our usual celebration but we can still smile at you behind a mask as we hand you some great gear at a great price curbside.  Full disclosure:  Our inventory is not what it usually is this time of year as we did our best to cancel orders before we closed back in March.  But we do have some products in our store that we know you'll love and will keep you running happy.
We'll keep you up to date on the sale with live videos and photos all weekend long in our Facebook Event - click here.
We expect our phones to be BUSY. We would love for you to send us your order via Google Form and we can get your order together and call you back with questions and to take payment.

Click here for the Google Doc of sale shoes / all apparel
We encourage you to check the Google sheets with our sale shoes/apparel inventory and also browse on 

www.fleetfeet.com/?store=fleetfeetbloomington

or vendor websites. When you select the size and color on fleetfeet.com *MOST* of our inventory will show up.  Sale prices are ONLY valid via phone; web prices reflect our national brand and do not reflect our local in-store sale. 

Click here for the Google Form to tell us what you're interested in!

Weekend hours:
Friday May 22 / 10am - 7pm
Saturday May 23 / 10am - 6pm

6:30 pm:  Socially Distant Parking Lot Party.  Roll up in your car, open your windows and visit with your running buddies from 6 feet away. We're super excited to announce that Lexington Social will have a carryout Pop Up!  Click here to pre-order some deliciously famous steak or chicken kebobs.

Sunday May 24 / 12pm - 5pm

Special Deals All Weekend Long:



Select sale shoes for $80 and $100 (a few super bargains at $50)
Spend $150 or more and you'll be automatically be entered into a drawing to win a gift bag stuffed with goodies!
All Saucony shoes and apparel 25% off
Almost all Nike shoes and all apparel 25% off (Pegasus 37 and Infinity React Run excluded)
25% off Superfeet insoles
25% off spring apparel - anything with short sleeves, all shorts and capris
60% off fall/winter apparel - anything with long sleeves, all pants and tights
All sunglasses: Buy one, Get one 25% Off
All socks: Buy 3, Get 1 Free
Nutrition: Buy 3, Get 1 Free
All Fleet Feet logo shirts are just $10
$5 past program and race shirts
50% off accessory table
No coupons or additional discounts apply to special deals, Fleet Feet Logo Shirts and $5 shirts excluded,  some additional restrictions apply - ask associate for details